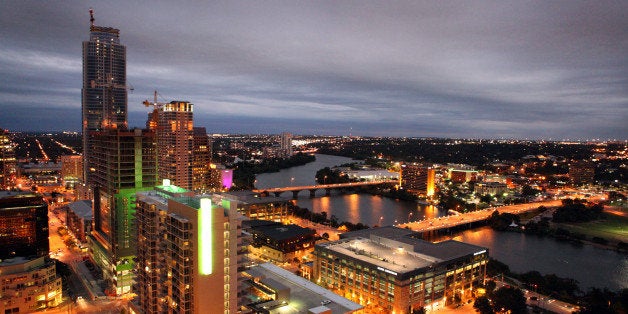 Over the past eight years at South By Southwest, I've discovered that when it comes to food and restaurants during the festival, there are several realities of the situation: 1) Walking into a hot new restaurant without a reservation is not a lost cause. With all the booze, showcases and other activities to compete with, last minute cancellations are common and the best sit-down places can be surprisingly accessible. 2) Getting around is a bear and it's common to suddenly realize you're starving. Convenience and close proximity often become the priority, which explains the allure of free tacos and BBQ for six meals in a row, but it's also good to have options. With that in mind, here is where to find some of the best food you can walk to in each part of town:
East Side
There are a bunch of great places to eat right around all the action in East Austin. Licha's Cantina serves a delicious range of Mexican food and specialty cocktails smack in the middle of East 6th Street. Kyoten is a darling Japanese trailer situated in a sectioned-off Zen garden, offering some delightfully fresh fish and a BYO policy. The patio at Qui doesn't take reservations and makes for an affordable way to experience Filipino-inspired bar food at the award-winning restaurant. A block North up on 7th Street LaV has a lovely French menu complete with foie gras plates and crêpe cake brûlée. Close by at the Hightower you'll find tasty bar snacks and sharable dishes like ceviche and fried chickpeas with orange aioli. A little further from the main drag of bars, Launderette, the new project from the same chefs that brought us Austin favs Sway and La Condesa, just opened up on Holly Street and Dai Due on Manor Road was born from an exclusive supper club and has quickly become don't-miss dining for a farm fresh food experience.
Downtown/Dirty 6th Street
Within the Downtown area, some of the time-tested favorites are still the way to go for a decent meal, although I have to say the SouthBites temporary group of food trailers, including local favorites like Veracruz All Natural and Kebablicious makes me pretty excited. Over by the music clubs on Red River like Stubbs and the Mohawk you can duck into Casino El Camino for an excellent burger and a break from the slew of shot bars on Dirty 6th. Moving West, Parkside is an oasis of relative sanity with fresh oysters and gourmet garlic fries, as is the adjacent Backspace, which offers brick oven pizza in a quaint space just out of sight. The Driskill Bar is sure to be quite the scene, but the menu is great, service professional and it has all the cowhide an out-of-towner could hope to take in during one visit. Swift's Attic has strong drinks and a whimsical array of plates in all sizes and across the street, Second Bar + Kitchen has a large space and long bar that has something for everyone including some next-level Brussels sprouts with mint, feta and smoked bacon served in a cast iron skillet.
West 6th Street
Moving further West, food options with a year-round draw become more sparse, but there are a few standouts in the mix. Fixe opened just a few months ago and is riding the wave of popularity for Southern fine dining, serving some to-die-for biscuits and grits in a reimagined bank space. Sandra Bullock's restaurant Bess situated in an underground enclave recently got a new chef, who has done wonders for the food with standouts like burrata and beef tartare. Just West of Lamar is Clark's, a delightful seafood-centric restaurant cut from the same cloth as its sister spot Perla's with a raw bar and impossibly cute decor. Also, the Whole Foods mother ship on 6th and Lamar is never a bad option for sustenance and even has restaurants inside.
South of the River
South Austin has become one of the city's best dining areas with destinations spanning from Congress to Lamar. Close the action on South Congress, there's the patio at Perla's, which has become quite touristy but still delivers on a solid raw bar/outdoor/cocktail experience. Hopdoddy right next door has some delicious burgers, gluten-free bun offerings and usually an insane line to match that moves relatively quickly. Little Barrel and Brown has unfussy new American fair perfect to help fortify the insides for a day of revelry and the bar at Vespaio, if you can nab a table, would be the ideal way to wind it down and has the best cioppino in town.
Over on South 1st Street, it's hard to go wrong with any of the fancy Thai food at Sway, particularly the crab fried rice and salt and pepper tofu. Also in the kicked-up Asian vein, Elizabeth Street features Vietnamese/ French bistro food like fresh spring rolls and lavender-vanilla bean macarons. Odd Duck on South Lamar is the spot for some of the most beautifully creative small plates, served mostly at communal tables, and Barlata just down the street, was recently a Bravo show contender for best new restaurant and serves delicious Spanish plates like the Arròs negre. Finally, no recommendations list is complete without a shout out to the exquisite Japanese fusion at Uchi, which may never have easy access but will always be worth the wait.