What do you do when the kids are going to Grandma and Grandpa's house? You plan a romantic getaway, of course! One of our favorite Florida destinations is Clearwater Beach and since we live nearby, it just made sense that that's where we'd go!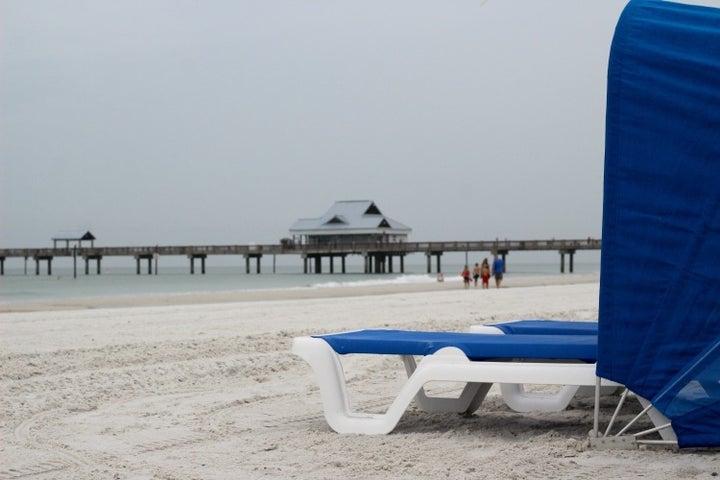 If you've never been to Clearwater, you've been missing out. With it's gorgeous white sand, beautiful sunsets and fun activities, it's the perfect for families planning a beach vacation or couples just looking to get away from it all.
Of course, part of the fun of going on vacation is finding new places to eat. While we were there, we chose a mix of favorite restaurants as well as ones we'd never visited before.
During our first Clearwater visit four years ago, we ate breakfast at the Clear Sky Beachside Cafe. It was delicious but what really stood out was the Bloody Mary bar.
My hubby loves a good Bloody Mary and jumped right in as soon as he saw that the Bloody Mary bar had everything but the kitchen sink. There was shrimp, cheese, peppers and all types of other garnishes that you'd need to make an over the top drink.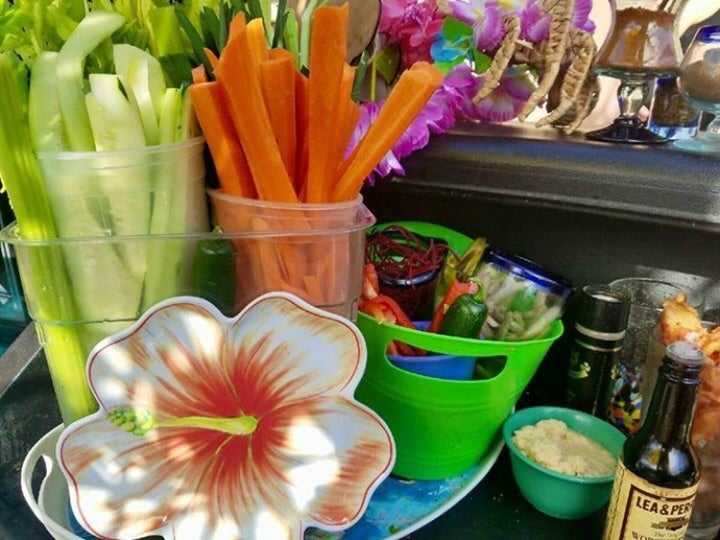 We missed it this time since the Bloody Mary bar only opens on weekends but still had a great breakfast. I was trying to be healthy and ordered the vegetarian egg white omelet. An omelet stuffed with green beans was new to me but it totally worked.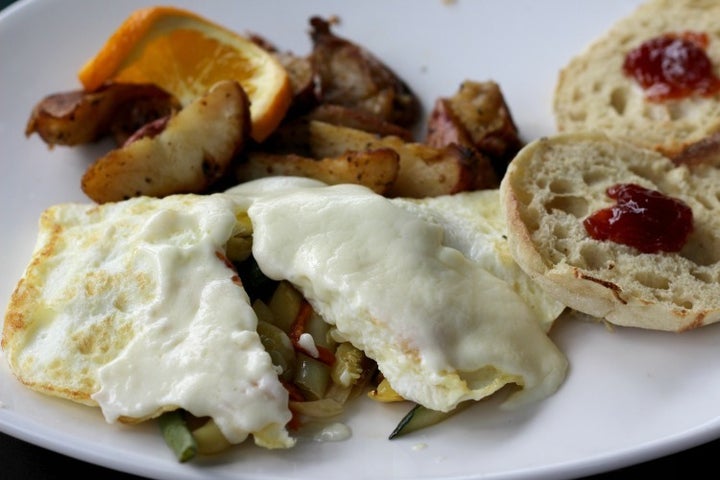 My hubby enjoyed the Coast Watch, a seafood omelet with crab shrimp, scallops and more.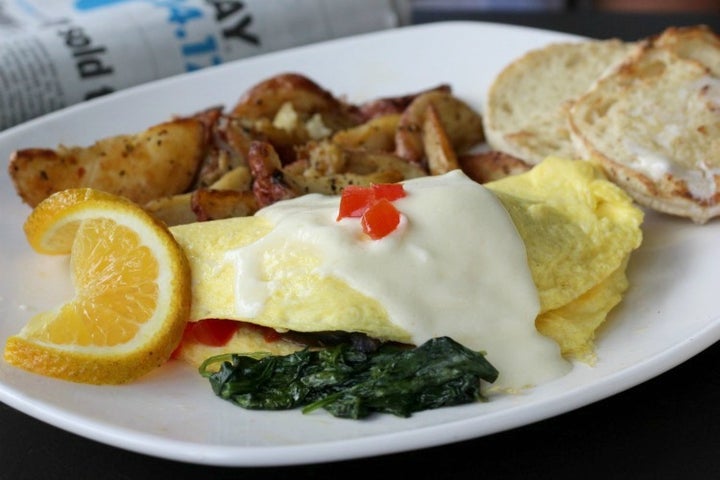 I was a little jealous of what the people ordered at the next table. Their french toast with berries looked pretty undulgent. I liked my healthy omelet but next time I might just try what they were having!
We have to visit The Bait House at least once whenever we visit Clearwater. This old bait shack at the end of a pier isn't fancy but that's what gives it charm. It has that "old Florida" feeling that just can't be replicated.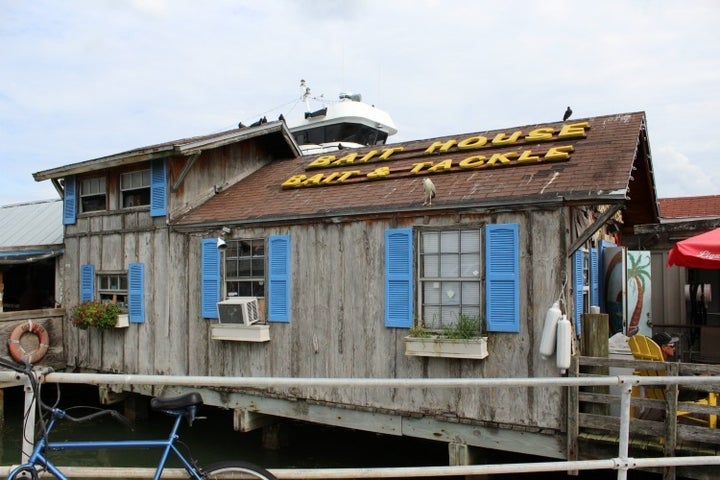 This is where we go when we're in the mood for hot shrimp and cold beer. They have a full lunch menu too but the boiled shrimp is so good, that's all we've ever ordered.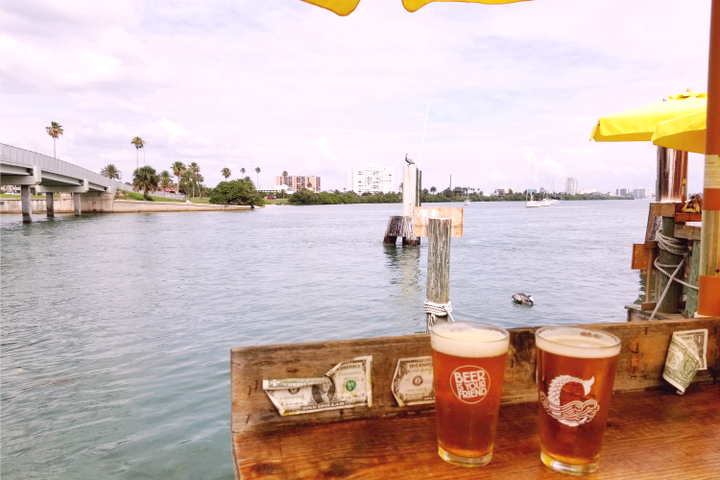 Frenchy's South Beach Cafe
When I asked friends for suggestions about where to enjoy lunch with a great view, almost everybody said we had to go to Frenchy's. They're famous for their crab fries so we had to see for ourselves if these fries lived up to their reputation. Frenchy's tosses their fries in garlic butter and parsley, then tops them with garlic aioli, Old Bay seasoning and snow crab. There's a reason that even Alton Brown has raved about them...they definitely live up to their reputation.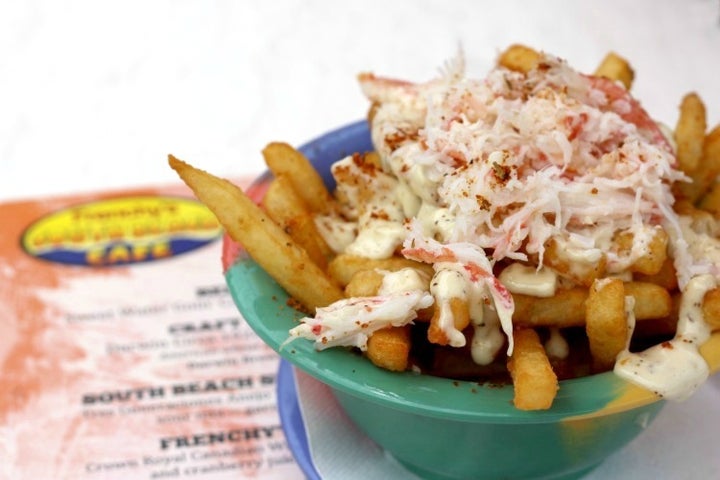 I was pretty happy with my Sesame Tuna Salad too. Seared tuna is encrusted with sesame seeds and served over fresh greens with a sesame dressing and soy ginger sauce.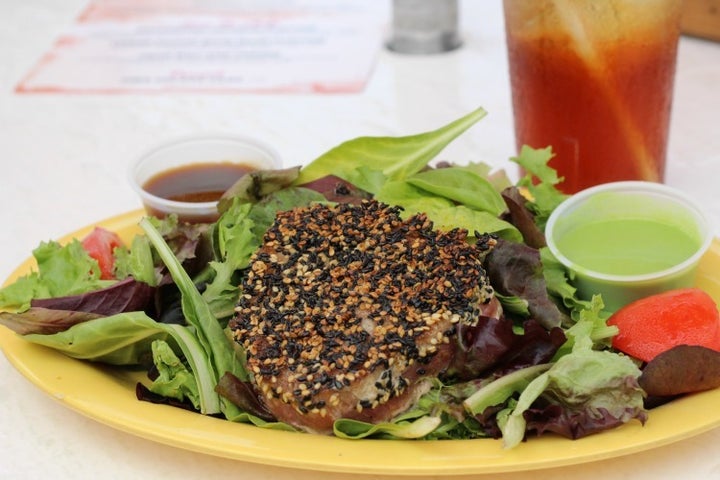 My hubby had the Super Grouper sandwich, much like their traditional grouper sandwich, only a lot bigger.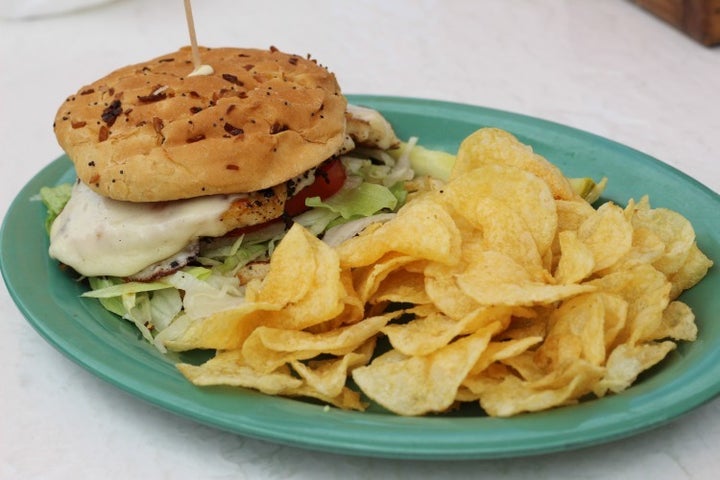 They also offer tacos, platters and baskets with chicken or a variety of seafood. If you've brought the kids along, there's a kids menu with all the traditional favorites like grilled cheese and more.
This new restaurant in the Wyndham Grand Clearwater Beach is where you need to go if you're looking for a fine dining experience. Ocean Hai features big windows overlooking the ocean and I'd recommend going just before sunset for the best views.
Our waitress Christine suggested I start with the Maui Mule and it was as delicious as it was pretty.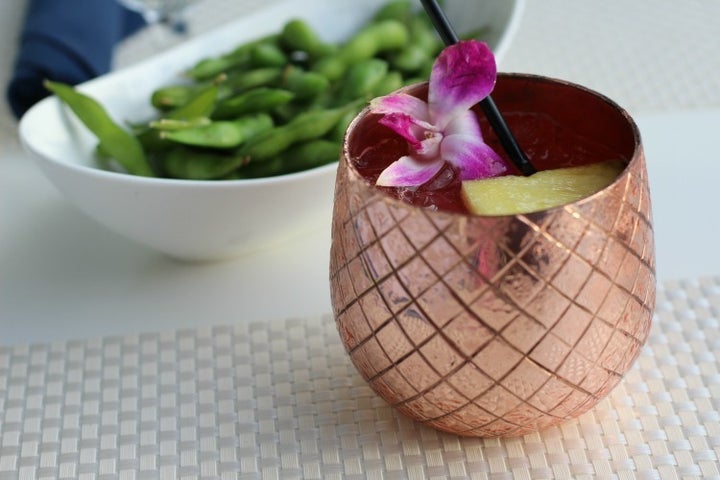 Since I enjoyed my drink so much, I went with her recommendations for the rest of the night. We started with the Tiger Roll, sushi with spicy salmon, shrimp and asparagus. Christine was two for two.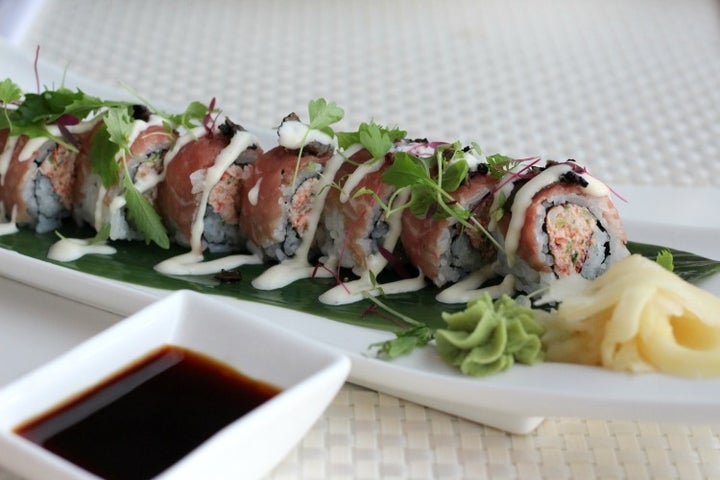 Dinner was a tasty Mahi-Mahi encrusted with macadamia and served over whole grains with charred pineapple and lobster nage (basically a fancy name for lobster sauce).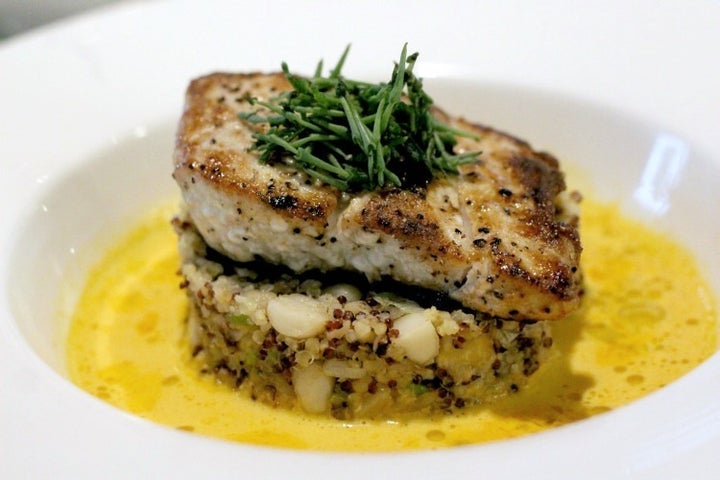 My hubby Jon chose the lamb, which he also thoroughly enjoyed.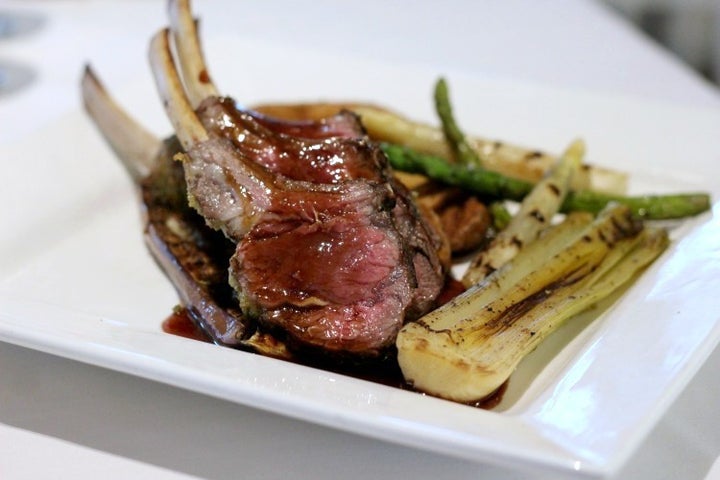 Though we were almost too full for dessert we decided to give the Lemongrass Creme Brulee a try. Creme Brulee is one of my favorite desserts and it seemed like a great way to end the night.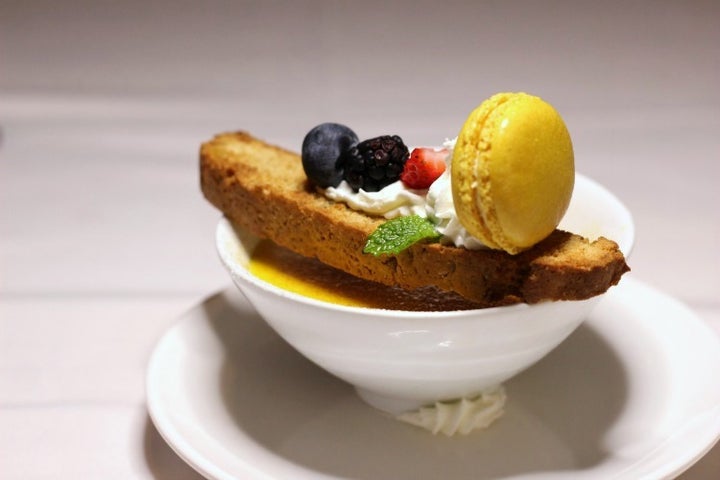 On our last night we decided to drive just north of Clearwater to a cute little town called Dunedin. It's a fun place to explore when you feel like taking a break from the beach and we thought we'd try The Living Room On Main for dinner. As soon as we walked in, we realized that it really does resemble a living room. They also feature live music nightly and it was a great place for our date night.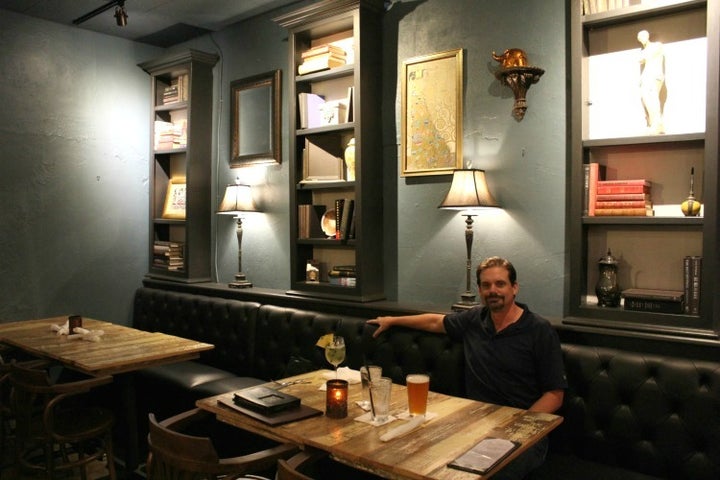 I learned that they have a "living wall", a working garden that grows right on the wall in the dining room. They use this garden to get lettuce for salads, drink garnishes and any other greens that they might need for recipes. I was so fascinated by this that now I want one in my own house, though the only gardens I have any luck with are fairy gardens.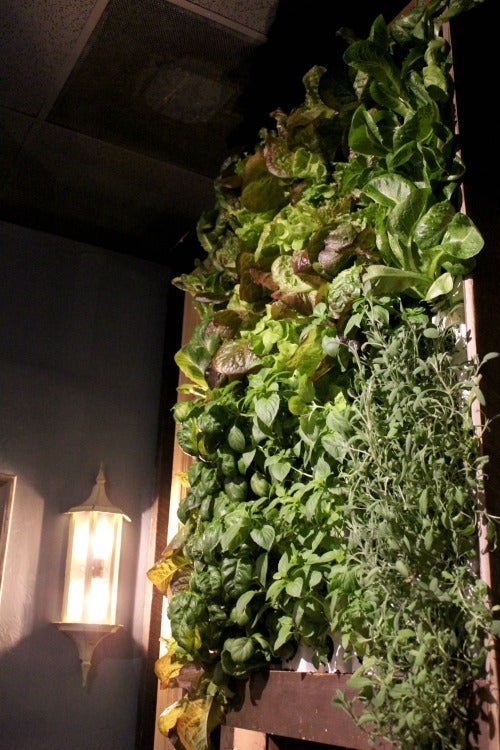 While I was here, I discovered my new favorite cocktail, the Pineapple Express! Made with coconut rum, butterscotch liqueur, pineapple juice and muddled pineapple sage picked from the living wall, it's a sweet drink that gets it's unique flavor from the butterscotch liqueur. Skip it if you're not a fan of sweet drinks but otherwise I'd highly recommend it!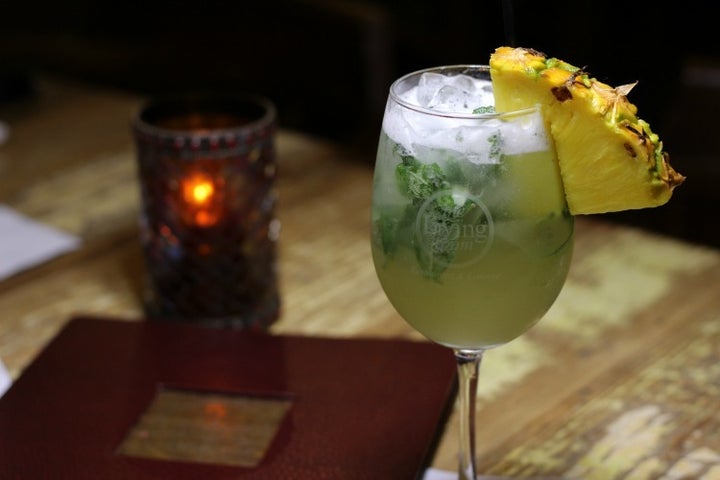 The menu had a large selection to choose from, including seafood, lamb, stuffed portobello mushrooms and more. Kid friendly options included sliders, feta & spinach meatballs and chicken drumettes. Since I was already so fascinated with the living wall, I had to order one of their salads.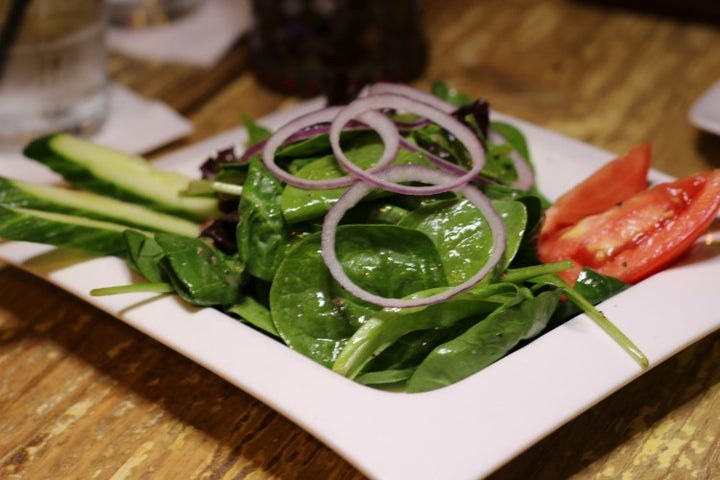 We shared the Steak & Shrimp Brochettes and the Miso & Ginger Grilled Salmon Tacos and both were delicious. The brochettes consist of skewers with grilled with angus beef tenderloin tips, portobello mushrooms, jumbo shrimp, onions, peppers, fingerling potatoes and a side of gorgonzola fondue.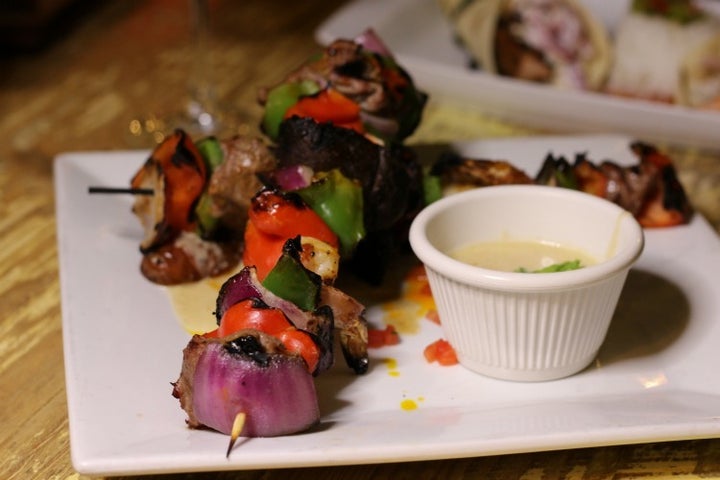 The salmon tacos were just as good. They fill these tacos with salmon, Asian pear slaw, pineapple BBQ, ginger sticky rice and jalapeno pico de gallo and we ate every last bite. We have a thing for food with an Asian twist so this was right up our ally.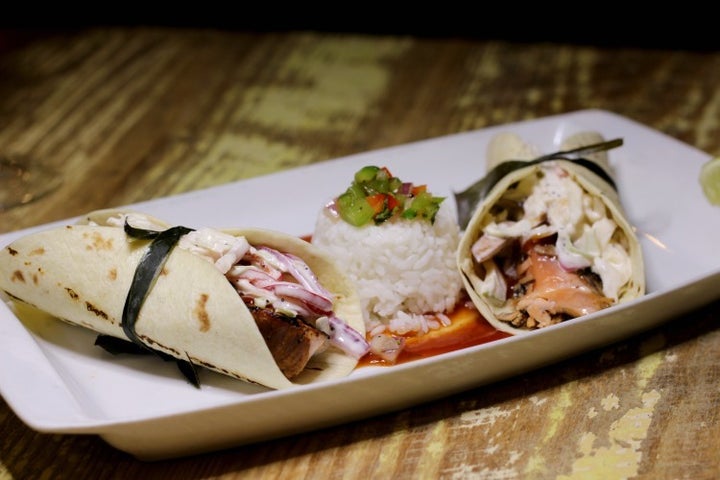 Even though these were listed as "small plates", the portions were plenty big enough for the two of us. We had just enough room for dessert and the chocolate lover in me went straight for the Mary Margaret Chocolate Marquise Cake. This chocolate mousse cake is topped with another layer of chocolate and served over a raspberry sauce. It's as decadent as it sounds and a chocolate lovers dream.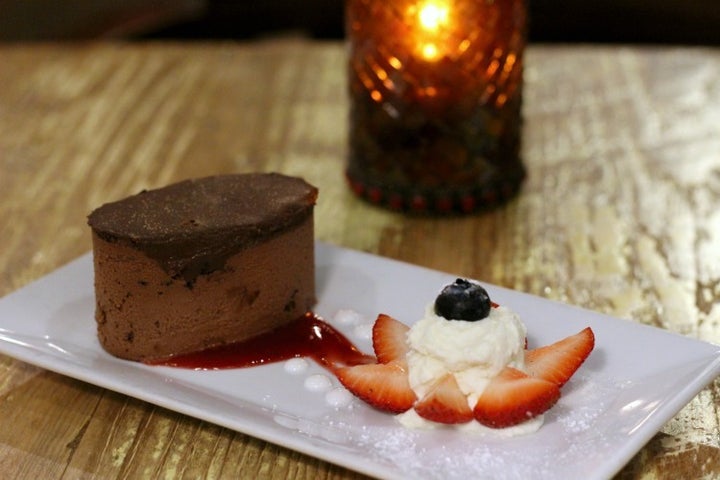 There's no end to fantastic restaurants in Clearwater and there are still more that we want to try. I guess that means we'd better start planning another getaway!
Popular in the Community