One of the best reasons to visit the coastal city of Mazatlan is the food, particularly if you're a lover of fish and seafood. Located where the Sea of Cortez meets the Pacific Ocean in the state of Sinaloa, Mazatlan is a true shrimp mecca. Aquachiles and ceviches, along with other shrimp and scallop dishes, are omnipresent, along with lobster, baked oysters, smoked marlin and calamari.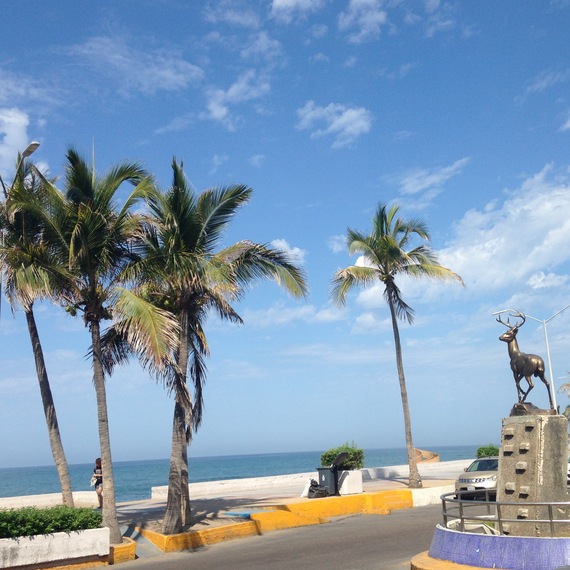 View from El Shrimp Bucket. Photo: Karin E. Baker
My recent trip to the city known as the "Pearl of the Pacific" made it clear that another of Mazatlan's most alluring characteristics is its authenticity -- it wasn't created for tourism. For over 500 years, Mazatlan has been growing organically. The resorts in the Golden Zone are, of course, geared toward tourists, but the Centro Historico (Historic District) and the charming nearby villages give a sense of the real Mexico.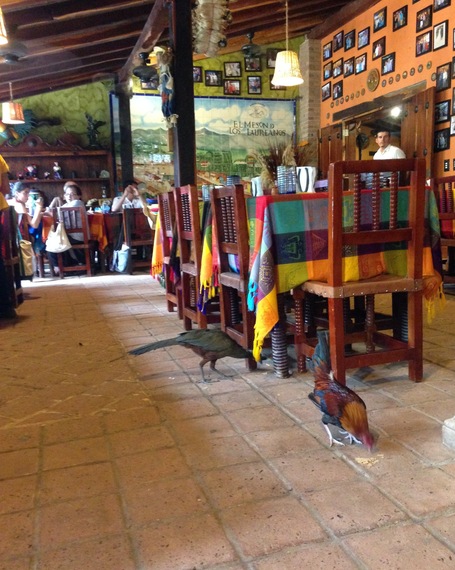 El Meson de Los Lauranos. Photo: Karin E. Baker
Rural Cuisine in El Quelite
It's not everyday you bite into a lengua taco while an amorous chicken and rooster mate a couple of yards from your table, but I had that unique experience at El Meson de Los Lauranos in El Quelite, a small town 40 minutes from Mazatlan. El Meson is a lively restaurant teeming with vibrant hues, along with lots of animal life in the form of ducks, cats, peacocks and more that strut around the premises. This expansive, mostly open-air eatery almost pulsates with color issuing from its bevy of caged green parrots, gorgeous textiles and bougainvillea. Evidently the area's slowly becoming a destination: El Meson's avuncular owner, Dr. Marcos Osuna, told me, "Nobody visited this area till 15 years ago, but now people are making this a destination to try the foods of rural Mexico." At El Meson, unlike most eateries in Mazatlan, you won't find seafood. You will, however, encounter rural cuisine like roasted quail, barbecued lamb tucked into tortillas hand made on the premises, creamy artisinal local cheeses and barbecued goat. You'll also find a great assortment of regional desserts, like burnt milk pudding, calabash squash conserves and arroz con leche.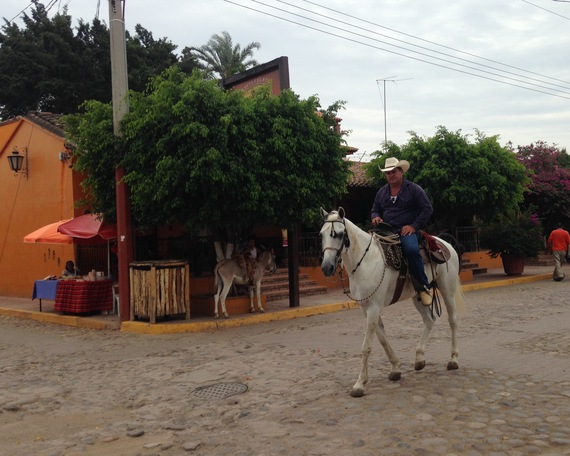 El Quelite. Photo: Karin E. Baker
El Quelite is a quiet town, and that's part of its charm. You feel like you've stepped back in time a few decades, thanks to the adobe houses, cobblestone streets, a church dating back to the mid-19th century, locals astride burros and horses, and no tourist-driven shops. Worth visiting: a tiny leather shop where I bought a perfect, locally made belt for just $12.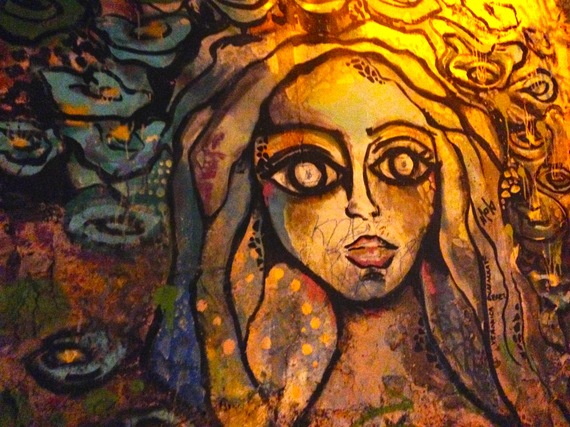 Street Art Outside El Presidio. Photo: Karin E. Baker
Gastronomical Elegance in the Historic District
Located in the Centro Historico, El Presidio is a drop-dead gorgeous restaurant offering the most elegant, trendy and sophisticated food and atmosphere I experienced during my trip, A true hidden gem, El Presidio isn't easy to find: it's tucked away inside a large house dating back to 1870 that's been transformed into a massive courtyard restaurant with a vibe both authentic and modern. Abundant with trees and featuring a pair of fish ponds, this magical space, flickering with candle light, is perfect for a romantic date. The mixology program is impressive, while the elevated Mexican cuisine here includes hamachi sashimi, octopus tostadas, duck burritos, and roasted chicken glazed in vanilla and chipotle and served on a bed of asparagus.
If you like the idea of starting your day with an ocean view punctuated by shrimp chilaquiles and fruit-topped homemade horchata, you'll want to try such beloved local hangouts as Los Panchos Restaurant or El Shrimp Bucket. Los Panchos is set on the sand, while the Shrimp Bucket, dating back to 1963, is perched just across the street from the malecón, a 13-mile-long palm-tree lined boardwalk. These eateries offer such scrumptious dishes as "Divorced Eggs" (two fried eggs, one topped with green salsa and one with red, separated by a row of refried beans and tortilla chips), chilaquiles loaded with fresh marlin with a side of sautéed cactus, and fresh-baked pastries.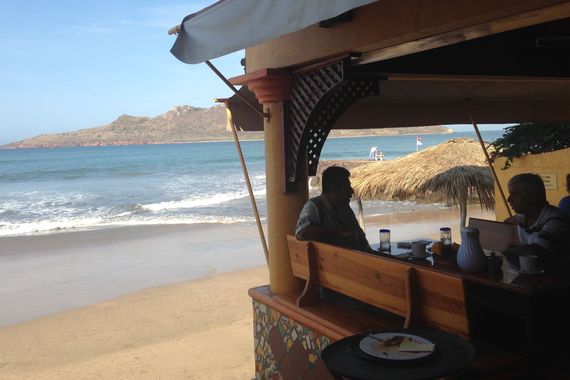 Los Panchos Restaurant. Photo: Karin E. Baker
Another breakfast spot I kept hearing great things about was Panama Restaurant and Bakery. It lived up to the hype. A cart of desserts frequently makes its way around the during room, letting you choose from a huge assortment of high-quality baked goods like tres leches cake or cheesecake topped with guayaba, along with numerous egg dishes and pineapple-coconut smoothies.
Celebrated Seafood at El Cuchupetas
Want to dine in a restaurant that's attracted several Mexican Presidents, along with numerous celebrities from Mexico and elsewhere? Off the beaten track, in a village about 20 minutes from the beach, El Cuchupetas began as a small house that eventually took over three additional nearby structures. Though fairly humble in appearance, this bustling seafood eatery renowned for exceptional quality offers over 50 seafood dishes, including shrimp soup and numerous variations of aquachiles, tostadas with crab, barbecued whole fish, baked oysters and much more.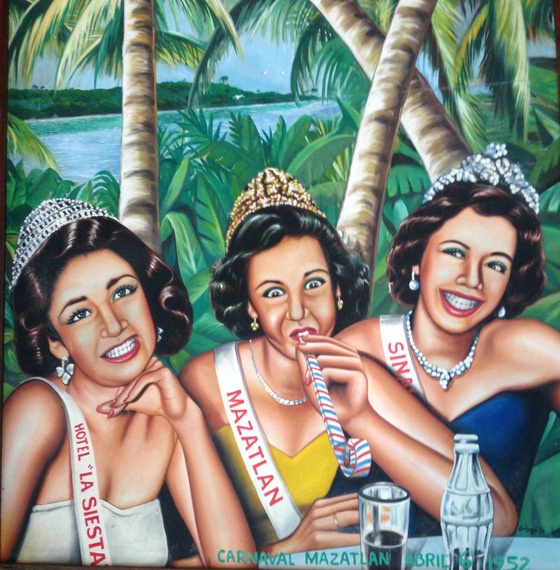 Mural in the Historic District. Photo: Karin E. Baker
And... Agave Distilleries
Tequila lovers should visit La Vinata de los Osuna, a 40-minute drive from Mazatlán. This blue agave distillery (they can't legally call it tequila as, by law, that designation applies only to Jalisco-made blue agave) dates back to 1876 and produces three delicious varieties of its award-winning Los Osuna blue agave liquors: Anejo (aged in top-quality oak barrels for 12 to 18 months), Reposado (aged in oak for three to 11 months), and the un-aged Blanco. You can tour the factory, taste the three liquors, and buy a bottle to take back with you, as Los Osuna is still hard to find in the US.
Another distillery very much worth checking out is Onilikan. Located in the tourist-friendly Golden Zone, it's easy to get to this five-year-old artisanal liquor company that sells its own premium blue agave products. You'll find a wide variety of flavors in this beautiful, colorful storefront that also houses its German-made still and a well-edited culinary gift shop. Try free samples from the wide range of flavored liquors and liqueurs, such as moonshine and hibiscus liqueur. The mango liqueur is particularly noteworthy. Each bottle is made with several pounds of mango purée, giving it an intensely fruity, pure flavor. Don't forget to check out the aforementioned gift shop, which sells such tasty morsels as chocolate-covered bacon and Oaxacan mole infused with mango liqueur.