Housing developments and ribbons of asphalt have replaced groves and farms and consumed open space and habitat for flora and fauna alike throughout Palm Beach County, but there are still some preserves -- quite literally refuges -- that have become as rare as precious jewels, and seem to be all but hidden even to the residents who live nearby. It comes as a stunning surprise to most people living amid the sprawl of development that you can have the adventure of exploring the Everglades in your backyard.
So, on our trips to Grandmother's house, we take forays to explore Palm Beach County's wild side.
Loxahatchee National Wildlife Refuge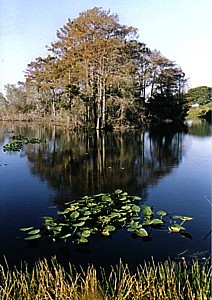 The Arthur G. Marshall Loxahatchee National Wildlife Refuge
The Arthur G. Marshall Loxahatchee National Wildlife Refuge, the northernmost portion of the Everglades, is a national treasure and my refuge. Each visit, I make at least one visit to this vast expanse of Everglades habitat, consisting of sloughs, wet prairies, sawgrass, cypress swamp, and tree islands -- remarkably, just about 15 minutes drive from grandmother's house in Boynton Beach. Most of the time, we hike along the berms that have been created, or take the boardwalk from the nature center, but we have also done the most marvelous 5 1/2-mile kayak/canoe trail.
For an extraordinary experience, rent a canoe or kayak and take a 5.5-mile looped trail through the Everglades (takes about 2 hours). Be prepared to see alligators. (561-733-0192, www.canoetheeverglades.com). Read more...
Arthur G. Marshall Loxahatchee National Wildlife Refuge is on Rte 441, just south of Boynton Beach Boulevard (561-732-3684, 561734-8303, loxahatchee.fws.gov ).
'Wild & Scenic' Loxahatchee River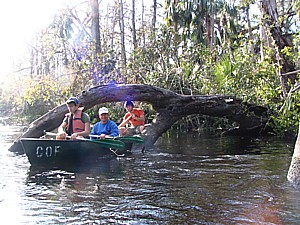 Canoeing on the Loxahatchee River
For the most exquisite canoeing adventure enveloped by a canopy of cypress, go to Palm Beach County's Riverbend Park where we rent canoes from Canoe Outfitters and set out on one of the most beautiful rivers in the country, the Loxahatchee, Florida's first to be designated a nationally "wild and scenic river." You can also go hiking and biking in the 1200-acre park. Read more....
Canoe Outfitters of Florida, 8900 West Indiantown Road, Jupiter, FL 33478, 561-746-7053, 888-272-1257, www.canoes-kayaks-florida.com (Located within the Palm Beach County's Riverbend Park, SR 706, 1 1/2 miles west of Turnpike and I-95. Open year-round, 5 days/week, closed Tuesdays & Wednesdays).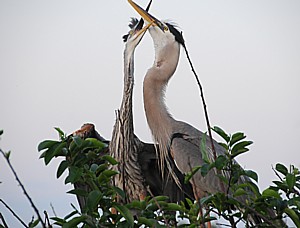 Wakodahatchee is an Indian name that means "Created Waters," and that is exactly what this preserve is: a project of the Palm Beach County Water Authority, every day, over one million gallons is purified through the preserve, either by percolation or evaporation. The idea is to use this water to irrigate golf courses, and take pressure off fresh water supplies needed for a rapidly expanding population.
The restored wetlands have become a haven for an extraordinary variety of birds-and for more and more Palm Beach residents craving the peace and natural beauty, and have attracted birdwatchers and photographers from around the world because of the superb sightings.
Wakodahatchee has a half-mile boardwalk that loops through about 50 acres, which you can easily walk in under an hour and which you brings you incredibly close to an amazing array of birds. You literally stand over them, and some fly right to the wooden railing. From this perch, you can see nesting blue heron.
Photographers flock to Wakodahatchee because the viewing is absolutely spectacular. On any given day, you can see some 30 or 40 species, but 150 species have been sighted in the preserve during the course of the year.... Read more...
On the second Tuesday of the month, there are tours with local volunteers (sign up by calling 561-641-3429). Wakodahatchee is located on Jog Road, just north of Lake Ida Road (www.pbcgov.com/waterutilities/wakodahatchee/)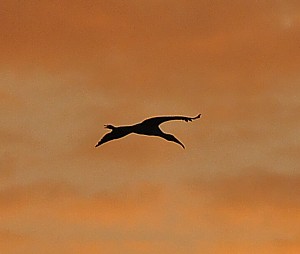 The newest nature preserve is Green Cay Wetlands. Here you walk an elevated boardwalk over the wetlands -- one loop is one mile long; another is half-mile long. The viewing experience here is much different -- wide expanses of water.
The nature center is excellent, with exhibits that feature an indoor turtle pond, a frog habitat, an alligator hole (explaining why alligators are called a "keystone species") and a wetland diorama.
One exhibit lets you travel back through 150,000 years of time to see how the geology and culture of South Florida has changed. A variety of educational programs are offered as well. Green Cay Wetlands and Nature Center, 12800 Hagen Ranch Rd., 561-966-7000, www.pbcgov.com/waterutilities/waterfacts/green_cay.htm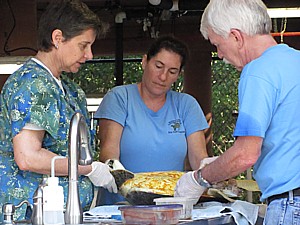 Gumbo Limbo Nature Center
Gumbo Limbo Nature Center is an oasis amidst some of the most desirable waterfront real estate in America, along A1A in Boca Raton.
There is a marvelous quarter-mile boardwalk through coastal hammock which passes by a 2,000-year old Glades culture midden, a trash receptacle of Florida's indigenous population. You also can climb a 40 foot observation tower which gives a bird's eye view of the Hammock, the Intracoastal Waterway, and the Atlantic Ocean. Along your walk you might spot red billed woodpecker, grey fox, crab spider, 5-lined skink.
But the most fascinating part is the Sea Turtle Rehabilitation Center, which only opened January 2010.. Read more... (The Sea Turtle Rehabilitation Center is open Monday - Saturday, 10 - 11:30 am and 1 - 2:30 pm, and Sunday, 1 - 2:30 pm).
Four outdoor seawater tanks house a myriad of marine animals including sea turtles, sharks, rays, spiny lobsters, urchins, and a variety of fish, representing the local marine environments
A wonderful Nature Center offers several exhibits including a butterfly nursery and offers public programs and a gift shop.
Most fascinating is a research laboratory, operated by Florida Atlantic University's Department of Biological Sciences, which you can view from a public gallery. Read more....
Gumbo Limbo Nature Center, 1801 North Ocean Boulevard, Boca Raton, FL 33432 (open Monday-Saturday, 9 am-4 pm., Sunday, noon-4 pm), www.gumbolimbo.org.
Complete your nature expedition by visiting two marvelous attractions: Lion Country Safari and the Palm Beach Zoo.
All photos © 2011 Karen Rubin/news-photos-features.com

Related