More Americans travel around the Thanksgiving holiday than during any other time of the year. According to the United States Department of Transportation, long-distance travel during the six-day Thanksgiving holiday period increases 54 percent. That's more even than the Christmas travel period, when long-distance travel increases only 23 percent.
The USDOT reminds us that it's not only public transportation hubs that see an influx of users-individual travel also shoots up during that time. Ninety-one percent of travel during this period happens in personal cars.
And although heavy media attention focuses on crowded airports and bus and train stations on the Wednesday before and Sunday after Thanksgiving, when personal vehicle trips are added to the mix the National Household Travel Survey (NHTS) reveals that Thanksgiving Day is actually a heavier long-distance travel day than Wednesday.
All that driving around eats up a lot of gasoline, which eats up a lot of money. But there are ways to save money on gas, like figuring out which areas along your travel route might have the lowest prices, or even making a pit stop a few miles out of the way to save on the green.
AAA Insurance says that the 2014 Thanksgiving weekend will see the lowest gas prices in four years. The current national average price of a gallon of gas is $3.24, says AreaVibes.com. Illinoisgasprices.com says the current average price of a gallon of gas in Illinois is $2.90.
Check out which areas in Illinois have the highest gas prices as of the afternoon of Nov. 24 according to Illinoisgasprices.com. The prices may change as the holiday approaches.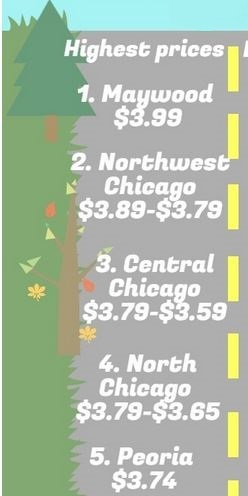 See the complete infographic showing which parts of Illinois have the lowest gas prices leading up to the Thanksgiving holiday at Reboot Illinois:

Sign up for our daily email to stay up to date on all things Illinois politics.
PHOTO GALLERY
Top 13 Things Americans Cut Back On To Pay For Gas