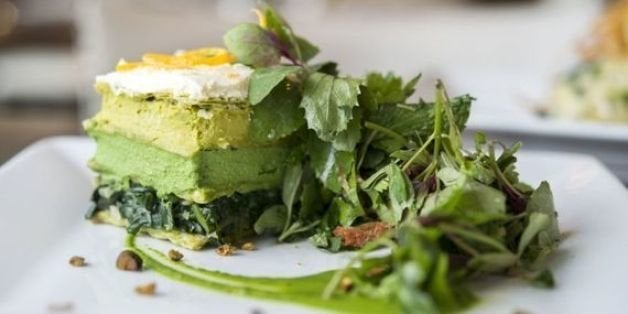 Does it seem like the Lower East Side is having more fun? The neighborhood that used to be solidly Sid Vicious territory has grown out of its punk phase and into a vibrant scene for the arts -- and a place where restaurants can feel free to try something different.
These days, if a restaurant in New York City wants to take a chance, it goes east of Broadway and south of Tompkins Square Park. Amid the creative community of young, stylish things hungry for new experiences, the chefs and owners at each of these four hot spots tell us how they feel like they've found more than a space to lease.
Dirt Candy
Amanda Cohen's vegetarian haven Dirt Candy has come a long way since 2008. After taking the risk of starting out amid a sea of fried chicken and steak restaurants in the Lower East Side, the planter-size Dirt Candy was working off a two-month wait list for its nine tables before finally spreading out into more spacious digs at 86 Allen St. last winter.
"I love this area; it's young and hip and vibrant, people actually go out at night," says Cohen about sticking around the LES. And for other restaurants considering the area, take note: "It also has really good rent, I'm not gonna lie."
As tastes have changed, Cohen says her clientele has also shifted from over 95 percent vegetarian to a majority omnivore and "curiosity eaters." The bigger kitchen has made life less cutthroat for diners longing for her carrot waffles with peanut mole sauce, smoked broccoli hot dogs and desserts composed of veggies. You don't have to close your eyes to be surprised by what's on your fork here.
"We cook with a sense of humor; we like to be creative," she says. "When we put dishes down in front of people, we want to make them smile. The name is fun, it should make you giggle and think, 'This is an adventure.'"
Root & Bone
In the race to create the most innovative, cutting-edge spaces, Root & Bone (200 E. Third St.) set itself apart by going old school.
The Southern charm that drives a menu boasting what's been called the city's best fried chicken is built into every nook. Top Chef alums Jeff McInnis and Janine Booth (he's the Southern boy from the Florida Panhandle; she's Australian) not only collaborated on the food but also designed the space with the goal of creating "a humble, warm, inviting experience," Booth tells us. "When you walk into the dining room, you feel like you're inside someone's home." Your grandma's house probably didn't have taps topped with buffalo horns and the bill of a swordfish though, so don't just expect sugar and spice.
Drawn to the variety of food, and especially of cocktail bars, in the East Village, their hospitality extends beyond regular diners with an industry-focused weekday brunch. Their cocktails are also new for spring, so try one with your whiskey maple syrup-topped waffles.
Ivan Ramen
If ramen is passe, chef Ivan Orkin didn't get the memo. In fact, he is about to expand his Ivan Ramen empire to a third location after starting out a year ago from his retro-modern Lower East Side restaurant.
The vibe, like the food, is laid back: "I'm a real old-fashioned hospitality guy. What I like is an unpretentious atmosphere that is comfortable and enjoyable." He favors a "lighter and brighter" touch with the ramen broth that won't leave you with a "fat hangover." He's also bringing over the successful brunch menu test-driven at Gotham West Market, and launching lunch soon.
Starting out at 25 Clinton St. wasn't about being drawn by buzz -- though he admits having Wylie Dufresne's WD~50 down the block didn't exactly count against it. Orkin has been coming to the neighborhood for 30 years for Guss' Pickles, Kossar's Bialys and Russ & Daughters.
Now, Orkin says, the area has something that's becoming hard to find.
"For those of us who've lived in New York all our lives, there's more and more neighborhoods that feel upscale and less and less New York-y," he says. "In the Lower East Side, there's a lot of nice people. I'm really into community and interested in having a neighborhood restaurant."
Dirty French
Major Food Group is known for creating instantly Insta-worthy spots that are as much about being seen as serving unique food -- you may have heard about the mussels and lamb pasta dish at Santina, the Italian coast-inspired eatery that's managing to usurp the new Whitney's spotlight in the Meatpacking District.
So it's somewhat of a surprise that, according to partner Jeff Zalaznick, their concepts often takes shape after they've found a new space. For Dirty French (180 Ludlow St.), which opened last September in The Ludlow Hotel -- but good luck getting a table there still -- the inspiration came from the history of the neighborhood when it had a distinct foodie identity.
"There was definitely a glory day of really interesting, exciting things happening in the neighborhood in the '80s -- that was the real golden age, when people started opening bistros," he says.
Alongside a menu of Jazz Age-era cocktails, the food is bistro fare "from our unique perspective -- we wanted to bring a New York sensibility to something very classic." Think millefeuille with coconut curry and crispy-skinned duck a l'orange. And we won't fault you for ordering more of the complimentary flatbread.
Notable neighbors
Dimes knew the crowd it would attract even before opening and named itself for the effortlessly boho chic set who have planted their flag to claim its breakfast quinoa salads and fruit-filled acai bowls. After barely a year, it's traded up from the six-table space at 143 Division St., which will become a takeaway spot, to larger digs just down the street at 29 Canal St. The menu got bigger, but the people-watching was already flawless.
If anything, Mission Chinese Food (171 E. Broadway) has only gotten better in the year since having to vacate its former Lower East Side home and operate as a pop-up in Brooklyn. In the coldest pit of winter just before Christmas, chef Danny Bowien reopened a more refined restaurant -- that also serves pizza. The food is still spicy, the prices are still reasonable and there are still no reservations, but the wait is worth it for the city's newest modern classic.
The white-hot Mexican food trend sweeping the city finds two of its most solid entries in the East Village. The audacious Chinese-Mexican fusion cuisine is served until 4 a.m. Tuesday to Sunday at newcomer Tijuana Picnic (151 Essex St.), which is getting a basement tequila bar with room to move this Friday. And even newer is Rosie's (29 E. Second St.), by the team behind Chelsea sensation Cookshop. Chef Marc Meyer is finally putting all his south-of-the-border traveling to good use at this low-key spot made for al fresco dining, with "walls" that open the whole space to the outdoors.