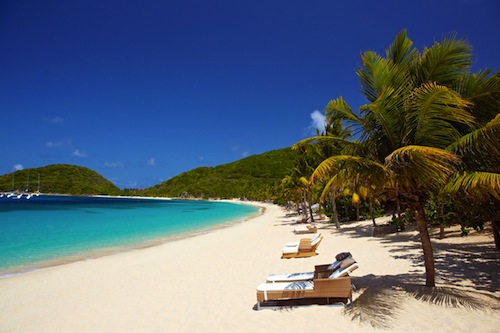 Peter Island Resort & Spa, a private isle in the British Virgin Islands, is set on 1,800 tranquil acres and includes five pristine beaches and a marina. Accommodations range from villas to junior suites and ocean view rooms. If you're looking for a place to completely disconnect and rejuvenate in a healthier way, put this destination on your list. With no televisions in rooms and Wi-Fi located only in the rooms and restaurants -- not common areas -- you can unwind completely here. Below, my top five ways to relax on this slice of paradise.
1. Unwind at Peter Island's 10,000-square-foot spa with spectacular views overlooking Reef Bay. Choose from massages, scrubs, body wraps, facials or anything else you could ever imagine. The spa specializes in Ayurvedic treatments, an Indian medicine system for detoxifying the body. I highly recommend the Natura Bissé's Diamond Experience Facial and any massage on the menu.
2. For those looking to maintain, challenge or improve fitness levels during downtime, try the Peter Island-Athlon Challenge. For active vacationers, consider the Islander Challenge, which includes a ½-mile kayak, 5-mile loop and a 2-mile run/walk. If you think you can handle more, try the Islander Challenge 2.0, with a 1-mile swim, 2 laps by bike on the 5-mile loop and a 5-mile run. You'll have a dedicated Athlon Coach who monitors and times your throughout the exercises. After successful completion of the course of their choice, guests will receive a certificate of achievement and a donation will be made to a local charity on their behalf by Peter Island.
3. Snorkeling here is a must. Also try your hand at an array of other watersports such as sailing, windsurfing, kayaking and paddleboarding. In addition, Peter Island boasts beautiful hiking and biking trails, basketball and tennis courts and complimentary yoga in the Tranquility Garden. Take the 5-mile walk across the island in the mornings; it's uphill at first, but the path levels out and is worth the amazing views to start your day.
4. Head to White Bay Beach for an afternoon of pure relaxation and snorkeling. You'll have a box lunch (and whatever else your heart desires) awaiting. When I visited, I was the lone person on the beach. It's as close to Honeymoon Beach as one can get.
5. From 5 to 6:30 p.m. everyday, catch a true BVI sunset from the most beautiful point on Peter Island: Sunset Loop. The staff drops off a fruit-and-cheese platter and your favorite beverage, and then leaves you there to watch the sun dip below the Caribbean. It's true heaven.