By Beth Doane & Kelly Gibbons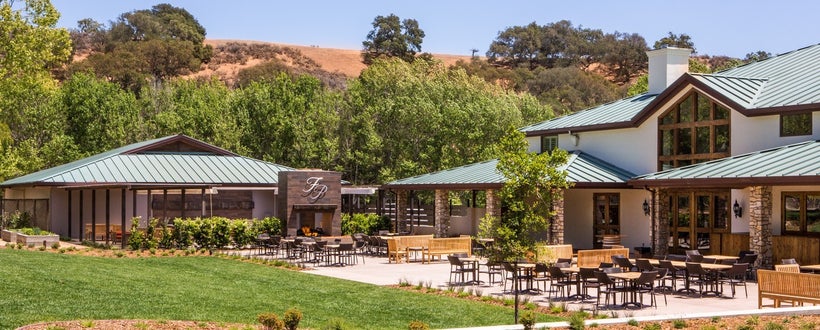 The dramatic Santa Ynez Mountains serve as the ideal backdrop for what has now become my favorite escape in California wine country. Here are the must-see spots on my list this year for the perfect relaxation weekend or even just a day away.
Newly opened in Fess Parker's Wine Country Inn, The Bear and Star is incredible and serves as the representation of the Parker family's Texas roots and California heritage. The Bear and Star serves authentic, refined ranch cuisine made with fresh produce and livestock from the Fess Parker Home Ranch. Only seven miles away from the inn, the ranch is home to Wagyu cattle, quail, chickens, and a bounty of organic fruits and vegetables that hold the phrase "farm-to-table" to it's truest form. The menu changes frequently, as only the freshest, locally sourced ingredients are used. Weekend brunch includes dishes such as a smoked pork rillette toast, crispy catfish sandwich, and deviled ranch eggs. Dinner options range from local stuffed quail to chicken liver mousse and Parker Ranch chili. Acclaimed chef and restaurant partner John Cox, along with native chef Jeremy Tummel and sous chef Trent Shank are inherent to the success of the team. Passion, vision, and genuine hospitality lead this family enterprise. The end result is a friendly, rustic, yet refined ambiance that compliments the countryside element of The Fess Parker Inn itself exquisitely.
The S.Y Kitchen is also a favorite and sure to satisfy Italian fare cravings. In the heart of Santa Ynez, S.Y Kitchen offers authentic, modern Italian cuisine. The courtyard creates an outdoor lounge that offers cocktail-style tables and cushioned seating, complete with soft tree lights adorning the patio. Menu items such as a warm octopus salad, burrata, wild mushroom pappardelle, and T-bone truffle sliders ensure there is something for even the pickiest eater. There's no better way to unwind than enjoying a delicious, authentic Italian meal and a glass of wine on an outdoor patio.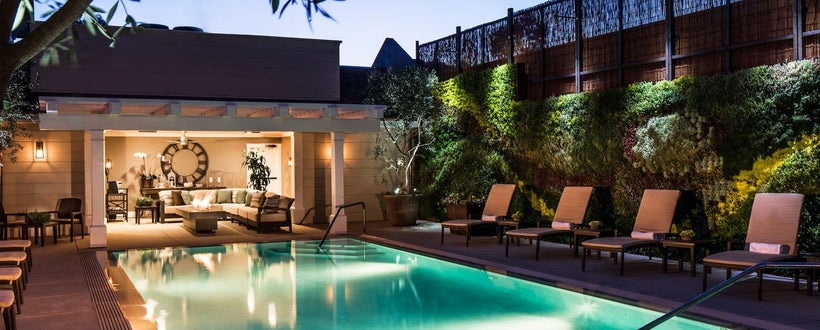 A revitalizing, calming space with an extensive variety of beauty, relaxation, and therapy treatments, the Spa at Fess Parker has the perfect way for you to get in that much needed "me-time". Unwind with a tri-enzyme facial, lift effect facial, or even an urban cleanse for men.
For relaxation treatments, the spa offers hot stone therapy, the Los Olivos Unwind, and a Mommy-To-Be massage. In today's fast-paced world, it's hard to find ways or even time to de-stress and relax. Caring for your well-being and mental health is inherent to your productivity, and sometimes a girl just needs a massage! My personal favorite is the Los Olivos Unwind.
Fess Parker Winery & Vineyard
Rumor has it that drinking wine in moderation promotes longevity, reduces the risk of heart disease, and slows brain decline? All the more reason to visit award winning winery The Fess Parker Winery & Vineyard. The Fess Parker Winery & Vineyard has come a long way since Fess Parker's original vision, planting a five-acre experimental Riesling vineyard in 1989. The winery and tasting room now includes a grand stone fireplace, stone floors, and a veranda with several picnic tables. The land is the perfect setting for summer picnics and performances, many of which are hosted by the inn. Events such as the Fess Parker Winery Harvest Lunch, Pork & Pinot, and Smoky Summer Nights are extremely popular during the summer months.
Artiste is a unique experience that blends wine tasting with art. The winery is modeled like a 1880 working art studio, inspired by Hotel Baudy in France where the Impressionism movement first began. Unlike traditional wine bottles, all Artiste wines are labeled with works of impressionist art, working with contemporary impressionist artists to license a new painting for each wine. This creative space encourages visitors to express themselves through painting on community canvases, sketching in art journals, or simply appreciating the contemporary impressionist artwork that surrounds them. Artiste also offers Blending Workshops at their Tasting Studio. At the workshop, guest winemakers begin the blending process by creating several "trial blends" on their own and then start to create their own special wine. Easels, canvases, and paints are provided so guests can create their own event related wine label. When I visited this beautiful winery I truly forgot about my calendar for a bit and became immersed in creating some of my own artwork.
The Fess Parker Wine Country Inn is a luxurious stay any time of the year. They offer nine different types of rooms and packages, each room complete with a lovely view of Los Olivos and a cozy fireplace to add to an elegant wine country feel. Full breakfast for two is included daily at The Bear and Star, as well as several other amenities such as access to a heated pool, on site gym, and a complimentary wine tasting for two. If you prefer a more outdoorsy type of stay, then the Wine Country Cabins are definitely for you. While the cabins provide more of a rustic, homey aesthetic, the interiors of the various cabins are luxurious and magnificently furnished. The cabins are a brief walk from the tasting rooms and various dining options, and guests are able to take advantage of all the amenities from the inn just down the street.
REAL LIFE. REAL NEWS. REAL VOICES.
Help us tell more of the stories that matter from voices that too often remain unheard.
This post was published on the now-closed HuffPost Contributor platform. Contributors control their own work and posted freely to our site. If you need to flag this entry as abusive,
send us an email
.