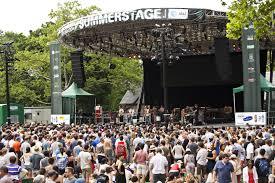 By Dan Ouellette, ZEALnyc Senior Editor, July 5 2016
OK, we are now officially into our summer with the temps regularly rising into the 80s, so it's a fine time to get out of your air-conditioned and fan-freshed cubicles and enjoy the next two months of some terrific music, at least on the jazz front. Some free, some ticketed, all guaranteed to be blockbusters.
Without going into a long, exhaustive detail of what's coming up with jazz (and beyond), here's a sampler of what makes New York a vital playground of creative music--indoors in clubs like Birdland and the 92nd Street Y or outdoors at parks such as SummerStage in Central Park and BRIC Celebrate Brooklyn in Prospect Park.
While there's a diversity of music presented at SummerStage in Central Park (from Yiddish soul to opera), jazz often gets an opportunity to shine. Already appearing there has been a show celebrating the legacy of the iconic pianist McCoy Tyner and an evening celebrating the rising-star saxophonist Kamasi Washington (both co-sponsored by the Bluenote Festival). On June 25 in association with the New York Hot Jazz Festival, SummerStage will present a swinging good time with three groups on the schedule: Butler, Bernstein & the Hot 9; the dance-crazed The Hot Sardines; and trumpeter/singer Bria Skonberg at the helm of the New York Hot Jazz Festival All-Stars.
Under the City Parks' SummerStage umbrella, jazz also comes to the New York boroughs, including premiere jazz vocalist Dianne Reeves performing in Queens at the Queensbridge Park (with DJ Greg Caz opening) on July 27 and the always electrifying trumpeter Terence Blanchard with his primo band E-Collective performing at Clove Lakes Park in Staten Island on Aug. 5.
In its 38th annual summer festival party, BRIC Celebrate Brooklyn at the Prospect Park Bandshell reflects, as it states, "Brooklyn's eclecticism and diversity." Thirty shows by a variety of artists are scattered throughout the summer--mostly free but the best show of the season is a ticketed benefit affair. Highlighted free jazz-oriented shows include the explosive Stephan Colbert show band maestro Jon Batiste and Stay Human (July 23), and the doubleheader of Blue Note Records stars headlined by top jazz vocalist Gregory Porter with up-and-comer saxophonist Marcus Strickland & his Band Twi-Life delivering a forward-sounding mélange of jazz charged with Afrobeat, dance floor, r&b, hip-hop that stretches the jazz boundaries (July 28). Dhol player Sunny Jain's Red Baraat's Brooklyn Mela kicks up a dance fury with music steeped in contemporary South Asian styles (July 8), and Africa's premiere diva Angelique Kidjo celebrates Latin vocalist legend Celia Cruz with a killer Latin band featuring such Cuban artists as saxophonist Yosvany Terry and the top percussionist of the day, Pedrito Martinez (July 29).
But by far the best concert of the entire New York area this summer takes place on August 11 with jazz icon Herbie Hancock headlining the festival's final benefit concert of the season (co-produced with the club Le Poisson Rouge). Pianist Hancock introduces an exciting new quintet at the show that includes the stellar band of keyboardist Terrace Martin, guitarist Lionel Loueke, bassist James Genus and drummer Trevor Lawrence Jr. Also on the bill is the Robert Glasper Experiment--the pianist/keyboardist's high-wire band that explores jazz and beyond--as well as the ensemble BADBANDNOTGOOD that will be experimenting with new takes on trad standards with a hip-hop sensibility.
Enthusiasm rules as the operative word when talking to pianist Bill Charlap about his creative endeavor as impresario: the 92nd Street Y's annual Jazz in July Series that takes place July 19-21 and July 26-28 at the Upper East Side cultural institution and community center. He's in his twelfth year as the artistic director of the two-week, six-concert show cycle that was founded thirty-one years ago by his pianist friend Dick Hyman.
Charlap promises something for every jazz fan, though his artistic direction steers clear of funked up fusion or hip-hop charged jazz. So, call it straight down the middle with lots of special jazz stripes played by several teams of remarkable improvisers.
This year's festival includes a Summertime Swing Party (July 19), Jazz Goes to Hollywood: Dietz & Schwartz (July 20), an evening settling into the Nat King Cole songbook (July 21), a show exploring the kings of stride piano (July 26), a celebration of Billy Strayhorn's 100th birthday (July 27), and a blues-oriented performance having fun with classic songs by great songwriters like George Gershwin and Harold Arlen (July 28).
Charlap will be on the piano throughout with a full round of all-star support, including his wife pianist Renee Rosnes, his vocals mother Sandy Stewart, singer Freddy Cole, clarinetist Anat Cohen, trumpeter Jeremy Pelt and pianist elder Dick Hyman for the final show.
In 2000 when veteran producers the late Ettore Stratta and Pat Phillips started the first celebratory Django Reinhardt event at Birdland, the idea to pay tribute to the seminal gypsy guitarist seemed like a fine one-off idea to please old-time fans as well as expose potential new converts to the sprightly swing music of the '30s and '40s. Sixteen years later, the annual festival honoring Reinhardt has become one of the highlights of the jazz summer season in New York. After Reinhardt became renowned collaborating with jazz violinist Stephane Grappelli in their Hot Club Quintette in France, the music they created as well as the guitarist's own solo projects spawned countless disciples.
This year the festival presents once again the Django Festival Allstars, piloted by lead guitarist Samson Schmitt, a gypsy from Forbach, France, and the son of the legendary Dorado Schmitt. Two years ago the band was championed not only by the Birdland audience but also at the Newport Jazz Festival.
This year at Birdland, the Allstars will be joined by special guests each night, including clarinetist Anat Cohen on August 2. Swing high!
Bird Lives! While saxophonist Charlie "Yardbird" Parker lived a relatively short life (he died at the age of 34 in 1955), his presence as the co-founder of bebop still looms large over the jazz world. He's heralded as a genius hero who brought jazz into the freedom vanguard after being trapped in the swing era. Velocity and revolutionary harmonic ideas hit at the heart of Bird's astounding improvisation. On the 61th anniversary of his death, Parker is more alive than ever. As an integral component of SummerStage's free concert series, the Charlie Parker Festival takes place over three days, with two special days at Marcus Garvey Park in Harlem. On Friday night (August 26), pianist/composer/arranger/music genius Jason Lindner sets up his Breeding Ground project, with DJ Greg Caz opening. Starting on Saturday afternoon (August 27), a four-act show fills the park with sweet, highly percussive jazz, highlighted by the legendary pianist Randy Weston who leads his African Rhythms Sextet and Cory Henry's The Funk Apostles. The finale of the three-day Bird bash takes place at the East Village's Tompkins Square Park (August 28) where four acts pay homage to Parker: a supergroup of drummer Jack DeJohnette, pianist Jason Moran and bassist (and 2017 NEA Jazz Master) Dave Holland; singer superior Allan Harris; saxophonist (and David Bowie collaborator) Donny McCaslin with his group; and young saxophonist Grace Kelly.
Cover photo: cityparksfoundation.org
For all the news on New York City arts and culture, visit ZEALnyc Front Page.
Calling all HuffPost superfans!
Sign up for membership to become a founding member and help shape HuffPost's next chapter