Every fall, New England rolls out a foliage carpet dressed in blazing oranges and reds, yellows and purples. It's the perfect time to visit the region. Leaf peepers come to drive the winding country roads, hike lush mountain paths, and stroll town greens to soak in the vibrant vistas of color. If you're planning a trip to the region, here are the most stunning places to see fall foliage state-by-state.
Early October is prime leaf peeping time for the northern states, while the southern half stretches into late October and even early November. For a guided experience, browse Fall Foliage Tours in New England.

Maine
Photo credit: InAweofGod'sCreation via Flickr.
As the northernmost state in New England, Maine fall foliage peaks in early October. Inland, dazzling hues of yellow, orange, and red blanket the mountains of Western Maine, especially in and around Rangeley Lakes. Winding routes pass lakeside parks, waterfalls, and spectacular overlooks. White Mountain National Forest and Sebago Lake State Park are especially brilliant.
Down east along the coast, Acadia National Park provides a stunning array of colors, set against coastal waters dotted with lighthouses and wildlife. In Camden, Penobscot Bay on the east side and the lakes on the west reflect the stunning fall colors that carpet the rolling hills. Head to the peaks to see the rich patina of autumn shades on the islands in bay.

New Hampshire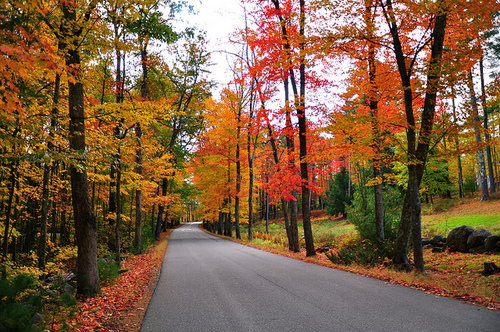 Photo credit: Kimberly Vardeman via Flickr.
New Hampshire is postcard-pretty this time of year. Quaint villages with town greens ringed with fall colors dot the routes of southwestern New Hampshire, where Mt. Monadnock provides an astonishing array of reds, yellows, and oranges on its sides and summit.
In the White Mountains, Route 302 passes through Crawford Notch, a scenic valley of red maples and yellow birches stretched along its hillside. Also here is Kancamagus Highway, a National Scenic Byway that runs east-west through the White Mountains, a favorite fall foliage passage for leaf peepers.

Vermont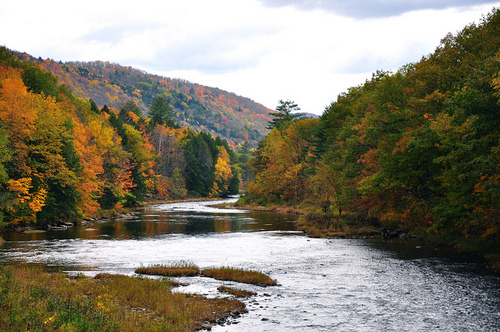 Photo credit: Kimberly Vardeman via Flickr.
Apart from its maple syrup and cheeses, the Green Mountain State is known for its spectacular fall foliage. The state is the most rural of the region, with some 80 percent of it covered with dense forests, turning the state into a leaf peepers delight come fall. A wide range of colors, from dark reds and yellow to russets, explode throughout the state.
Drive I-91 from Brattleboro to Newport for a colorful canvas that takes you through the Connecticut River Valley and the hillsides of the Northeast Kingdom. Another scenic stretch is Route 100, which winds through the entire state, taking leaf peepers through a vibrant canvas of color on the Green Mountains, passing farms and villages along the way.

Massachusetts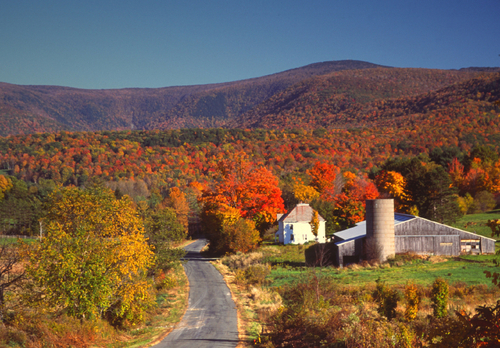 Leaf peepers head straight to the Berkshires in western Massachusetts for the best and most stellar fall color displays in the state. And it's a gorgeous carpet, too. Winding roads weave throughout the region, passing colorful meadows, farms, rivers, lakes, and a backdrop of mountain summits. In the southwest corner of the state, Bash-Bish Falls State Park offers a three-state view of blankets of gold and crimson from a promontory.
Head further east to the Connecticut River Valley, where displays of colorful vistas unfold, especially the area around the Quabbin Reservoir. Closer to Boston is the Walden Pond State Reservation and the Mount Auburn Cemetery, both of which have thousands of trees that shimmer with a stunning autumnal palette.
Rhode Island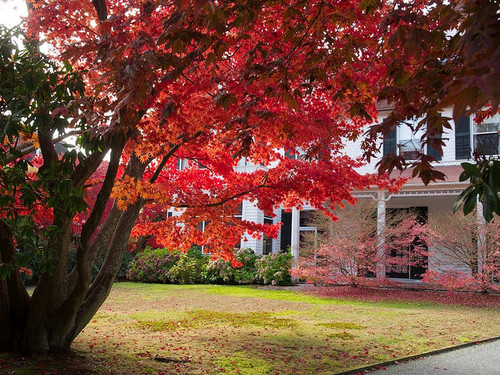 Photo credit: Šarunas Burdulis via Flickr.
Rhode Island may be small, but for leaf peepers the state offers plenty of dramatic spots to see fall colors from mid-October peaks in the rural northern and western areas to early-November color along the coast. The best country spots to see the autumn extravaganza is the Blackstone Valley and South Country, where you'll pass through dense forests, hamlets, and pumpkin patches. For urban strollers, Providence and Newport both offer plenty of color alongside rivers and in parks.

Connecticut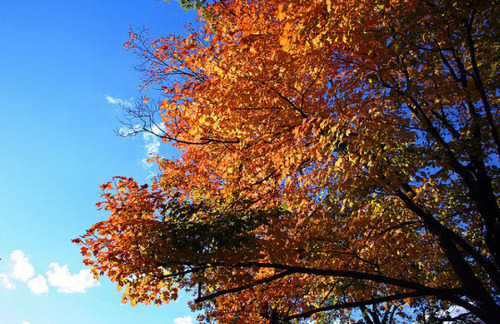 Photo credit: B Rosen via Flickr.
A little more than an hour from New York City, Connecticut abounds with leaf-peeping opportunities. You can see a blazing array of reds, yellows, and oranges throughout October and even into November. One of the best places is the Litchfield Hills. Route 7 runs through this rolling countryside, following the Housatonic River under a canopy of colors. Litchfield itself is a nice stop for lunch. Take a stroll along the town green or to buy pumpkins along the roadside. Stop in New Preston to see the 40-foot waterfall on the Aspetuck River.
Route 169, a historic roadway and National Scenic Byway, takes you through more of autumn's colorful riches, passing museums and historic structures along the way. Head to Lake Waramaug and Mount Tom for colorful vistas of striking beauty.
- William Travis for Viator
Popular in the Community