Since I first visited the region of Puglia, in the heel of Italy on the Adriatic Sea, eight years ago, it has become an increasingly popular destination for Italians and foreigners alike. There are many reasons why Puglia is so captivating, including the stunning beaches and landscape, the convergence of cultures and fresh, simple cuisine and wines.
The demand for places to stay has been met by innovative locals transforming many of the Puglia's centuries-old fortified (with 500 miles of coastline the region was historically prone to invaders like the Turks) farmhouses, called masserie, into modern oases. The two masserie below combine the best of local architecture with both uniquely Pugliese touches (ancient olive trees galore) and amenities you would find at some of the world's best hotels:
Trulli Spectacular Rental: Masseria Gelso Bianco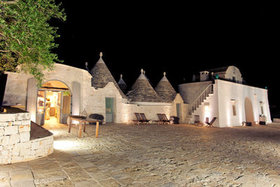 Few visitors to the area around Alberobello haven't dreamed of spending the night in one of the trulli, historic conical limestone huts, that dot the landscape here and are now protected by UNESCO World Heritage status. At Masseria Gelso Bianco, 11 trulli come together within a larger structure, to offer a uniquely Pugliese luxury villa rental that sleeps up to 10 people in five bedrooms.
In less than six months, owner Antonello Losito transformed Gelso from a pile of rocks to a property that belongs on the cover of a design magazine. For anyone who knows how things work in southern Italy, this is nothing short of a miracle and testament to Losito's powerful work ethic and attention to detail.
No detail is missed at Gelso, whether it is one of aesthetics or comfort and convenience. I slept in Il Carciofo (artichoke) which is actually two trulli, one sleeping room connected to a stunning cave-like, modern bathroom. The short hallway between the two features colorful ceramic artichokes on display; each room offers similar symbolic décor tied to its name. All of the rooms are en suite.
Gelso has full radiant heat and air conditioning, a WiFi router in each room ensures a strong signal and the hair dryers in each bathroom are uber-powerful. Losito also provides guests with an Apple iPad to use during their stay.
While there is a main living and dining room, the grounds of Gelso, including an absolutely stunning pool, are so captivating that you will want to spend all of your time eating and playing outside, surrounded by white limestone, ancient olive trees and the captivating trulli. Losito's fiancée Laura Giordano runs a small cooking school attached to Gelso which provides the perfect chance for guests to learn how to cook simple Pugliese meals during their stay.
Masseria Gelso Bianco is one of those places you struggle to leave, even just for a few hours of sightseeing.

Masseria Gelso Bianco
Martina Franca
(39) 340 2644128
www.villapulia.com
Rates: €1,990 to 4,390 per week, depending on the season.
Luxury and Golf: Masseria Torre Maizza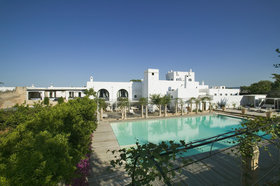 Puglia first gained acclaim among international jetsetters about a decade ago when a series of 5-star luxury resorts opened in and around the charming seaside village of Savelletri di Fasano. Masseria Torre Coccaro was one of these. Building on their successful formula of impeccable yet down-to-Earth service and elegant design, the Muolo family opened Masseria Torre Maizza just down the road.
Their newer property is a golfer's dream, set on the Coccaro Golf Club, lined by towering, contorting 700-year-old olive trees with the turquoise sea in the distance. Since most of the masseria's 28 rooms are in single-floor buildings spread out from the main house, guests are likely to enjoy a private terrace right on the greens. The décor echoes muted Ralph Lauren, contemporary with an emphasis on white, blue, black and gray.
There's so much more here than golf. Guests can take a shuttle or a short bike ride on lanes bordered by hand-crafted stone walls to the private Coccaro Beach Club, where your every beach fantasy (think wooden sunbeds, thatched beach umbrellas, fruit drinks, kids club, beachside seafood restaurant), no matter what your age, will be indulged. Back at the masseria, the Aveda Spa, cooking school and the award-winning restaurant (70% of the food served is grown on the property) provide even more distractions.
A self-guided walking tour of The Masseria Art Project is an innovative touch. Plus, there heated pool is a work of art in itself, surrounded by a teak deck and ancient-looking columns mimicking the nearby ruins of Egnazia, an ancient city dating back to the 13th Century B.C. that was once a gateway to Greece, China and Africa.