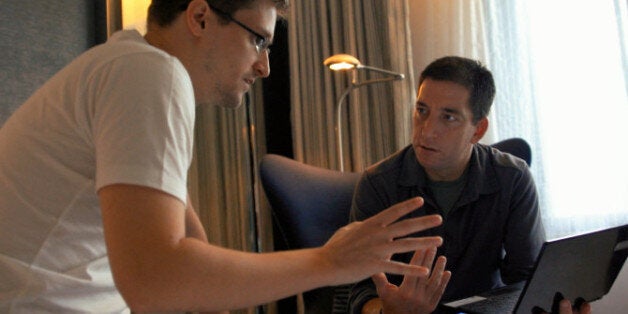 What it's about: "'Citizenfour' is a real-life thriller, unfolding by the minute, giving audiences unprecedented access to filmmaker Laura Poitras and journalist Glenn Greenwald's encounters with Edward Snowden in Hong Kong, as he hands over classified documents providing evidence of mass indiscriminate and illegal invasions of privacy by the National Security Agency (NSA)."
What it's about: "'Virunga' is the incredible true story of a group of brave people risking their lives to build a better future in a part of Africa the world's forgotten, and a gripping exposé of the realities of life in the Congo."
What it's about: "'Finding Vivian Maier' is the critically acclaimed documentary about a mysterious nanny who secretly took over 100,000 photographs that were hidden in storage lockers and, discovered decades later, is now among the 20th century's greatest photographers. Directed by John Maloof and Charlie Siskel, Maier's strange and riveting life and art are revealed through never-before-seen photographs, films, and interviews with dozens who thought they knew her."
What it's about: "During the chaotic final days of the Vietnam War, the North Vietnamese Army closes in on Saigon as South Vietnamese resistance crumbles. The United States has only a skeleton crew of diplomats and military operatives still in the country. As Communist victory becomes inevitable and the U.S. readies to withdraw, some Americans begin to consider the certain imprisonment and possible death of their South Vietnamese allies, co-workers and friends. Meanwhile, the prospect of an official evacuation of South Vietnamese becomes terminally delayed by Congressional gridlock and the inexplicably optimistic U.S. ambassador. With the clock ticking and the city under fire, a number of heroic Americans take matters into their own hands, engaging in unsanctioned and often makeshift operations in a desperate effort to save as many South Vietnamese lives as possible."
What it's about: "Sebastião Salgado has created some of the most indelible photographs of our time. His black-and-white images bring an artful composition to chronicling humanity's 'salt of the earth' in multiyear projects such as 'Workers,' 'Migrations' and 'Genesis.' This film, directed by his son Juliano Ribeiro Salgado and Wim Wenders, brings an insider's and outsider's perspective on the family, illuminating the key role played by Salgado's wife, Lélia Deluiz Wanick, and their work on the nature preserve Instituto Terra."
Where to watch: "The Salt of the Earth" opens March 27 in New York and Los Angeles. A national release will follow.
Calling all HuffPost superfans!
Sign up for membership to become a founding member and help shape HuffPost's next chapter
BEFORE YOU GO