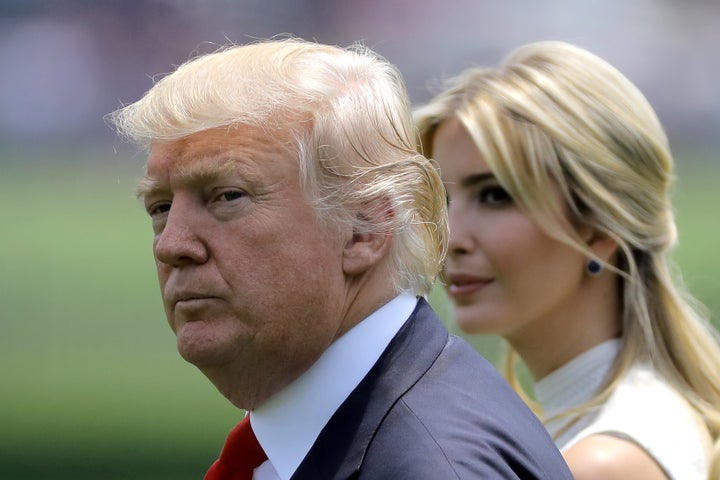 With his campaign pledge to repeal Obamacare in jeopardy, Donald Trump has renewed his complaints about Democratic "obstruction."  He is calling for the Senate rules to be changed and is already looking ahead to next year's midterm elections.
But the president could try a different approach in the wake of his difficulties on health care. He could work together with Democrats on another policy issue that also affects millions of people, and in the process, score a much-needed legislative victory and transform American society.
That policy issue is paid family leave.
The United States is the only industrialized country without a national paid family leave policy. If your income is in the Trump stratosphere, this wouldn't ordinarily be of concern to you. That's why the support for paid leave from the president's daughter, Ivanka Trump, is so surprising – and critically important.  
The overwhelming majority of American families will need paid family and medical leave at some point, whether to care for a new baby or a seriously ill family member, or to manage a medical condition. Unfortunately, only 14 percent of private sector workers in the U.S. have paid family leave through their employers. This figure drops to 6 percent for workers earning $30,000 a year or less.
This essential benefit shouldn't depend on the geography or generosity of one's employer.
I served as the Deputy Secretary of Labor under President Obama for three years. During my travels around the country, I heard from so many hard-working men and women unable to balance their work and family obligations because of the lack of paid family leave.
In Denver, I met a woman who lost her job because she had to care for both an ailing parent and child.  To make ends meet, she sold her family heirlooms.  In Philadelphia, an airport wheelchair attendant told me that she lost a day's salary whenever she stayed home to care for a sick grandchild.
For working families, paid leave is not a luxury but an economic necessity. With nearly two-thirds of mothers now primary, sole, or co-breadwinners in their families, the "Leave It to Beaver" families of the 1950s are no longer the norm.
A growing number of employers are providing paid leave to their employees, not just because it's the right thing to do, but because it's good for the bottom line. Stephen Schwarzman, the CEO of Blackstone and a prominent Trump advisor, wrote recently that paid leave is "good for business" and "worth every penny."
Survey after survey has shown that employees at companies with paid family leave have lower stress, greater productivity, and higher rates of retention. When Google expanded its paid maternity leave from 12 to 18 weeks, attrition of new mothers decreased by 50 percent.  In California, where paid family leave has been required since 2002, 87 percent of California businesses said they had no increased costs due to the mandate.  Another 9 percent of California businesses reported cost savings due to reduced employee turnover.
These positive business effects are why major employers like Microsoft, USAA, and Johns Hopkins University have recently expanded their paid leave policies. A few weeks ago, Washington State became the fifth state to guarantee paid family leave; workers in Washington will receive up to 16 weeks to care for babies, family members or themselves. And a bill is currently sitting on the New Jersey governor's desk that would expand that state's leave program.
Already, there is bipartisan movement on this issue.  Last month, the AEI-Brookings Project on Paid Family Leave announced a compromise proposal for a national paid leave policy that is supported by former officials who served in Democratic and Republican administrations.
Access to paid leave will continue to expand, but this essential benefit shouldn't depend on the geography or generosity of one's employer. That's why the advocacy of Ivanka Trump matters. She likely won't change the minds of Republicans who have consistently opposed government-imposed paid leave policies. But her outspoken support can encourage more companies and state governments to move forward on this issue.
However, not all paid leave proposals are the same. To be meaningful, a leave program should be available to every employee and recognize the diverse structure of modern families. The paid leave period should be long enough to cover the range of care obligations. And the program should ensure that employees, especially low-wage earners, receive sufficient wage replacement to protect their economic security.
Judged by these standards, the Trump administration's current proposal falls short. The Trump plan would provide only six weeks of leave, which pales in comparison to what other industrialized countries require.  The leave would be available only to new parents, despite the fact that 75 percent of people who take leave are caring for a family member or dealing with a medical issue.  Ironically, under the Trump proposal, a woman could take leave for childbirth but not if she had heart surgery.
A better approach is the Family and Medical Insurance Leave (FAMILY) Act offered by Senator Kirsten Gillibrand and Rep. Rosa DeLauro. This proposal would provide up to 12 weeks of leave for an employee's own health conditions (including childbirth) or for the care for others, ensure sufficient wage replacement, and cover workers in all companies.  Because this bill is modeled on lessons learned from state family leave policies, it has the support of large and small employers. 
Over the past six months, the president has complained bitterly that Democrats are not supporting his policy agenda. If he is sincere about bridging the partisan divide, paid family leave would be a good place to find common ground.
Chris Lu was the Deputy Secretary of Labor and White House Cabinet Secretary during the Obama Administration. He is a senior fellow at the University of Virginia Miller Center and a board member of the American Sustainable Business Council.  Follow him on Twitter at @ChrisLu44
REAL LIFE. REAL NEWS. REAL VOICES.
Help us tell more of the stories that matter from voices that too often remain unheard.
BEFORE YOU GO