On March 8th people who are separated by nationalities, races and economic differences will come together to celebrate International Women's Day. It is a time to reflect on progress made, to call for change and to celebrate acts of courage and determination by women who have played an extraordinary role in the history of women's rights.
As a young girl growing up in Poland, I vividly recall newscasts chronicling the amazing events on International Women's Day that took place all over Europe. It was inspiring for me to see examples of historic achievements by women as they struggled for equality and justice at all levels of society. Later on, when I left the communist system of Poland and came to America, I was surprised to discover how little awareness there was in this country of International Women's Day as a powerful symbol of women's history.
To commemorate this special day I made a painting inspired by Mnemosyne, the Mother of Memory, that explores where we have been and what we can become. It is a symbol of International Women's Day depicting a community of all races of the world in a female form. It evokes the achievements of women through their struggle for peace and equality in the face of discrimination and war.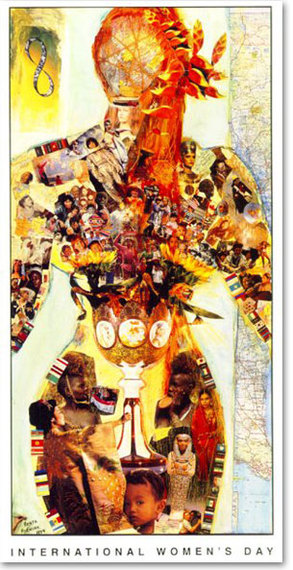 In the late 1980's I dedicated myself to making International Women's Day an official day of celebration in the United States. I was able to convince then Mayor Tom Bradley to proclaim it an official day of celebration in Los Angeles and Governor Pete Wilson soon did the same for the State of California. I eventually enrolled Congresswoman Maxine Waters as an ally in my quest. This led directly in 1994 to Congresswoman Waters' introduction into the U.S. Congress of H.J.R 316. It was the first bill in the history of the US Congress for political recognition of International Women's Day as an official day of celebration in the United States. Since that time, it has been an enormous source of satisfaction for me to see the growth of interest within the U.S. in this tremendously significant celebration.
Today it is easy to forget that less than one hundred years ago women around the world were not allowed to join a union, to get a college degree or to hold a library card. At that time the right to vote was still a distant dream for most women. While New Zealand was the first country ever to give women the right to vote in 1893, most countries did not recognize the political voice of a woman until decades later: Holland in 1917, Great Britain in 1918, France in 1944, Italy and Japan in 1945, and Switzerland not until 1971. In the United States, universal women's suffrage didn't become law until 1920.
This day honors the important work of women as pioneers in political activism, in social reforms, in the arts, and in their communities. It is a day to celebrate ordinary women doing extraordinary work, and offers us a chance to pay homage to these women who are creating a better world for all of us. We also mark this day to reexamine contemporary mainstream media accounts of male-dominated governments and corporations. International Women's Day reminds us that women have fought for, and won, better educational opportunities and have also secured legislation to ensure control of our earnings, property, employment rights, and suffrage.
While there have been many victories for women's rights over the past century, there is still much to be done. Women are still denied equal pay for equal work and are still underrepresented in government and industry. They are still struggling to control their reproductive destinies, and in many cultures are still regarded as chattel property. In a world where domestic violence is still pervasive, we are reminded that this day must not only be about celebration, but also about awareness and education. For everyone, men and women alike, awareness and education are the keys to ending violence against women and ensuring equal rights and opportunities.
The idea for International Women's Day was born at a conference in Copenhagen in 1910. It sought to raise international awareness of the connection between all women and to bring attention to the cultural, social, and economic diversity of our lives. Now it has grown into a truly international celebration that gives voice to the remarkable women who have come before us and who paved the way for the future achievements of our daughters and granddaughters. This day, March 8th, honors all that we have been, all that we are, and all that we will become.
Happy International Women's Day!
Calling all HuffPost superfans!
Sign up for membership to become a founding member and help shape HuffPost's next chapter