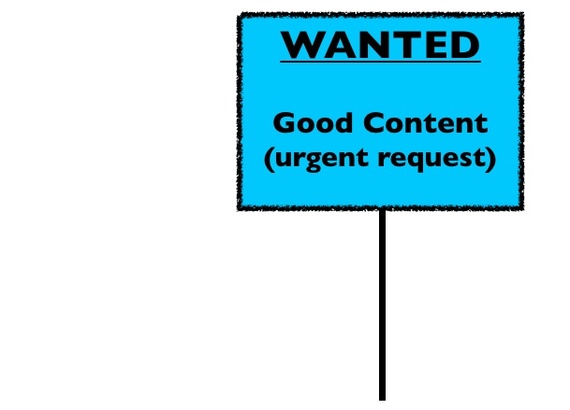 Everyone is talking about content marketing. If you are new to content marketing, you are already late to the party and have a lot of catching up to do.
Here are a few ideas for generating content for 2014
1. Short form videos: Video content is on the rise. Tablets and availability of high-speed Internet access everywhere is contributing positively to this trend. In parallel, the attention span is dropping like a rock. This makes a case for producing and distributing short form video content like the one-minute videos showcased on Gloopt.
2. Crowdsourced Expert Content: This is where you bring together experts that are respected by your target audience to contribute a small piece on a topic (that matters most to your target audience.) The work for each expert has to be minimal else the exercise will fail. It is your responsibility to edit, compile and design a compelling book based on all the contributions. This book can now be distributed to your target audience. In addition, you will get an additional benefit as contributors tend to announce their contribution to their fan base.
3. Curated Content: Information overload is no longer a myth and it makes a case for intelligently curating, packaging and distributing content that is relevant. A simple example of curated content is a daily or a weekly newsletter rounding up insightful articles from across the world in the areas of interest for your target audience.
4. Thought Leadership Content: This is where experts within a company will produce eBooks from 5,000 to 10,000 words addressing one or more concerns of their target audience. My friend Mark Gibson and I created one such eBook titled "Building Highly Responsive Sales Teams" and are now using it for generating leads for WittyParrot. It's working out great so far.
5. Packaged Bite-sized Content: A couple of years ago, I wrote the first Twitter-style book called ThinkTweet and later co-founded a company that publishes books in the same format. Each book is a collection of 140 tweets organized into chapters. We now have more than 75 books in this format and the collection is growing. The target market - smart professionals who are short on time meaning everyone.
6. Guest Blog Posts: Unless you have a large content creation team, it would be impossible to generate fresh content every single day. Guest blog posts are a big help in this case. The pre-requisite is that you need to build sufficiently large audience to make it compelling for those who contribute guest blog posts. This particular blog post titled "Whittle Down & Tune in for Greater Impact" by Dr. Mani Sivasubramanian provides insightful content for our target audience. It is a win-win arrangement. In this case, we get insightful content to publish and Dr. Mani gets exposure to a new audience.
7. Manifestos: Manifestos are one kind of thought leadership content. They are usually in the form of short eBooks. One of my manifestos titled "25 Ways to Distinguish Yourself" on ChangeThis was downloaded over 50,000 times directly and another 50,000 times indirectly as the eBook got reposted on various websites and blogs over the years. The ROI via exposure and reach was great for a few weeks of focused investment to put the manifesto together.
8. Expert Webinars: With Google Hangouts on Air virtually free, it is time for you to include Webinars into your content marketing strategy. I experienced how easy it was to participate on a Google Hangout on Air session when my friends Phil Gerbyshak and Berni Xiong invited me to participate on their show called The Shutup Show. Here is the link to the episode - It's Just Math. The entire recording from setup to good bye took less than sixty minutes.
9. Presentations: You are creating presentations all the time for your own use. With some planning and investment, you can generalize them and upload them to Slideshare. I put together a 20-slide presentation titled Sparktastic a while ago and with no major marketing push, it has gathered more than 2,500 views so far.
The above are just a few examples of where you can get content for your content marketing initiatives. It is time for you to put your creative hat on to come up with your own ideas.
Popular in the Community