The trip from the Friendship Heights station to the Tenleytown-AU station on the Washington, D.C., subway system covers just two stops. The distance is less than a mile, taking about two minutes and costing $2.10 at peak times.
Here's another key number connected to that trip: seven years. That is the difference in the life expectancy of someone living near the Tenleytown-AU station, which is in the District of Columbia, and someone who lives near the Friendship Heights station, which is in Montgomery County, Maryland.
The disparity in the life expectancy comes from an amazing study by the Robert Wood Johnson Foundation Commission to Build a Healthier America. Sadly, that seven-year gap is smaller than the disparity researchers found between neighboring communities in the San Joaquin Valley, California; Minneapolis; Kansas City, Missouri; and New Orleans.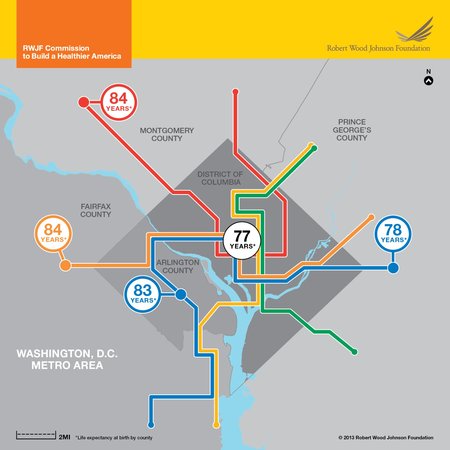 The entire study is eye-popping and thought-provoking, which is why I'm excited to have Risa Lavizzo-Mourey -- the president and CEO of the Robert Wood Johnson Foundation -- join me to provide more insight about it. Her organization and mine share a vision of creating a Culture of Health for all Americans, and as we've worked together, I've come to know her as a strong leader and a dear, trusted friend.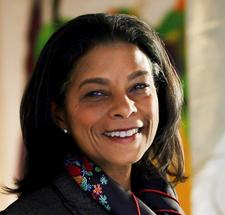 It's no secret that on almost every international ranking, U.S. residents have worse medical outcomes and shorter life spans than people in other affluent nations, despite spending far more on health care. Even more disturbing is that there are equally large gaps in health outcomes within the U.S. If you live in America, your zip code can be more determinant than your genetic code in determining how long you will live, and how well.
In New Orleans, the difference in life expectancies between the French Quarter and the Lower Garden District, only a few miles apart, can be as high as 25 years. Live near exit 140 on Highway 99 in California's Fresno County instead of near exit 132 and you could get an extra nine years of life expectancy. Similar disparities can be found in every state in the nation.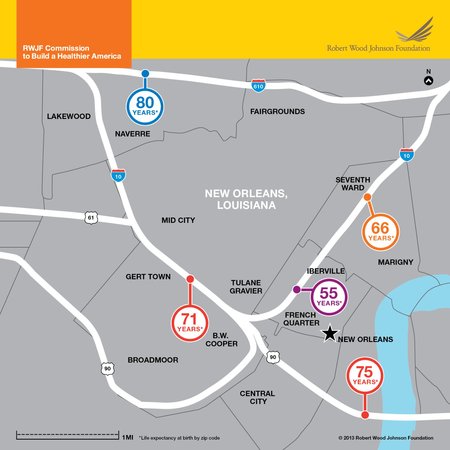 For proof, look to the Robert Wood Johnson Foundation's County Health Rankings, which ranks almost every U.S. county within a state on a range of measures that reflect what makes people sick, or healthy. Now in its fifth year, the rankings, compiled by the University of Wisconsin Population Health Institute, goes far beyond standard measures of health such as rates of chronic disease or access to medical resources. They also measure such important indicators as education levels, poverty, commute times, quality of housing, access to fresh food, and clear air and water.
The rankings make it glaringly clear that it is not access to quality medical care that dictates a county's health outcomes. In fact, research shows that medical care accounts for only 10 to 15 percent of preventable early deaths. Rather, it is the variations in income, education, race, ethnicity, and the environment that explain much of the difference. The County Health Rankings are a stark illustration of what research has already uncovered: That college graduates can expect to live five years longer than high school dropouts; that middle income people can expect to live five years less than higher income people; and that poor people are three times more likely to suffer from chronic illness than middle and higher income people.
Just look at New Mexico. A 2012 analysis of state income disparities by the Center on Budget and Policy Priorities found that the gap between New Mexico's rich and poor is the widest in the nation, and the County Health Rankings reflect the consequences of that gap. Los Alamos, the wealthiest county in New Mexico, is also the healthiest county. In Los Alamos premature deaths -- that is, deaths before age 75 --are among the lowest in the U.S., and only 4 percent of its children live in poverty. In stark contrast, Quay County, which stretches across the empty plains of eastern New Mexico, is at the bottom of the state's county health rankings. Its rate of premature deaths is almost triple that of Los Alamos, and 37 percent of its children live in poverty. Forty percent of the people living in Quay County are exposed to unsafe drinking water; in Los Alamos, zero.

Such socio-economic factors may seem like insurmountable obstacles to good health, but I believe we can use the County Health Rankings to help build a Culture of Health in every community. A year ago the Robert Wood Johnson Foundation reconvened The Commission to Build a Healthier America, a national, nonpartisan group of leaders from the public and private sectors, to figure out how to improve the nation's health. This past January the Commission produced a report, Overcoming Obstacles to Health in 2013 and Beyond, with recommendations for improving factors that lie far outside the clinic's door, such as early childhood education, adequate shelter, access to fresh produce, and the high levels of stress produced by living in poverty.
Creating a healthier America requires a concerted effort by all sectors of society -- employers, schools, public health authorities, families, and each of us. For a start, you can look around your own community and figure out why the folks who live in the next county over might have a better, or worse, health outcome than you.

Popular in the Community