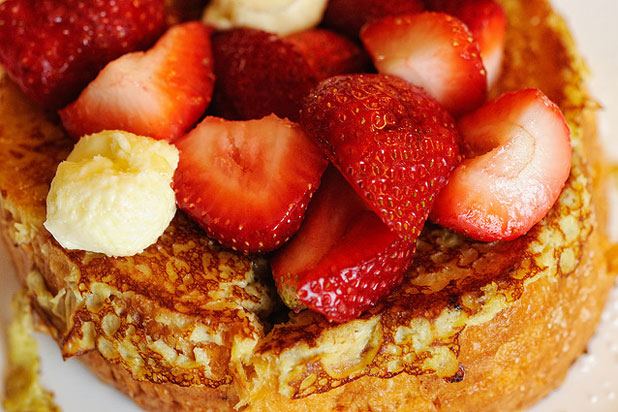 Every St. Patrick's Day, millions of Irish-Americans celebrate with green beer, "Kiss me, I'm Irish" buttons, and corned beef and cabbage, the traditional fare of their Irish kinfolk. Right? Wrong. In fact, traveling around Ireland, locals may balk if you insist this American-Irish meal is a true representation of Irish culture. Until the 20th century, most Irish couldn't afford corned beef -- it's more likely that people enjoyed Colcannon, a dish of boiled potatoes and cabbage mixed with butter, milk and garlic. Corned beef and cabbage is not the only seemingly traditional ethnic dish that got its start in a totally different place than the culture most people associate it with.
How does this happen? Lynne Olver, a reference librarian who manages and contributes to The Food Timeline, a web site that tracks the history of food and its origins, has some answers. "Food morphing is as old as human kind," she says. "The glorious table is set by explorers, invaders, crusaders, travelers, missionaries, settlers, immigrants, outcasts, returning GIs, savvy restaurateurs and visionary chefs."
It's not news to anyone that Americans can take a cuisine, turn it on its head, and pretend like it's always been that way. You find hard-shell tacos at Taco Bell -- filled with some controversial beef -- but not in Mexico. The nation may be the great melting pot, but every culture borrows from other cultures to make something its own. Tempura, now a Japanese staple, more likely originated in medieval Portugal with some influence from 17-century China. Indian menu favorite chicken tikka masala, whose origin was once up for British Parliamentary debate, may actually have been invented in Glasgow, Scotland.
After some eye-opening research (et tu, apple pie?) and feedback from Olver, it turns out the number of nontraditional traditional dishes are probably countless! Now more than ever, cultures the world over share, add, subtract, and change eating habits and traditions until an extraordinary hybrid like gyros, French toast and smoothies emerge. Fusion food isn't a new, trendy way to describe obvious cross-cultural dishes. It's as old as humanity.
- Peggy Bourjaily, The Daily Meal
More stories from The Daily Meal:
"Gourmet Ghettos" of Other Cities
10 Best iPad Food Apps
Miracle Weight-Loss Foods: Fact or Fiction?
7 Places to Shop Like a Chef
PHOTO GALLERY
Where Your Foods Really Come From
Calling all HuffPost superfans!
Sign up for membership to become a founding member and help shape HuffPost's next chapter