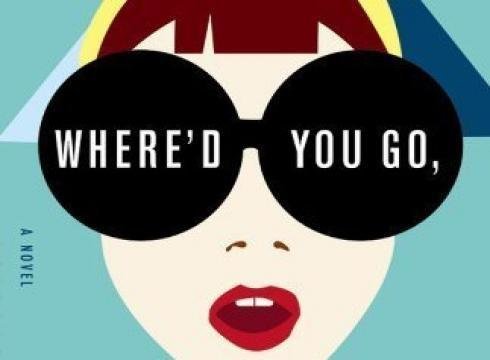 What is it about?
Bernadette Fox is an odd bird. She lives in Seattle, and hates the city, including everyone in it. She promises her daughter a family trip to Antarctica, but then suddenly disappears before the trip. The pieces are put together for the reader through a series of emails, letters, and narrations by her daughter of what was going on in her life leading up to her disappearance.
Why are we talking about it?
Jonathan Franzen endorsed it (he "tore through this book with heedless pleasure"), and we weren't aware that he liked anything, so we felt inclined to pick it up. We now see why he enjoyed it so much, as it is shares similar themes with his own books (people feeling stifled/trapped by suburban life, the odd, annoying characters one encounters in the suburbs).
Who wrote it?
Maria Semple is the author of one other fiction title, "This One Is Mine." She used to do TV writing ("Mad About You," "Ellen," "Arrested Development") and has also written for The New Yorker.
Who will read it?
Fans of literary fiction, dark comedy fans, Franzen fans.
What do the reviewers say?
New York Times: "Her first novel, "This One Is Mine," was written in standard narrative style, but "Where'd You Go, Bernadette" leaves convention behind. Instead, it plays to Ms. Semple's strengths as someone who can practice ventriloquism in many voices, skip over the mundane and utterly refute the notion that mixed-media fiction is bloggy, slack or lazy."
Los Angeles Times: "[Semple] has written a fantastic, funny novel. Its affecting characters, not-necessarily-nice humor and surprising plot twists make this novel an enchanting ride."
Entertainment Weekly: "Semple, who wrote for TV's 'Arrested Development,' has imagined a comic, often frustrating, but ultimately engrossing and whip-smart modern epistolary novel in 'Where'd You Go, Bernadette.'"
Impress your friends:
The MacArthur Fellowship (also referred to as the Genius Grant) that Bernadette receives in the book is given out annually to approximately 20 to 40 U.S. citizens/residents. There are no applications, but rather people are nominated anonymously. The Foundation notes that "the fellowship is not a reward for past accomplishment, but rather an investment in a person's originality, insight, and potential." Recipients have been everywhere from 18 years old to 82.
Opening line:
"The first annoying thing is when I ask Dad what he thinks happened to Mom, he always says, 'What's most important is for you to understand it's not your fault.'"
Notable passage:
"To Canadians, everyone is equal. Joni Mitchell is interchangeable with a secretary at open-mic night. Franky Gehry is no greater than a hack pumping out McMansions on AutoCAD. John Candy is no funnier than Uncle Lou when he gets a couple of beers in him. No wonder the only Canadians anyone's ever heard of are the ones who have gotten the hell out. Anyone with talent who stayed would be flattened under an avalanche of equality. The thing Canadians don't understand is that some people are extraordinary and should be treated as such."
Related
Popular in the Community