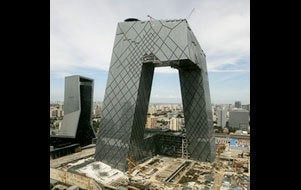 China was largely missing from talk at two major conferences in California's Bay Area this week -- the Fortune Brainstorm Tech and the AlwaysOn Summit at Stanford University. Yet China is emerging as a tech trend-setter.
Instead, it was Twitter, clean tech and cloud computing that took the spotlight as the latest trendy topics and the investment flavor of the year.
Why was China ignored in the panel discussions? First, it's far away. Second, and more importantly, Silicon Valley is in a state of denial.
The Valley does not want to admit that its own tech dominance is being challenged by a country that just a few years was known primarily as a manufacturer, not an inventor. Granted, China hasn't come up with a cure for cancer or a solution for global warming, but Chinese entrepreneurs are everyday proving they can be just as creative as the Americans. Moreover, the Chinese are proving to be experts at learning what the U.S. does, copying it and then going one more step by developing their own advances in web 2.0, the Internet, mobile communications and basic R&D.
Credit does go to Tony Perkins and his team at AlwaysOn for selecting a Chinese video sharing site called Youku as one of the top innovators in the world. Youku took honors as a category winner in the AlwaysOn Global 250 rankings. Twitter, a micro- Fortune blogging site where people send short messages or "tweets" about what they're doing, took first prize overall - though I don't get why it's seen as so disruptive or useful.
Clear blue skies and bright sunshine prevailed during these two conferences in some of the most beautiful places in the world - Half Moon Bay and the Stanford campus. It was easy to be positive about all the great and wonderful things developed in the U.S., the iPhone, Kindle reading device, and even the work-in-progress electric car Tesla.
It's much harder to unearth comparable cutting-edge technologies over in China. Fault lies partly with the major U.S. media - Fortune included -- which have cut costs by trimming the number of overseas correspondents and sending them home.
The mood in the Valley was indeed cheery, almost to the point of the dotcom days of the late 90s as trendily dressed conference goers packed the rooms and lined up at the bar during cocktail receptions. For a few blissful days, the slump in the housing market, high gas prices and crashing stock market were forgotten.
But if America's thought leaders -- including such entrepreneurial teachers as Stanford - continue to downplay China's impact on global technology, today's students and tomorrow's tech leaders will find themselves blindsided by a truly disruptive force - the emerging Silicon Dragon. It's a trend that tech futurists and forward-thinking venture capital investors already understand. That's why you'll find them spending more time today in Beijing and Shanghai than Palo Alto or Sunnyvale, looking and finding the next, new thing.

Calling all HuffPost superfans!
Sign up for membership to become a founding member and help shape HuffPost's next chapter