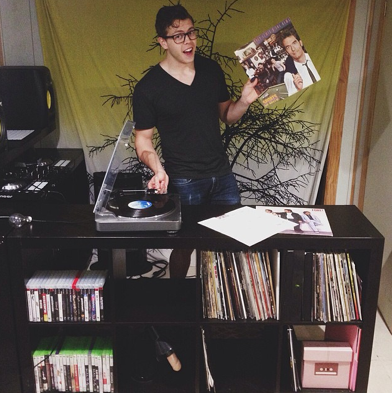 I decided I had to know more about the Subtle Dildo project. So I reached out via Instagram. I heart social media. Within 24-hours, I was talking to the folks behind Subtle Dildo. I didn't know what to expect. But I happy to have gotten the friendly, articulate, responses that I did.
So, here's the scoop. Everything you wanted to know about the dildo version of Where's Waldo.

How did this project start and why?
The project came about because we bought a dildo for our house to use as a beer tap. It looked great but made all the beer smell and taste like rubber, so we took it off and left the dildo on a shelf. We'd more or less forgotten about it, but anytime people came over, they would always have a fantastic reaction when they noticed it in an otherwise normal setting. So we started Subtle Dildo.
How are you hoping people will respond to it?
We just hope people react to it. Obviously, we want it to be a fun thing because we have fun doing it, but it's out there for people to make what they want of it.
What kinds of reactions have you gotten thus far?
All of the reactions thus far have been entirely positive, hopefully it stays that way once Subtle Dildo leaves the comforts of home.
Are you surprised that it's already catching fire?
We thought the idea had a lot of potential from the start just because everyone loves Where's Waldo and everyone loves a good dick joke, and this is a combination of the two that's simultaneously childish and very adult. However, the actual public response has definitely exceeded any expectations we had when this started and is great encouragement to push Subtle Dildo even further.
So who are the "we" behind Subtle Dildo?
We're a group of 20-somethings that all live together and work in varied, separate fields. We don't think our names are all that important when it comes to Subtle Dildo.
How many pics are there now and how often do you plan to add more?
We just put up our 11th picture today and we're trying to continue at a pace of a photo every 1-2 days. We have actually been sans Internet at our house since interest in this left our group of friends, which is a bit of a challenge for something as "Internet" as Subtle Dildo. But we're going to keep posting photos until the dildo is sitting in a chair at MoMA for 736 hours.
What do you want people to know about the project?
We want people to know that wherever they are, there might be a dildo present. That, and that there's always something funny to be found in the mundane.
Another blog post about Subtle Dildo described us as "possibly Canadian," and that's accurate.
Do any of you have an art background?
We're all dabblers in other art stuff, but nothing that's piqued people's curiosity quite like Subtle Dildo (regardless of Subtle Dildo's relationship to "art").
Calling all HuffPost superfans!
Sign up for membership to become a founding member and help shape HuffPost's next chapter