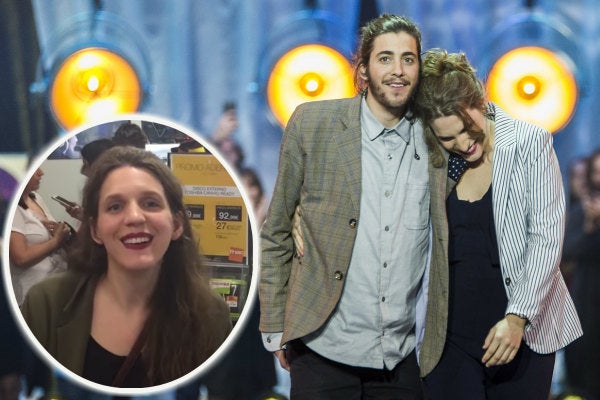 So the two SUVs drive up, as they did for every other act. The presenters preen for the camera and announce the arrival of Salavador. The card doors open, everyone gets out, and there is suddenly confusion among all of the Ukrainian TV people as they come to realize Salavador is not there.
His sister Luisa talks to the press saying that he's been delayed. Not why, not how long, just "delayed." They then move over to the photo line so that Ukraine's O. Torvald can arrive and be announced. The show must go on you all.
Suddenly the Portuguese contingent says Salvador is just 3 minutes away. They head back to the car drop off location and stand around waiting. All of the ESC TV people sit down and rest too. Everyone is looking at the street. The cars come from a side street 1/2 block away and turn onto the street at the start of the red carpet. So we're all looking that way.
5 minutes goes by. Still no Salvador.
Suddenly one of the Portuguese delegation members on the phone is yelling "hurry up" and waving in the direction of the press pool. Salavador and another person appear walking out of the press area up to the start.
This is really weird because there's no streets in the direction he comes from for at least a kilometer (this is all on the edge of Mariinsky Park). And the roads in the park are all blocked by the police. So he was dropped of on some edge of the park that was a 5 - 10 minute walk from the start of the red carpet. Weird.
Anyways, everything is now good. Salavador is here.
Everyone gives him hugs. The hosts get themselves arranged (the woman parts the slit in her dress so you see a lot of her leg - and she's stunning). Ready set go... and they announce Portugal arriving a 2nd time, this time talking to Salavador.
And that was the big moment of unexpected excitement at the red carpet.
Calling all HuffPost superfans!
Sign up for membership to become a founding member and help shape HuffPost's next chapter
This post was published on the now-closed HuffPost Contributor platform. Contributors control their own work and posted freely to our site. If you need to flag this entry as abusive,
send us an email
.