Our company is based in San Francisco - one of the best areas in the world for a tech startup. But is Northern California the best place to start a food company? There are plenty of young food companies sprouting up around here - as well as in other culinary hubs such as Brooklyn, Portland, and Boulder. There are several criteria we'd analyze to determine the finest location.
Access to Fresh Ingredients
Many young companies form deep relationships with their local food community, and rely on local farms for ingredients in their products. Our friends at Sosu, for example, use organic California tomatoes in their delicious ketchups. Although it's possible to find fresh ingredients anywhere, if your business model relies on finding the freshest local ingredients at scale - you might want to be based near diverse agricultural arenas like California, Hawaii, or Florida. However, as companies increasingly look to copackers to quickly scale operations, the need to be based near the fresh ingredients diminishes. Perhaps a more important criteria to consider is...
Supportive Local Community
The local food movement is alive and well. There are a number of motivations to buy locally made products (boost the local economy, rep your city, etc) - but there are certain areas that particularly support their local producers. As our friends Bixby and Co up in Maine can attest, the support from the New England community for local brands is quite strong. Similar sentiment exists in Philly, Portland, Austin, and New Orleans with extremely fanatical communities. For a young company, this support manifests itself with farmer's market sales, entrance into natural/specialty stores, and the LOCAL shelf tag at Whole Foods. Gaining a strong sales base in one region is paramount before a brand can then expand to other cities.
Starting and growing any company is extremely challenging. Fortunately, there are plenty of resources available to help entrepreneurs. These resources can be tangible, such as business incubators or investor networking events; or more abstract, such as access to a talented, motivated workforce. The access to these types of resources are most robust in cities that are actively promoting entrepreneurs. The Bay Area (Silicon Valley), NYC (Silicon Alley), and Los Angeles (Silicon Beach) all have excellent resources for entrepreneurs due to the large number of tech companies in these areas. These benefits also extend to food entrepreneurs with resources such as La Cocina, Local Food Lab, The Fine Food Group, and Accel Foods, assisting startups in these cities. This type of help can't be underestimated.
Cheap Space, Good People, Fun Environment
Quite simply, it takes a long time to make money from a food company - so why not start one in a relatively cheap place with great people? For these reasons, a few places like Nashville, Utah, and upstate New York immediately come to mind as a purposeful home for a number of great new food companies.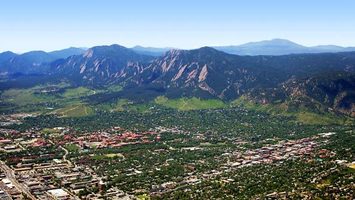 Boulder, Colorado. Note - our company currently has no connection to Boulder, but it seems like an ideal place where one could start a food company. It's boasts an established cluster of respected consumer brands (Celestial Seasonings, Rudi's Organic Bakery, etc), with close access to fresh agriculture, investment capital, innovation hubs, smart people, and an extremely supportive community. Maybe we'll start our next office out there?