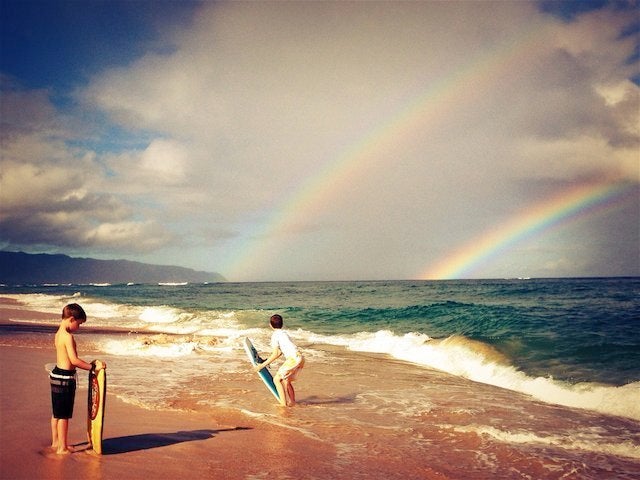 Surfing was always a spectator sport for me. Not a lot of opportunity along the shores of Staten Island, or later land-locked on Pennsylvania's western border.
Still the allure of standing above the ocean and the call of the waves is hard to resist especially now that our family travel blog is based in Central Florida.
But six years as a scuba diving instructor drew me below the crashing waves instead of within its roaring curls. Even after I visited Hawaii with my kids two years ago, and they tried to talk me into taking surfing lessons, I resisted and remained in the audience.
I couldn't surf if my life depended on it, even with the best instructor in the islands coaching me.
My kids don't have any of my hang-ups. So when we checked into a vacation rental on Oahu's North Shore recently, they found the boards stashed under the balcony and made a beeline toward the monster waves without hesitating.
I followed them, shouting something unintelligible about riptides and dangerous shoals.
But once we figured out that they had a healthy respect for the vortexes of water churning in the distance, and that they just wanted to ride their boogie-boards on the wavelets that were breaking on the beach, the adults got into this argument about the best beaches to take your kids surfing in Hawaii.
I couldn't believe a 70-foot wave existed, let alone could be surfed -- until I saw it with my own eyes. To call that thing out there a wave is an understatement. It's a wall of water.
This is the place to watch surfing, I thought.
(If I ever saw one of my kids try it, I'd go into cardiac arrest.)
But then we found ourselves in this place on the North Shore, right on the beach. When we looked out the window, we saw waves, and surfers. At night, we heard the surf, crashing hard and loud against the beach. That was hard-core, dude.
During the day, while I was working with the kids, we would take a break to walk around the house, and I'd catch one of my kids -- usually my five-year-old daughter -- just staring at the ocean.
"Do you want to go for a swim?" I asked her.
"No," she said. "I'm scared."
I breathed a sigh of relief. I wouldn't have to worry about being on lifeguard duty for the duration of our visit.
The North Shore has some impressive waves, too. At about this time of year, the really big ones start to land here after a storm. They start thousands of miles away in the Aleutians and come thundering ashore. When the waves are high, the road outside our house becomes a parking lot. Along a narrow strip of public beach, you can see professional photographers with their tripods and telephoto lenses, trying to get a snapshot of these aquatic daredevils who are tempting fate.
On our second day in Oahu, the owner of our rental stopped by to say "hello." He's a Minnesota transplant who was transferred to Hawaii decades ago and never left.
"You know about the camera on the roof, right?" he told us.
Turns out a surfing magazine runs a "live" cam that streams images of the North Shore online. It's right up on the roof, because that's the best spot to see the waves.
Hawaii doesn't have a shortage of terrific surf spots, but Maui and Oahu are two standouts. When people ask me which one to go to, which they sometimes do, I feel conflicted. If you're just going to watch surfing, you can't go wrong with either of these places. The North Shore has more of a scene, with the surf museum, surfer hang-outs and shave-ice shops. But Maui is breathtakingly beautiful and less developed than Oahu. It's difficult to choose.
In fact, there's a rift in my own family. My middle son and I are big fans of Maui, for a lot of reasons, but the rest of the family is all about the Oahu experience. And yeah, the camera on the roof was pretty cool, I've gotta admit.