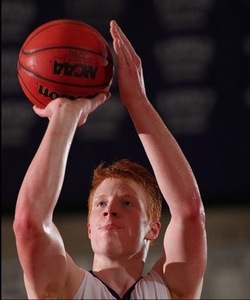 "Joe, how do you show up late to pick-up when you were sitting in your dorm all night?"
"What are you talking about, bro? You busted down my door to go out to that apartment party."
"Yeah, and -- what's your point? It's college, my man."
"Well, I sure as hell didn't wake up the first time my alarm went off. So, when I finally rolled out of bed, I was already running late. Then I got down to the street and noticed I forgot my sneakers, so I had to run back and get them."
"Damn, bro, you're a mess. You gotta get yourself together. Let's just say, you're lucky that this is pick-up and not a practice or game. Come start of the season, coach doesn't allow shit like that."

It is freshman year and a sophomore on my team shakes me into reality with those words: "Coach doesn't allow shit like that." Those phrases are stuck in my mind. The way my teammate told me straight up what wasn't going to fly was exactly what I needed to hear at the time. Why did I need to be put in line? Because I needed to be shocked out of my extravagant college expectations, which had been influenced by stereotypical "college" stories told by people reminiscing about their "glory days." My initial expectations had been clouded by this way of thinking: I shouldn't be in my dorm room every night; rather, I should be out partying every chance I get. The classic college stereotype of "work hard, play hard" inevitably corrupted my thinking and caused me to anticipate a certain lifestyle: working hard in class to earn As while partying all day and night on the weekends.
What do you think of when considering the lifestyle of a college basketball player? The image of heroic, "big man on campus" glamour dominates the perceptions regarding the lifestyle of student-athletes on campus. And to be honest, that glamorous lifestyle is something I fantasized about as a high schooler being recruited by college coaches and taking official visits to campuses. However, in reality, the "work hard, play hard" lifestyle is impractical for student athletes at NYU and many other similarly academic-focused institutions. A student-athlete at NYU cannot survive here while consistently blowing off classes. Although we are not playing at Chapel Hill or South Bend, the expectation of glamour and fame is not lost on us. NYU athletes are still privy to the same perceptions that other student-athletes have at other colleges.
The problem with the idea of "working hard and playing hard" is that it only acknowledges two of the three major aspects of a student-athlete's college life. It recognizes the main aspect of college -- the academic portion -- as well as the exciting, secondary aspect -- the social life. However, it neglects the third aspect of college life -- the athletic responsibility -- which is only applicable to those whom are student-athletes.

My expectations entering college were somewhat unique since I understood that a majority of people going to college were going to only be responsible for two aspects of college, the academic side and the social side. Meanwhile, I knew that because I committed myself to the Head Coach and the university's athletic department as a whole, I would be responsible for making the correct decisions to prioritize these three aspects of college life.

Although the expectation of living out a glorious, party-filled college lifestyle corrupted my thought process at the start of freshman year, I quickly realized that the "work hard, play hard" expectation is a farce. My expectations have been drastically evolved since stepping foot on campus and being held responsible for preparing myself to play in the most competitive conference in Division-III -- while being faced with a challenging academic workload. Personally, the "work hard" aspect is way more important than the "play hard" aspect. Am I saying that I never go out and socialize? No. I do occasionally go out to parties with friends and enjoy the social side of college, but I do so within reason. Truth be told, my involvement in college athletics has been the main reason why I am more about "work" than about "play."
Part of the process of "getting myself together" included me recognizing the fact that college basketball is a major commitment that requires me to be efficient with my time. Playing a sport means that during your season, you typically will spend a majority of time in the athletic center. Mandatory events to which I must be on time are: (1) games, (2) practices, (3) weightlifting sessions, (4) one-on-one meetings with the head coach and (5) team meetings. Many of these things occur on a daily basis, like practices and team meetings and lifts. To be completely honest, my life during the season revolves around what time I have class and what time I have practice.
Can I miss class? I guess I could. But then I would fall behind on the topics discussed and would be underprepared for the exams. Can I miss practice? Yeah, I can. But then I would be kicked off the team.
My athletic commitment may seem like an overwhelming responsibility to undertake, and it may be, but allow me to shine light on its positive impact.
It is difficult, at times, to resist the temptation of going out to a party when you have practice early the next morning, but you have to keep in mind that your other 15 friends on the team are making the same sacrifice. This same idea translates to the times when you are physically exhausted. Practice will start and you can barely feel your body. Those extremely rough days that you do not believe you will survive make you physically and mentally tougher. Also, experiencing those rough, exhausting times alongside your teammates builds strong bonds among one another. At the end of the day, your teammates are your brothers and they feel your pain--literally, because they are feeling that same tingling sensation in their legs from running those sprints.
When student-athletes are in-season, our bodies take a beating and our daily battery is typically sub-10%. The soreness and tiredness from putting your body through the rigors of the season essentially forces you to lay low Friday nights. Practices, games and road trips sometimes make it impossible for us to rally any energy to even get out of bed, which thereby creates structure in our schedules and forces us to sleep and do homework instead of partying. College basketball has caused me to prioritize the things that are most important (sleep being one of them) and dismiss things that are distracting or of little concern. In other words, I begin to look at the bigger picture.
Why am I in college? What are my goals? What do I want to have when I get out of college?
Personally, my goal is to graduate NYU with a degree in sports management as a 4-year varsity basketball player. My experience in college has been shaped by my decision to play a sport, but it has been nothing but a positive experience as it instills discipline, responsibility and commitment. College athletics implements structure into your daily schedule and makes it easy to live a healthy lifestyle. The luxury of having a fraternity of brothers that support you through thick and thin makes the experience exponentially better as they have your back just as you have theirs. Don't get me wrong, the experience is challenging, but I have learned a great deal by committing myself to the life of a college athlete, and I would make the same choice if given another opportunity.
Joe Timms is a junior on the basketball team at NYU.
Popular in the Community