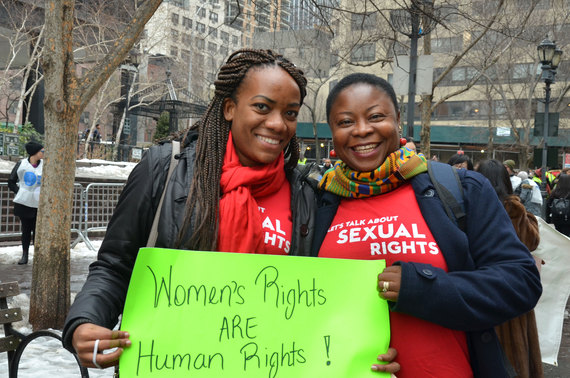 Today, on International Women's Day, we celebrate women and girls, and how far we have come. It's also time to take stock of where the global women's movement stands overall. Frustratingly, while momentum is building and women's engagement in social, political, and economic spaces has never been greater, the state of the global women's movement is worrisome. Many feminist organizations fighting for our rights and providing essential services are struggling to stay afloat.
In fact, for many groups the funding situation is worse now than 20 years ago. Brazil, for example, has cut public support for women's organizations, such as those that provide reproductive health counseling. No doubt scarce public funding for health, and specifically for women's organizations and services, created prime conditions for the Zika virus to take hold and for the crisis Brazil is experiencing now.
Foreign aid for "richer" countries (such as Brazil) has decreased, even though women's rights remain at risk in those countries. The remaining aid donors have opted to make fewer, larger grants to international organizations rather than to local groups. As a result, many well-established smaller women's organizations are now operating on shoestring budgets. Some have had to let go of experienced staff or shut down altogether. The ability of advocacy organizations to pressure governmental leaders is much diminished at a time when it is most needed.
To really advance the well-being and rights of women and girls, funding these local groups should be a global priority—for both their governments and international donors. There is abundant evidence of the decisive impact of the women's movement. A groundbreaking 2012 study analyzed policies on violence against women and social movements in 70 countries over a time period of 40 years. They found that a strong, autononous feminist movement had more of an impact in reducing violence against women than the wealth of the country, women in government or the existence of progressive political parties. An active women's movement exerts political pressure and ensures that reforms are made and sustained despite changes in government.
The women's movement shapes public discourse, builds political will and empowers women and girls. Yet the organizations that drive this change are severely underfunded. The Association for Women's Rights in Development found that the median yearly income of more than 740 women's organizations worldwide was only $20,000 in 2010. How can we create a better world for women and girls when these vital organizations are stretched so thin?
In September 2015, world leaders adopted the most comprehensive global agenda for sustainable development ever, which included a firm commitment to achieving gender equality by 2030. But while the 2030 agenda holds great promise for women and girls, this transformation is unlikely to materialize without a steep increase in funding for women's organizations.
When I travel to visit our partners—brave feminist organizations in countries like Brazil and Nigeria—I am struck by their passion, strategic thinking and incredible achievements. Now is the time to invest in leaders and groups we know are effective and can guide the way. Let's show them the money!
This post is part of a blog series produced by The Huffington Post in conjunction with International Women's Day, celebrated on March 8, 2016. A What's Working series, the posts address solutions tied to the United Nations' theme for International Women's Day this year: "Planet 50-50 by 2030: Step It Up for Gender Equality." To view all of the posts in the series, click here.