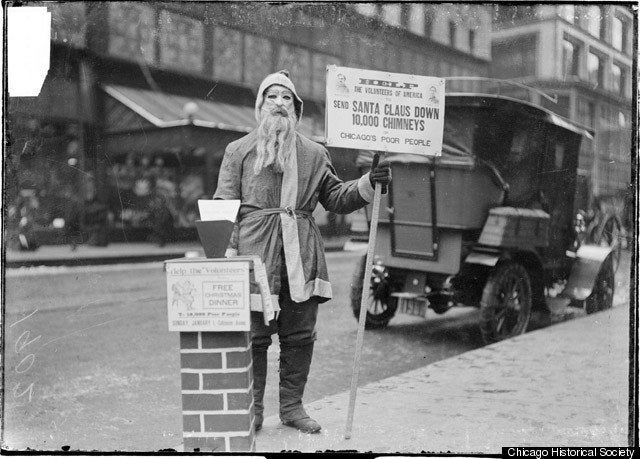 After 100 years, an old photo of Santa Claus on a busy Chicago street still packs the wallop of a visit from the Ghost of Christmas Past! This Santa isn't fat; he's thin as a rail and he's holding up a sign begging people to "Help ... Send Santa Claus Down 10,000 Chimneys for Chicago's Poor People." He's raising funds to feed hungry families.
That 1902 Chicago Daily News photo has now moved into the public domain through the Chicago Historical Society -- just in time to see that powerful old image of Santa as a public advocate fading from American memory.
Why have we forgotten that kind of Santa who spent more time jingling our consciences than his own sleigh bells? It's quite an irony in early December, when millions of Christians around the world will celebrate the Dec. 6 feast of the "real" St. Nicholas. You can't read much about this major figure in Christmas tradition without thinking about the plight of the poor, the marginalized and all those who are at risk.
The night-and-day contrast slaps us like sleet. As we all rush toward Christmas 2010, full of hopes and fears about the future of the world -- and our own households -- the only Santas we see are the jolly Coca-Cola-style guys who sell toys on television and leap onto the stage at Radio City Music Hall to host the Rockettes' holiday show. Those Santas' eyes twinkle with the glee of gobbling up whatever disposable income is left in the land.
Charles Dickens got it right. Dickens was a passionate advocate for the poor and his Santa-like second ghost in A Christmas Carol nearly deafens us with his jovial laughter -- until he reaches the punchline of his visit to Scrooge's world. How many of us, as children, shivered in front of our TV screens when that jolly Father Christmas opens his furry robes and shows Scrooge two starving children huddled around his knees.
Who are these two children? Father Christmas thunders at Scrooge: "This boy is Ignorance. This girl is Want. Beware them both, and all of their degree, but most of all beware this boy, for on his brow I see that written which is Doom, unless the writing be erased."
Wow! That's such a sock to the solar plexus that it helps to keep the Christmas Carol roller coaster rumbling along each year. New versions of Dickens' stories (including new DVD versions of several different "Christmas Carol" productions) are among the precious few reminders of St. Nick's earlier message.
That Santa consciousness made a whole lot of sense to Americans through the Progressive Era, when that 1902 long-tall Santa Claus drummed up donations on a Chicago street corner.
By the flush 1950s, though, it all began to seem a little silly. America was booming! In 1951, Bob Hope starred in a famous lampoon of fund-raising Santas, "The Lemon Drop Kid." Hope played a scoundrel mixed up with dangerous mobsters, who prompt him to organize a huge holiday con game, sending fake Santas across New York City to steal thousands of dollars in Christmas donations. Of course, hard hearts soften by the end of that comedy, but in Bob Hope's satire the old Santa as a social conscience seem as stodgy as an off-key Salvation Army band.
In the end, that's what bothers me about the nostalgic strain of Santa that flows from the original Miracle on 34th Street through the thunder of the Polar Express. That warm-and-fuzzy version of Santa is all about trying to "believe" despite all evidence to the contrary about Christmas culture.
The real question is: Believe what? In Disney magic? In the hope that every kid will get a gift this Christmas? That someone will sprinkle pixie dust and maybe, even though we're losing our jobs and maybe our homes, there's a jolly old elf who'll whisk us away for a few precious moments in a better place?
Well, I do still believe, despite all evidence of the world's hard heart. And, for Christmas 2010, I'm hanging a photo of that 1902 Chicago Santa by the mantle with care -- in hopes that a new conscience soon will be there.
Related
Popular in the Community