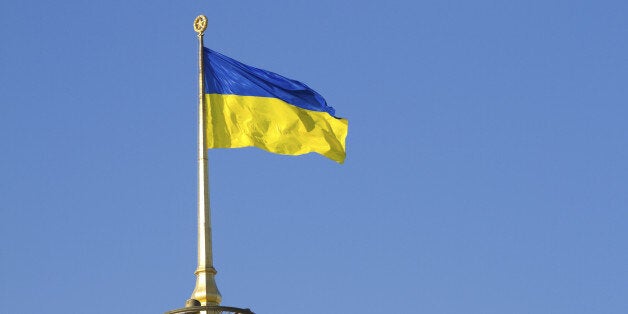 After strong showings at the polls a few years ago, Ukraine's far right has sunk to virtual electoral oblivion, and it's hard to know where or if it will reappear. Its role in defending protestors against the Yanukovych government, overthrown in February this year, didn't translate into widespread support in either the presidential election in May or in Kyiv's municipal elections.
Where this leaves formerly far-right parties like Svoboda is unclear. Despite a PR campaign designed to claim a central position during this year's protests, and five ministerial posts in the interim government, Svoboda won only 1 percent of the vote in the presidential election. The candidate representing Right Sector, a coalition of rightist paramilitary groups which was also prominent in the Maidan protests, had an even worse showing. President of the All-Ukrainian Jewish Congress, Vadim Rabinovich, ran in the campaign and garnered more votes than both of the far-right parties combined.
Andreas Umland, an expert on the Ukrainian far-right and associate professor of European Studies at the National University of Kyiv, said:
"In the 2012 parliamentary elections Svoboda won 10.4 percent and did surprisingly well among educated, urban pro-European voters. They've tried hard to keep this constituency and have toned down their anti-E.U. positions, but there's a dilemma for the rightist parties now about whether to move to the center or not."
Meanwhile, Ukrainian volunteers, including some from the far right, are fighting pro-Russian separatists in the war in Ukraine's east. The overall number of far-rightists in these battalions -- whose soldiers are paid and controlled by the government -- is said to be low, although it's reported they have also attracted a few neo-fascist fighters from Italy and Sweden keen to battle pro-Russian forces.
This is another peculiarity of the Ukrainian right: most of its ideological counterparts in neighboring countries are supporters of (and sometimes supported by) the Putin government.
"It's an embarrassment for the Ukrainian right now that they're so detached from the rest of the European far-right," Umland said. "After years of engagement with fascists in Italy, with Le Pen in France and other extremists most of their former allies have turned pro-Russian, leaving Ukraine's right isolated."
There is undoubtedly strong discrimination in Ukraine against some groups, and the 2014 Kyiv Pride March was cancelled this week after the police failed to guarantee its protection. But claims from the Kremlin that they are fighting a neo-Nazi government are untrue. In fact, local Jewish leaders say the number of antisemitic attacks is low compared to years past, and that some of these attacks have been provocations aimed to discredit the Euromaidan protests.
Halya Coynash is a journalist and member of the Kharkiv Human Rights Group. "There needs to be discussion about customary assumptions, regarding what is right-wing, left-wing, and what defence of freedom of speech means given the mind-blowing hate speech on Russian TV," she said.
In his brilliant 1842 political satire Dead Souls, Ukrainian writer Gogol describes a wonderful sleep enjoyed only by those "unacquainted either with hemorrhoids, or fleas, or overly powerful mental capacities."
There is plenty to worry the mental capacities of today's human rights activists in Ukraine, not least what sort of new politics will eventually emerge once the fighting in the east has been resolved, and what role civil society will be able to claim in helping to forge a new democracy. But, for the moment, the far right appears to be lying very low.
Popular in the Community