We all have them. Places that, in short, just make us happy. Where the sirens and deadlines and back pains and bills and meetings and "Mommmmmmmyyyy" all melt away. Where you can sit and just be content where you are in that moment and not want to leave for many moments to come. Where you look around and go, 'Wow, this is lovely. I'm #lucky.'
To me, a Happy Place is a Place you've been to before. It's not, say, a rocky cliff in Croatia over looking the Mediterranean sea, as lovely as that may be and as happy as that may make you feel. (And believe me, it's lovely and will make you happy.) Unless, of course, you have returned several times to said cliff to seal the Happy Place deal.
Obviously, this definition is very non-scientific and according to no one but me.
That said, my top three Happy Places are in New York, where I'm from. I'll list them, starting with No. 3 and ending with my No. 1, which I visited almost immediately after returning from three months in London.
As an addendum, I'll add what I KNOW would've become my Happy Place had I stayed in London longer, more specifically, during springtime. (Or, anytime when blue skies and higher temps prevail over the grey, hail and cold I experienced, which I'm also very well-aware may not be often.)
Happy Place No. 3: Robert F. Wagner Jr. Park.
I found it years ago when I started riding my bike along the West Side Highway. For a long time, it was my "end" point until I started becoming more comfortable venturing further past the Seaport on two wheels and eventually down and around to the East River promenade. But even when I'm riding further, I always stop and sit to stare at Lady Liberty, feel the salty, Hudson River breeze on my face and watch the passersby.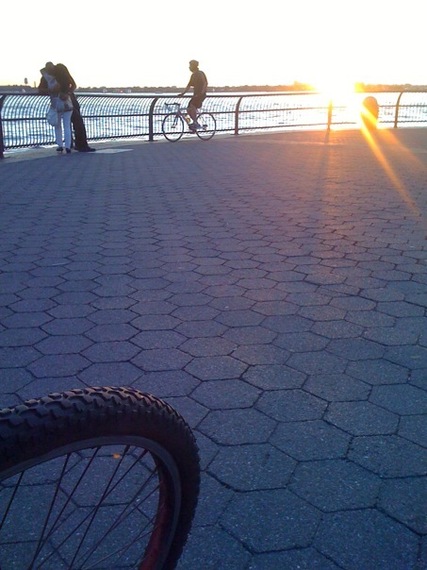 Happy Place No. 2: Jefferson Market Garden, down the block from my apartment in the West Village. If I could pick anywhere in the city to just sit and "be," this little enclave amongst the hubbub of all the noise would be it. Since it's only open from spring to fall, and at odd hours, I try to take advantage of it as much as I can. If someone is sitting in "my" bench on the south side of the garden, I'll circle along the oval brick pathway in search of another. Though, if I'm in a particularly choosey mood (which is pretty much most of the time), I'll either run an errand and come back, or just patiently wait until it's free, all the while taking notice of the changing flowers and plants that have sprouted since I last visited. It's community run, and so after I've sat for a while, I always drop a buck or two in appreciation.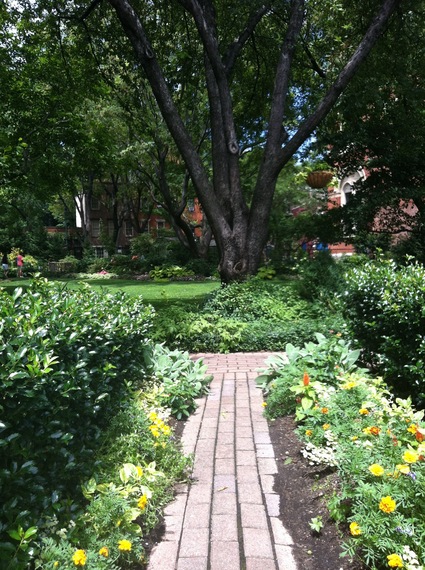 Happy Place No. 1: Fire Island. The whole of it. I've been going since I was a kid, when my sister and I painted shells and sold them while sitting in a red Radio Flyer wagon for something like 25-cents. There are many towns on the island, catering to all types -- families, gays, teenagers, singles -- but I'm going to bet all come for the same thing: That sweet scent of pine trees mixed with ocean air, the icky-yet-who-cares feeling of having sand stuck in your toes 24/7, the outdoor showers (oh, the outdoor showers!), the en fuego sunsets, and the knowing that you're likely to spot a Bambi on the way back from the beach. (The island may not have cars, but it's got a lotta deer!)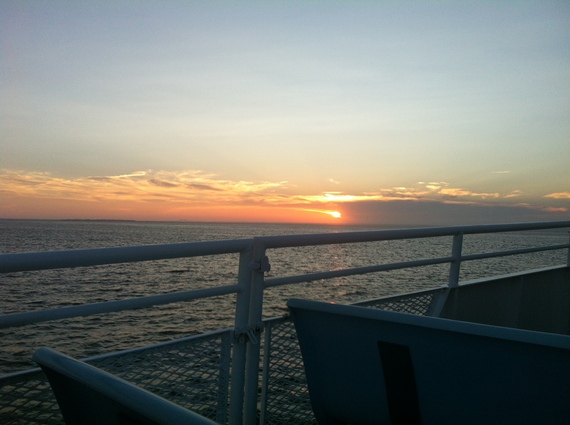 Over the years, my visits have changed from seashell-selling to day-drinking to foodie feasts-on-the-deck, and become less frequent. But they're no less special. As soon as I step off that ferry, I'm happy as a clam. (Though, maybe not the ones they're frying up so well at Matthew's restaurant on the bay. Yum.)
So when my friend emailed me while I was still in London to see if I wanted to split a room during the week of July 4, I emphatically replied, "YES!"
Over five days, I beached, I wrote, I read, I slept, I drank Rocket Fuel's and Moscow Mule's, and discovered the most delicious recipe for kale salad ever. I saw a few deer, got sand between my toes, took outside-shower after outside-shower and left feeling... Happy.
London Happy Place Addendum: Hermitage Riverside Memorial Garden, overlooking the Thames, Tower Bridge and the Shard. Just around the block from my flat in London was the loveliest of river paths, which more or less began at this park. I always likened the area to Battery Park, so it's no wonder I found a similarly "Happy Place" in, what I called, Way-the-F Wapping because it was so far from High Streets, tube stations and more. Unfortunately, for most of my time there, it was too cold to frequent the garden, let alone see beautiful blooms or sit on one of its benches for very long to enjoy the view. And what a view it was.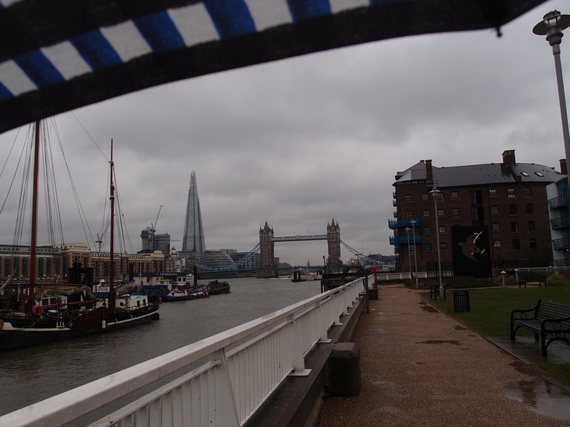 The weather is turning colder in both New York and London, which will make it difficult to visit each of these Happy Places without needing mittens and some patience.
Guess I'll just have to find some new winter places to find The Happy.