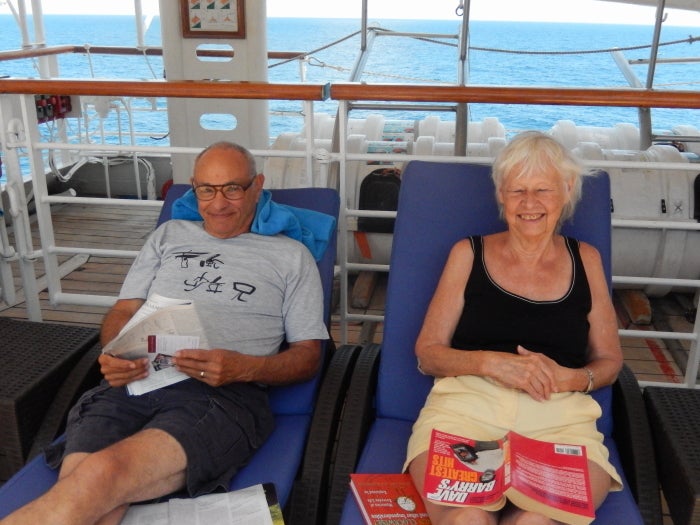 Halfway through one day at sea between Curacao and Grenada, during a week cruising around the Eastern Caribbean, there was a palpable thrill sighting the first spit of land in the distance since daybreak. A faint shadow of a pale brown hillock quickly faded into the horizon before I could ascertain its name. Variations of blue sky on blue water, the constant shush of the ocean and the sight of frigate birds drifting in and out of view from our open window was fairly hypnotic.
One way to punctuate the trance was to venture out and be sociable. Without much effort we found new comrades in middle essence transformation who share our passion for ambitious gardening. All it took was to strike up a conversation with retired couple Ginny, business attorney, and Jim Eisentein, Penn State political science professor. They are now multi-generational organic farmers with their son and his wife at the helm of their Jade Family Farm specializing in under the radar vegetables like okra and Poblano peppers. Jim and Ginny's passion in 'retirement' is to preserve heritage fruit varieties which would be extinct if not championed by an organization of which they are members called, Backyard Fruit Growers.
As we grow subtropical fruits in Santa Monica, California, immediately we had much to discuss. For example, we both knew about para-film tape which optimizes growth after delicate surgery of grafting one type of varietal to a common root stock. For example, one fig tree in our care can sport five different varieties. At this point I am used to the dropped jaw when we boast of our ability to grow coffee in Los Angeles. Well the Eisenstein's have topped our minor miracle. For the past two years they have cultivated fast growing kiwis from Siberia and harvested two last year. Should all go well they are looking forward to substantially more this year.
Like the Eisenstein couple, we are readers for pleasure. Another way to work with the ocean induced fugue state was inspired by Rachel Cusk's novel, "Outline." A sadness came over me finishing a novel I did not want to end. The good news is this was the first in a trilogy and I have the second, "Transit," already in my possession. The story follows the astute internal musings of a woman who you surmise is recovering from a recent divorce and learning to co-parent, though it is never clearly stated.
Our book's protagonist was a London based writer who had come to Athens by herself to teach a class on writing to non-writers. In the course of her stay she visits with old friends and makes new acquaintances. Without revealing too much of the plot, let us just say, I will attempt to take inspiration from Ms. Cusk's enlightened prose and apply her insights to my own life. Her work once more reminded me of the importance of being more observant and gentle in the process of acceptance and forgiveness. The challenge now is to take this knowledge back to shore. All of this living, and it was accomplished in the few hours between breakfast and lunch.
REAL LIFE. REAL NEWS. REAL VOICES.
Help us tell more of the stories that matter from voices that too often remain unheard.
This post was published on the now-closed HuffPost Contributor platform. Contributors control their own work and posted freely to our site. If you need to flag this entry as abusive,
send us an email
.