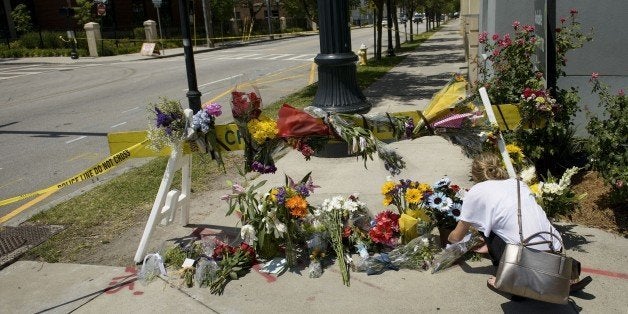 Moreover, the Wisconsin statute singles out for enhancement bias inspired conduct because this conduct is thought to inflict greater individual and societal harm. For example, according to the State and its amici, bias motivated crimes are more likely to provoke retaliatory crimes, inflict distinct emotional harms on their victims, and incite community unrest. U.S. Supreme Court: Wisconsin v. Mitchell
We're Our Brother's Keepers
When the gentlest or most vulnerable among us are targeted for brutality because of their race, we must vigorously call out and punish the perpetrators, while also denying a platform for opportunistic bigots to exploit divisions through rumor and lies.
In a horrible chronological coincidence an unrepentant convicted white supremacist faces a possible death sentence for murdering nine of America's best at an African-American South Carolina church, just as four black Chicago area young adults face lesser charges on a despicable, though non-fatal torture attack on a special needs young white man, that is arguably both an anti-disability hate crime, as well as an anti-white one. During the attack which was live streamed over Facebook assailants exclaimed "F--k Trump" and "F--k white people boy." The four Chicago area assailants were charged today with hate crime, felony aggravated kidnapping, aggravated unlawful restraint and aggravated battery in connection with the torture of a young disabled man who had his scalp cut while being bound and gagged with duct tape. Some Internet provocateurs have already attempted to falsely connect this terrible crime to the Black Lives Matter movement.
As the Rev. Dr. Martin Luther King counseled:
The ultimate weakness of violence is that it is a descending spiral,
begetting the very thing it seeks to destroy.
Instead of diminishing evil, it multiplies it.
Through violence you may murder the liar,
but you cannot murder the lie, nor establish the truth.
Through violence you may murder the hater,
but you do not murder hate.
Illinois hate crime law clearly envisioned punishment for such conduct:
Sec. 12-7.1. Hate crime.
(a) A person commits hate crime when, by reason of the actual or perceived race, color, creed, religion, ancestry, gender, sexual orientation, physical or mental disability, or national origin of another individual or group of individuals, regardless of the existence of any other motivating factor or factors, he commits assault, battery, aggravated assault...

Those who perpetrate criminal violence on the basis of race should have the additional communal harm that their bigoted selection wrought on our country punished. Today forty-five states and the federal government have hate crime laws on the books, with only Georgia, Arkansas, South Carolina, Indiana, and Wyoming lacking such statutes.
Hate By The Numbers in Black and White
African-Americans are the most victimized in hate crimes of any group tracked by the FBI. In 2015 African-Americans were far more likely to be victimized in racial attacks than whites. Indeed, according to the FBI, half of those killed in hate crime homicides last year died at the hands of the Charleston killer. African-Americans were the targets of hate crimes in 1,745 incidents nationwide in 2015, compared to 613 incidents involving whites, and the FBI anti-Black data is skewed lower by the lack of participation by various southern states with high proportions of African-Americans. African-Americans, who constitute only 13 percent of the American population, were 29.5 percent of all hate crime victims; while non-Hispanic whites at 61 percent of the American population accounted for 10.5 per cent of hate crime targets. Anti-white hate crime incidents increased by 3.4 percent in 2015 from 593 to 613, while anti-Black hate crimes rose 7.6 percent. For known hate crime offenders African-Americans constituted 24.3 percent of offenders, while whites were 48.4 percent of offenders.
In a case upholding heightened punishment for defendants who embarked on a racial killing spree, the Supreme Court in Barclay v. Florida, rightly held, "It is entirely fitting for the moral, factual, and legal judgment of judges and juries to play a meaningful role in sentencing." It is also fitting that everyone of good will condemn without exception the threat such attacks pose to our pluralistic democracy, so that our leaders will punish them to the full extent of the law, whether it be in Chicago or Charleston.
Calling all HuffPost superfans!
Sign up for membership to become a founding member and help shape HuffPost's next chapter