There's nothing like a game to fire up friendly competition in the name of charity.
These days, companies are finding challenges are such effective tools to engage employees that gamification has become a key aspect of many corporate volunteer and giving programs. These challenges can extend across departments, companies and sometimes even across industry sectors to include collaboration and competition with other companies.
But what about a competition that encompasses an entire city?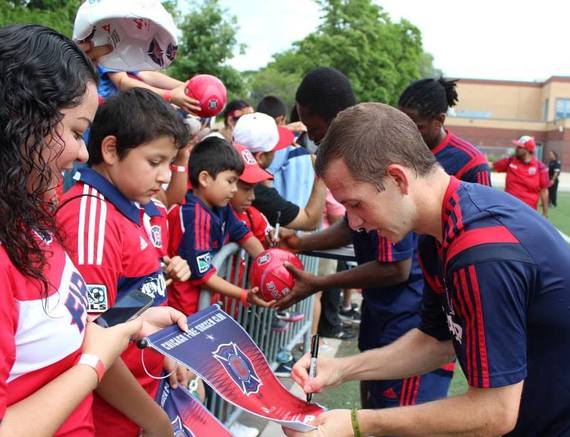 That's the premise behind the successful and inspiring Chicago Charity Challenge, an annual competition that awards businesses and their employees prizes for giving back. Each year, businesses across the city choose one charity to support and then compete with other Chicago companies to see which business engaged its employees to give and volunteer the most.
This year, employee philanthropists from 22 Chicago companies have donated more than $9 million and over 24,000 volunteer hours to date, already topping last year's total results. Since the Chicago Charity Challenge (The Challenge) was launched in 2014, a grand total of $15,340,669 has been raised and 47,374 volunteer hours have been contributed to area charities.
Beyond the money raised by individual challengers for their charities, Challenge prizes put more funds into the hands of local nonprofits. The Grand Prize Give Back Award of $10,000 recognizes overall contributions in three equally-weighted categories: money donated to your charity partner, time volunteered for your charity partner, and impact on a community or issue through exceptionally innovative programs and activities. Other awards of $5,000 include the Philanthropy Award, recognizing money raised per employee for the charity partner; the Helping Hand Award, crediting hours volunteered per employee to benefit the charity partner; the Issue Impact Award, recognizing a challenger's efforts to effectively advance a particular charitable cause; and the Community Impact Award, rewarding a team for serving a low- to moderate-income geographic community and making a substantial difference to its residents.
Of course one of the best prizes is bragging rights.
The Chicago Charity Challenge is a sterling example of what's possible when you bring innovation to social enterprises. The seeds for this city-wide competition were sown at Call One, a Chicago-based communications technology provider whose employees have been teaming up for years to create innovative ways to give back to the community. Each year, Call One employees vote on one charity to support, then undertake volunteer and fundraising activities to meet that charity's needs. In the process, they work side by side, bring out the best in each other and help build a corporate culture of generosity, compassion and inspiration. To share and extend its social innovations, Call One became a founding sponsor of the Chicago Charity Challenge, and the company continues to donate resources to further the success and legacy of this event.
"Our employees immediately embraced the Charity Challenge, thanks in part, to the element of competition," notes Chris Surdenik, CEO of Call One. "We have again witnessed first-hand how friendly rivalry fuels participation and energizes company employees to give back. Seeing how other firms have taken our model for their own giving initiatives has exceeded our wildest dreams -- and we're only in year two of the Challenge."
The competitive element of the this city-wide challenge inspires companies to go deep on corporate philanthropy strategy, and The Challenge supports the efforts of its challengers in myriad ways:
Participating nonprofits are encouraged to offer multiple ways to fundraise and volunteer for their cause.
Companies are encouraged to foster long-term relationships with nonprofits that share their corporate social responsibility mission and together craft an effective multi-tiered team approach to giving.
Teams are invited to gather several times during the year to share ideas, network, collaborate, and enjoy presentations and event games netting additional donations to the charity partner.
Through vigilant tracking of employee volunteer and giving, The Challenge fosters greater accountability of the philanthropic bottom line to companies and charities. As a result, The Challenge organizers find that as the competition progresses companies get more sophisticated in their giving and impact, working closely with their nonprofit partners to find out exactly how the charity can use their resources and expertise to deliver maximum impact on an issue area or community. As The Challenge notes on its website, "These employees don't simply cherry-pick from a list of volunteer or fundraising opportunities; they create them."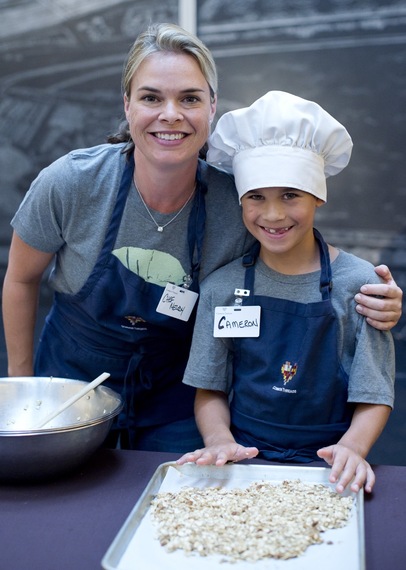 For example, an innovative partnership between Groupon and Chicago Lights, a nonprofit addressing the needs of impoverished residents, showcases the best of what a challenge like The Challenge can be. Beyond the donations of time and money, Groupon has collaborated with other Challenge teams to support Chicago Lights and reciprocate by volunteering for their competitors' nonprofits. A partnership between Harley Davidson and Chicago Coalition for the Homeless yielded innovations such as scholarships for young homeless people to go to college. One recipient was a young woman whose parents were deported; she recently graduated from the University of Illinois and is pursuing a career as an immigration attorney.
At events designed to foster idea exchanges and collaboration, and through the stories of how each challenger is rising to meet the challenges faced by their chosen nonprofit, all of the challengers learn from each other how to be better citizens and create more impact. What an incredible way to create more capacity to give back and make Chicago stronger.
There is so much forward thinking in The Challenge that represents the best of social innovation. Collaboration, gamification, impact investing, social product development, employee engagement through social responsibility, increased philanthropic capacity through greater accountability - the list goes on. Their success helps companies stay abreast of best practices in corporate philanthropy and inspire each other to improve upon the possibilities.
The Causecast team is constantly collaborating with our corporate partners to provide an interactive, mobile, and social volunteer and giving platform to meet employees where they are and help build irresistible workplaces. Supporting The Challenge is a perfect way to help our partners to go above and beyond with the technology and people they have invested in, in order to amplify their company's positive impact in their local communities.
What's that I hear? Other cities chiming in to follow the lead of The Challenge and eventually competing with each other: New York-Los Angeles-Washington DC-Miami-Philadelphia-Seattle-Atlanta-Minneapolis-San Francisco-Nashville...?
Calling all HuffPost superfans!
Sign up for membership to become a founding member and help shape HuffPost's next chapter