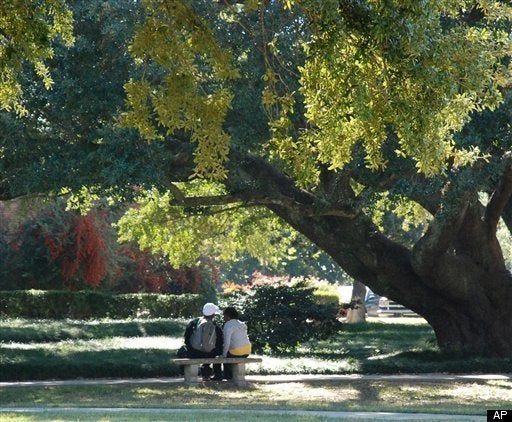 College rankings are out -- and in such great numbers that it's hard to know where to start. To help with this daunting task, here are a few prominent sites personified. Perhaps you'll find a list that sounds like you.
U.S. News & World Report: The Non-Competitive Traditionalist
The grandaddy of college rankings, U.S. News & World Report is probably the most widely read source of higher education superlatives -- perhaps because it can't seem to make up its mind as to which institution is No. 1. Not only does U.S News frequently present tie scores, but it offers such a plethora of lists (best national universities, national liberal arts colleges, regional universities and up-and-coming colleges, to name a few) that every school's a winner.
If you find yourself frequently using asides and modifications, however, you might like the U.S. News rankings. Their report promises nothing more than "an excellent starting point for the college search" and concedes that "many factors other than those spotlighted here will figure in your decision." Nevertheless, U.S News does offer a comprehensive and well-regarded ranking system, which can help students who definitely (at least they think...) want the best (or at least a good) college, or university, for them.
Forbes: The Future I-Banker/CEO
The Forbes list gives schools points for things that might appeal to future B-schoolers and Wall Street moguls. Ratings are based on the number of alumni who end up in Who's Who in America, the amount of students and professors receiving awards and the number of students who graduate in debt (among other less tangible stats.) This no-nonsense list can help you find the private and public colleges that offer the best value in educational, cultural and -- perhaps most importantly -- capital returns.
Unigo: The Social Media Buff
If you yearn to "like" your college on Facebook or read the president of your university's Twitter feed, Unigo's rankings are for you. Unigo serves as an online platform for college students to review their campuses and a free-but-customized site for high school students who are preparing to apply (full disclosure: HuffPost College teamed up with Unigo to release their 10 for '10 rankings this year). The website tracks your recent visits and offers a quiz to help you find a school for you, something social media addicts will feel comfortable with. The site's student reviewers create profiles before they post, so readers can match a face, year and major with the assessment on the page. It's like Facebook in its purest form.
College Prowler: The Bottom-Line Realist
College Prowler relies on student authors to give accurate and up-to-date reviews of their school. Each institution has a profile, replete with stats and a brutally honest report card. If you think in letter grades, and want to know that the school your lusting after has an "A" in academics but a "B-" in facilities, this is the site for you. In addition to grades, school profiles contain basic stats and figures, comments and lists of comparable schools.
Princeton Review: The Sneaky Stereotyper
The Princeton Review's clean-cut image might lead you to believe their statistics without a second thought, but beware this veneer of objectivity. Mixed in with facts and figures about the school (including helpful deadline information!) are generally arbitrary rankings (Most Beautiful Campuses! Stoner Schools!) and descriptions that seem to come straight from that institution's PR department. Tricky, tricky ... but we'd expect nothing less from a company that specializes in preparing students for the trickiest of tests. If you want to be able to rattle off some basic categorical/aesthetic info about your school, Princeton Review is the place for you.
Newsweek: The Begrudging Conformist
If you're always the last among your friends to catch on to trends and are always kind of angry about giving in to the mainstream, you might want to look at the Newsweek college rankings. The latest to enter the rating game, Newsweek only introduced their own flavor to the rankings menu this year. In order to compile their top 25 lists (evaluating colleges in categories of size, location, gay friendliness, jock friendliness and more) Newsweek drew on data from College Prowler, school statistics (like acceptance rates and credentials of incoming freshmen) and specialized reports. Although the lists are pleasingly straightforward, they are mostly redundant, providing basic information about schools without introducing much new content. Which is okay, because they didn't even really want to do this anyway.
Washington Monthly: The Rebel
Taking a leaf out of JFK's book, the Washington Monthly asks not what your college can do for you, but what your college can do for your country. Rather than rate schools based on how well they will serve the student, Washington Monthly focuses on how colleges and universities perform in such areas as undergraduate community service and post-grad placement in the Peace Corps, Americorps and other comparable programs. If you've been struck by the events of the past few years (as the Washington Monthly certainly has) you might want to look at the schools they consider to be the best.
Which is your favorite set of rankings? Take our poll, and weigh in below!
Related
Popular in the Community