I have yet to hear of an industry that hasn't been massively disrupted by technology. Healthcare is no stranger to this disruption. The question is which companies will actually break through the barrier and solve some of the major issues healthcare faces today?
Major trends are becoming anything but, nowadays. Think precision or personalized medicine, genomic testing, diagnostic mobile apps and wearable devices, to name a few. But the powerhouses behind these innovations and new approaches to healthcare are what will bring them to fruition and to the masses. Globally, there are organizations aiming to achieve just this. The question is, can they? Healthcare issues tend to get really complicated really fast, even in your dinner party conversations with family and friends. Can anyone solve these issues or bring innovative possibilities to life? Well, here are 10 companies changing the future of healthcare. Who will succeed?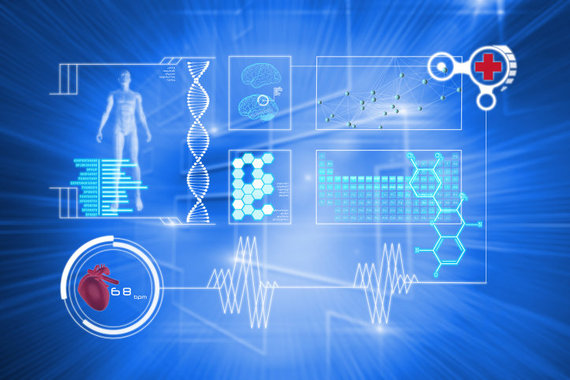 1. Google: Let's start with the giant on everyone's mind. Google has announced, began, and eluded major initiatives often behind their semi-secret division Google X, dedicated to making major technological advancements. Inside Google X is a special sector dedicated to medicine called Google Life Sciences. This small but fast-growing effort led by top physicians and researchers is looking to use data to help prevent people from getting sick rather than just treat sick people. From building a new robotic surgery platform in collaboration with Johnson & Johnson to genome storage, Google is arguably the biggest player. The reason? Google owns all of our information. Yes, you and me. Our searchers, our conversations, our email. Think about it. If they find a sweet spot of ensuring the privacy of our data but leveraging it to further health technology, Google may be able to affect changes in major areas of medicine and disease such as a cancer-detecting pill, Smart contact lens for diabetic patients, and even a medical record open sharing platform.
2. IBM: There's no denying IBM's a major disruptor for healthcare. Watson, the supercomputer designed to mimic how human cognition works (hence, how we learn), holds major promise to improve health care, administration and even more critically, cancer treatment. IBM began rolling this out to the medical world through insurance provider WellPoint and Memorial Sloan Kettering. Watson is currently diving deep into understanding how cancer is treated today from the world's expert oncologists. Watson has the ability to memorize the data of thousands of studies and trials. What could this do? It has the potential to provide healthcare professionals significant patient care improvements using artificial intelligence and sharing that information with the click of a button.
3. Beijing Genomics Institute: This genome-sequencing powerhouse is what made DNA sequencing mass-market. The Institute invested in more cutting-edge-sequencing hardware, bringing to life the ability train analysts on making sense of reams of data output. It's become a go-to destination for scientists all over the world seeking to collaborate on ambitious projects to unlock the mysteries of plant, animal and human DNA. The Institute has become the most prolific research body to sequence human genomes. It has vastly reduced the cost of genome sequencing from $3 billion to a few thousand today. Genome sequencing is what has led to the discovery of genetic testing for cancer and other chronic diseases. Their goal is to organize all of the world's biological information available and even further, make it useful and accessible for further research and innovation. Think of it as a biological Google.
4. Medivation: Here is a company focused on finding new therapies for chronic diseases such as cancer. Based in San Francisco, one of the company's drug products, Xtandi, has been shown to extend the lives of men living with advanced stages of prostate cancer. They tackle some of the most serious diseases that currently have limited treatment options. Diseases include breast cancer and prostate cancer, two of the most common cancers in men and women. This biopharmaceutical research entity hopes to provide sound treatments to patients with otherwise critical illnesses.
5. Partners Healthcare: A non-for-profit integrated health care system based in Boston, Partners has invested more than $1 billion a year in drug discovery, genetics and healthcare information technology. This large investment has made it one of the top research organizations in the world. Alongside that, Partners is affiliated with some of the best hospitals in the country including Massachusetts General. The company is working to take the lead on genomic advances in the field of personalized medicine.
6. Counsyl: A health tech start-up, Counsyl is focused solely on genetic testing. Their goal? They want to focus on helping patients make more knowledgeable decisions about their lives. Currently, Counsyl provides genetic counselors to help clients interpret their individual test results and evaluate a possible prevention plan. This ties back to personalized medicine. If an individual understands their individual genetic makeup, new doors open for better treatment plans and even preventing diseases before they develop.
They currently offer three screening tests:
Provides future parents with information about their genes that could pass on to their children
Gives clear answers even before conception
A test that gives accurate information after conception
Informs adults on their risks for developing breast, prostate, ovarian and pancreatic cancer
Provides knowledge to further support getting screened earlier or more frequently, or in extreme cases undergo preventive surgeries
7. Medisafe: About half of all Americans are prescribed medication they take regularly. And what's more, half of them don't even take it properly, whether it's forgetting, missing or taking too much of said medication. Medisafe is aiming to solve that problem. A new app from the MediSafe Project actually makes taking whatever your prescribed medication safer, more efficient and even fun, given the integration of gamification user design into the app. Medisafe is a mobile medication management platform that reminds patients to take their medications via smartphones and tablets, serving to improve medication adherence rates and curb the growing annual health care costs globally. Think of it as your virtual pillbox that set reminders for when to take your pills, requiring a scan of the medicine's barcode at each dose. If the patient forgets, a family member or friend will get an alert as part of the setup of the app. Medisafe is one of the leading companies leveraging wireless and cloud technology to improve drug adherence. Last year, MediSafe revealed that Type 2 diabetic users of its technology boasted adherence rates of at least 26 percent higher than standard rates for long-term therapies.
8. Blueprint Health: This co-working space located in SoHo brings medical entrepreneurs together with innovative ideas and couples them with venture capitalists and mentors to help further their idea. It's arguably the premier health care incubator on the East Coast and even in the United States. Those who graduate from Blueprint have started many diverse companies and healthcare disruptors such as AdhereTech -- the smart pill-bottle maker. Other graduates are focused on IT solutions to improve the efficiency of doctors, hospitals and outcomes for patient care.
9. Ginger.IO: This mobile app tracks behavioral data to improve care. They analyze patterns in communication and location through algorithms designed to alert caregivers of changes that may indicate new symptoms or an emergency. To date, they've collected more than 6 million data points from patients which will help the company's technology improve as the customer base grows.
10. Foundation Medicine: This genomic leader was one of the first to demonstrate that the age of personalized cancer treatment has started. Their first clinical product titled "FoundationOne" is one of the first genomic tests that analyzes DNA mutations in tumors. It works to assist doctors in matching specific drugs to specific cancer types, or help doctor's direct patients to ongoing clinical trials for experimental treatments. Foundation's innovative tests may expand to assist drug makers in creating more effective therapies. The company is backed by Google Ventures and Third Rock Ventures and this year alone raised $106 million in an IPO.