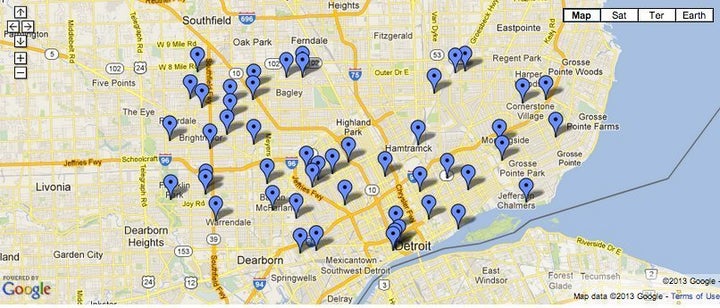 Tall grass stretching up to your knees. Garbage. Rusted play structures.
Bing and Recreation Director Brad Dick both blamed the city's dire financial situation, saying that there isn't enough money to even attempt to maintain the city's parks. Dick said that the Detroit Works Project's Long Term Strategic Plan was consulted as recreation officials decided which parks should remain open.
In a statement, the city said the parks were chosen "based on lack of utilization, lack of park amenities, and/or sheer acreage to maintain due to the fact they are in close proximity to a Premier Park." The administration also announced Friday that it chose 19 "premier" parks to receive "top-notch" or improved service. In addition, 38 city parks will switch to limited maintenance.
Dick, a Detroit resident, said that closing parks was a personal decision that would affect neighborhoods adversely.
"It's going to look like vacant lots, and it's not going to look good," he said.
The mayor linked Detroit City Council's decision not to lease the Belle Isle park to the state of Michigan earlier this week as a major cause of the closings.
"These dollars were critical in order to make a positive impact in the community," Bing said. The City of Detroit currently spends over $6 million dollars on maintenance to keep up the island park.
HuffPost Detroit compiled a map of Detroit parks that are scheduled to close in neighborhoods across the city, including Rouge Park, of which only "a portion" is slated for closure.
The closed-down parks are another addition to the accumulation of empty and abandoned lots already threatening to overwhelm the city of Detroit. In the 2012 Wayne County Land Auction, 20,000 properties (5 percent of the city's available land) were auctioned off, some for as little as $500.
The 8,000 properties that didn't gather bids were transferred to the state's land bank and continue to languish. And the crisis isn't abating. According to civic tech company Loveland's mapping of the city's land use, 59,000 properties alone are currently behind in their taxes.
According to the Detroit Free Press, the closures will leave just about a sixth of Detroit's many parks open, leaving one park for every 12,280 residents, and many of the potentially overburdened parks will receive less maintenance.
Parks Closing: Biraga, Howarth, Sasser, Brookins, Marruso, Manning-Beland, Dueweke, Maheras, Manz, Messmer, Chandler, Mollicone, Bennett, Cass, Dues, Michigan-Third, Mt. Elliott, Murphy, Pirrien, Savage, Romanowski, Wingle, Bishop, Calvert, Franklin, Keidan, Laker, Richard Allen, Russell Woods, Schultz, Cross, Fitzpatrick, Phelps, Rouge (portion), Simanek, Stein, Hackett, Milan, O'Hair, Outer Dr. - Burgess, Rosemont - Acacia, Cook, Diack, Fields, Kelley, Sawyer, Varier, Hyde, Lugar, Sherwood, St. Martin
Limited Maintenance: Butler, Dorais, Hawthorne, Jayne, Kern, Krainz, Martz, Wish Egan, Butzel, Williams, Yates, Elmwood Central, Grand Circus, Harmonie, Tolan, Eliza Howell, Hope, Riodan, Simmons, Tuttle, Clemente, Kemeny, Piwok, Weiss, Hardstein, Salsinger, Van Antwerp, Comstock, Mallett, Green, A.B. Ford, Butzel Playground, Corrigan, Erma Henderson, Mariner, Pingree, Stockton
Premier Parks: Farwell, Heilmann, Zussman, Fargo-Fenton, Peterson, Palmer, Balduck, Belle Isle, Clark, Patton, Hart Plaza, Lafayette Plaissance, Lafayette Central, Lafayette Entry, Roosevelt, Voigt, Joe Prance (Rouge), Littlefield
REAL LIFE. REAL NEWS. REAL VOICES.
Help us tell more of the stories that matter from voices that too often remain unheard.
BEFORE YOU GO