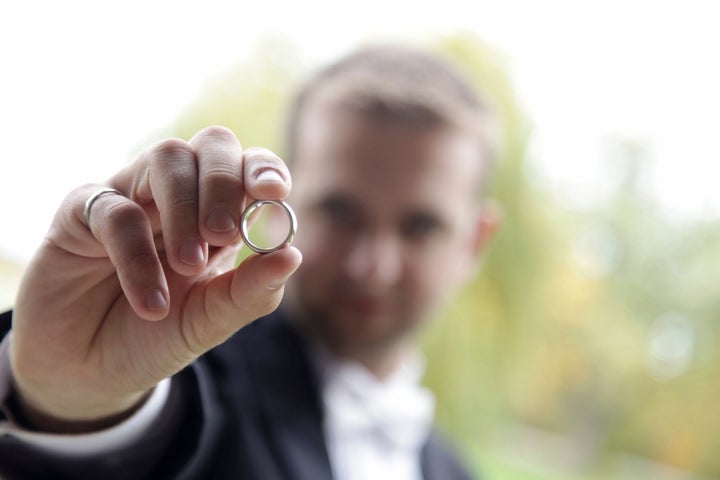 It's a question we used to hear from our clients frequently: My partner and I are going to get married and we aren't sure which fingers we should put our rings on. What do you recommend?
Most succinctly put, we recommended then as we do now: do what feels right to you.
In the early aughts and prior to the legalization of same-sex marriage, we saw examples of lesbian and gay couples using a wide variety of options for their engagement and wedding rings. Some chose to use the ring finger (next to the pinky) on the right hand for the engagement and/or wedding ring because of it's resonance with, but difference from, the traditional heterosexual symbolism. Others, however, embraced the traditional practice of using the ring finger of the left hand. Some preferred to use other fingers or symbols, like the same (non-ring) finger, while others matched rings but selected different fingers altogether.
One thing's for sure, our community is nothing if not diverse in its expression!
Because LGBT (lesbian, gay, bisexual and transgendered) couples have had no road map for our ceremonies in the past, we have been able to choose the symbols most meaningful to our relationships. As such, we have always given couples this advice: it really depends on what you want to do. It's your day, it's your ceremony, and it's your life-long commitment.
What's been amazing is to see how this question has become less prevalent amongst our clients, and this says everything about how attitudes and norms about same-sex relationships have changed in the past decade.
As legal marriage for same-sex couples has spread beyond the count of one hand (we're currently at six-- MA, CT, NH, NY, IA, VT -- plus the District of Columbia), couples have spent less time pondering how they want to wear their rings. It's a given. The majority of our couples are buying engagement rings and/or wedding bands and they are wearing them on their ring fingers of their left hands.
Sure, there are still couples who choose a more private expression as they wear symbols of their love and commitment. Some members of the military may not feel ready to be as open as the repeal of Don't Ask, Don't Tell allows them to be; some teachers in some schools may avoid revealing any personal details to avoid being fired or harassed; some individuals may not be out to their families yet; some individuals who are active in conservative religious communities may prefer to avoid drawing any attention to their personal relationships and orientation.
And, of course, there are those in our community who support same-sex marriage for those who want it, but feel strongly that our same-sex relationships are different than, and outside of, the institution of heterosexual marriage and they want to keep it that way.
Nonetheless, as our society has become more open and accepting of lesbian and gay relationships, the symbols of our love have come to reflect the mainstream norms more often and more openly (even though you can still count on us to add our own twist on tradition).
To wit, I can't tell you the number of lesbians I've met who sport big ol' diamond rings and gay men who wear matching wedding bands.
So, bottom line, when it comes to symbolizing your love and commitment with a ring -- regardless of your reason -- pick a finger and don't be afraid to get some bling for that ring!