WASHINGTON -- Online activists alleged over the weekend that Twitter censored a popular hashtag, #WhichHillary, that called out Democratic presidential contender Hillary Clinton for flip-flopping on criminal justice reform and other issues. But Twitter says it uses an algorithm to automatically identify and promote trending topics, and remove ones that are no longer trending.
"As elections approach in countries around the world we hear conspiracy theories about political trend manipulation, from activists on the left, the center, and right," a Twitter spokesman told The Huffington Post. "But the actual reason a topic doesn't trend is because its popularity isn't as widespread as supporters believe."
Twitter's algorithm -- the internal workings of which are private -- "uses multiple factors, such as the volume of discussion, freshness, and velocity," to pick trending topics, the spokesman explained. The algorithm tailors suggestions based on who a user follows, and where they're located. Users have the option of viewing what's trending elsewhere. Twitter designed the algorithm to promote topics that are newly popular over old ones that are discussed repeatedly by the same people.
On Friday, some activists claimed that Twitter had deliberately removed #WhichHillary, which was reportedly used over 68,100 times in a 14-hour period, from its list of trending topics.
A chart provided by Twitter shows that the volume of tweets with that hashtag dropped off: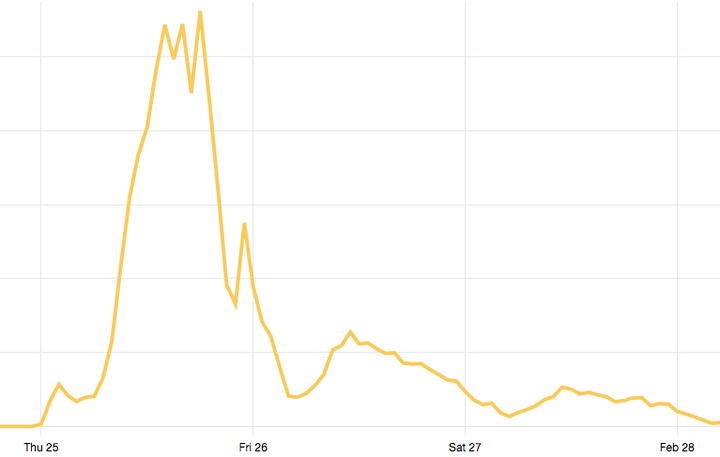 Activists nonetheless pointed to a fundraising event Clinton was scheduled to attend earlier this month with Omid Kordestani, Twitter's executive chairman, to bolster claims the censorship was intentional. Users started using a second hashtag: #WhichHillaryCensored.
"Twitter's decision to censor the trending #WhichHillary hashtag is the latest example of the corporate media's collusion with Hillary Clinton," Rudy Panko wrote in Russia Insider, a website with the tagline "bias bashers."
Clinton's campaign did not respond to a request for comment.
Guerrilla Socialists, a group that supports Clinton's competitor, Bernie Sanders, and was pushing the hashtag campaign, claimed that its account was suspended "at the height of the #WhichHillary hashtag trend." The group said it received a notice that its account was accidentally locked because it looked like it was spamming. Signs of spamming that Twitter looks for include a user following or unfollowing a large amount of accounts, tweeting out a lot of links or being blocked by a large number of people.
"We will suspend accounts that violate our spam policies, with zero regard for their political ideology or message," the Twitter spokesman said.
A person who runs the Guerrilla Socialists account (who did not give a name, citing online harassment concerns) denied the account was used for spam, and claimed that beyond the algorithm, Twitter could take down a hashtag by suspending popular accounts. "I can't say for certain what Twitter did to my account," the person told HuffPost. "All I can say for certain is that I clearly did nothing wrong."
Twitter promotes itself as a free speech platform, and has faced criticism for not censoring users fast enough -- like those who make racist or sexist threats, or who support the self-proclaimed Islamic State.
With that said, "persistence of the charge of censorship is not surprising at all," Gillespie wrote in 2011. "Advocates of these political efforts want desperately for their topic to gain visibility."
Popular in the Community