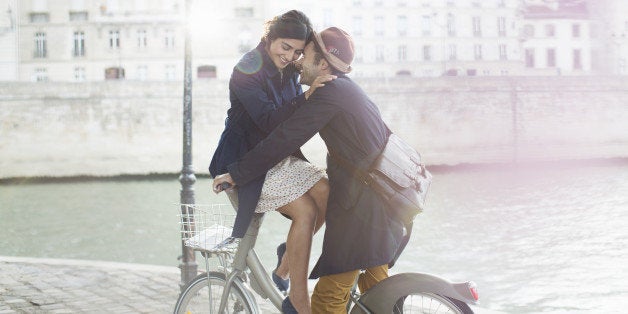 You've searched the world and managed to find the perfect person with whom to spend the rest of your life. But now you're faced with searching for another ideal match -- your ultimate honeymoon destination. Rather than compound any decision-making-induced stress, use what you already know about your travel preferences to select the quintessential postnuptial vacation.
Each year, U.S. News relies on a methodology that uses reader votes and expert opinions to rank the Best Honeymoon Destinations across the world and in specific regions like Europe, the Caribbean and the U.S. These rankings are designed to compare top vacation spots based on factors like couple-friendly accommodations, activities and ambiance. To determine which honeymoon is ideal for you, reflect on what matters most to your newlywed self -- and your spouse -- then find your romance-infused dream trip below.
If you like to run with the pack, go to Santorini.
Not everyone has patience for sifting through an abundance of travel guides and articles. Some of us prefer to rely on recommendations and flow by way of the crowd when it comes to choosing a honeymoon itinerary. If this sounds like you, consider Santorini, the 2014-15 winner of our Best Honeymoon Destinations ranking. Santorini's memorable white-washed architecture, bright blue waters, flavorful Greek cuisine and upscale cliffside accommodations have been drawing newlyweds for years. In fact, Santorini earns the No. 1 spot on our list for the third year in a row, with an 83 percent approval rating among voters. Santorini is so treasured by lovebirds that it also tops our list of the Best Honeymoon Destinations in Europe.
If you prefer to travel without a passport, go to Maui.
Often, traveling out of the country makes your journey a bit more challenging. When you head overseas you may be required to get vaccinations, apply for visas or -- let's face it -- pack some recognizable snacks. Some couples appreciate a carefree honeymoon absent of currency or language differences. If you fall into this category, head to Maui, the No. 1 vacation spot on our Best Honeymoon Destinations in the USA list. With an 85 percent approval rating, this Hawaiian island is popular for its breathtaking geography: Dormant volcanoes, craggy beaches and dense tropical forests cover the isle's dynamic landscape.
If you favor convenience and coastline, go to Anguilla.
Honeymooners are consistently lured by the Caribbean's accessibility: Flights from the U.S. are short, there is a wide range of resorts and tour operators abound. This kind of convenience is appealing to brides-and-grooms-to-be who want to escape quickly and effortlessly. Anguilla claims the top spot on our Best Caribbean Honeymoons list this year. The island's secluded beaches, high-end resorts and luxury spas are some of the most popular draws for newlyweds.
If you want VIP treatment, go to the Maldives.
Some couples view their honeymoon as a once-in-a-lifetime chance to splurge without inhibition. Those looking to experience over-the-top accommodations, dining, service and ambiance should take a peek at our ranking of the Most Luxurious Honeymoon Destinations. The Maldives, a remote group of islands sitting 500 miles west of Sri Lanka, earns the No. 1 spot this year -- up from its third place position in last year's ranking. What makes these islands so luxurious? Over-the-water bungalows and single-resort islands bring couples from all over the world to this exotic, sun-drenched spot.
If you prioritize R&R and sunshine, go to Kauai.
Months of planning (and stressing), leave many newlyweds ready to wind down, bask in the sun and take a dip in warm ocean waters by the time their honeymoon rolls around. With a 71 percent approval rating among our readers, Kauai surpasses popular oceanfront locales like Bora Bora, Fiji and St. Lucia on our Best Beach Honeymoons ranking. Venture to Kauai and you'll have access to miles of coastline, world-class spas, hiking trails and all the tropical cocktails you want to maintain that wedding buzz.
If you're hoping to save money for a house (or anything else), go to Charleston.
Love to take romantic vacations, but prefer not to spend all your newly gifted wedding money on just one trip? Consider Charleston, South Carolina, for your honeymoon. The city's southern charm and moss-covered mansions tend to invoke Gone With the Wind-esque passion between lovebirds. Plus, the destination's slow pace is the perfect remedy for newlyweds looking to unwind together. Best of all, accommodations and dining are reasonably priced compared to other post-wedding getaways -- which is one reason why Charleston tops our Best Affordable Honeymoons in the USA list.
Didn't find your perfect match? Your honeymoon soul mate is still out there. Find the one and vote for your favorite spots on U.S. News' honeymoon rankings here.
Related