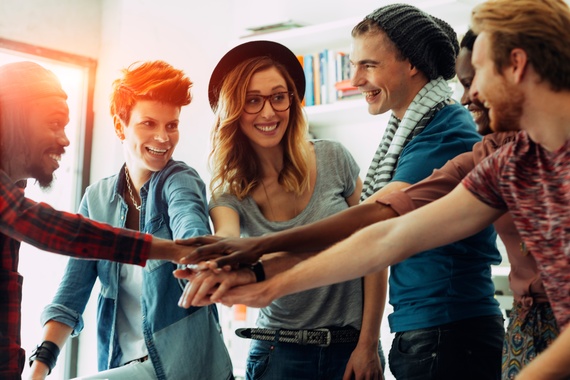 When it comes to employee volunteering and giving programs, perhaps no industry sector is better suited to make an impact than professional services firms.
While professional services is a broad and diverse category of occupations ranging from accountants and management consultants to lawyers and IT consultants, they're linked by a high knowledge density and specialized training in the arts or sciences. Successful professional services firms must demonstrate leadership, accountability and complete integrity, as well as an ability to use interconnected disciplines to effect change.
As it happens, all of these qualities are essential not only to business success but also to social progress. How professional service firms conceptualize and execute on their ability to make a difference offers a window into the boldness of their global vision overall. Corporate social responsibility is one of the most visible opportunities for these firms to express how they can lead change. When seen through this lens, CSR is not an add-on option to professional services firms but a vital extension of their values and, ironically, self regard.
Self regard? Isn't giving back supposed to be selfless? Perhaps, but giving back in a way that actually makes an impact requires strategy, creativity, leadership, smart decision making, teamwork from within, partnership with outside experts, and a strong moral compass. It takes true belief in the capabilities and potential of your organization to aim high with social impact. And taking your corporate philanthropy seriously and treating it like an important part of your business can lead to significant shared value creation, where companies experience pronounced competitive advantages through corporate social responsibility.
A strong CSR program has many facets and opportunities, and professional services firms in particular should consider multiple paths forward to assert their power to make a difference. But there's one strong asset that should be at the center of every initiative: a firm's employees.
Pro Bono: Double down on your strengths
Pro bono or skills-based volunteering is a natural fit for professional services firms, and employees can easily step into this valuable form of giving back. The estimated value of traditional volunteering, according to the Bureau of Labor Statistics, is $23.07 per hour, but pro bono volunteering dwarfs that value at an average of $150 per hour.
Pro bono advocate firm Taproot arrived at that weighted average by evaluating the average hourly rate of different professional services firms based on career level. For example, the value of an average hour of time of an early level financial services employee is $90 while that of an executive level financial services employee is $255. Early level IT services professionals can bill an average of $115 per hour, going up to $235 at the executive level. And so on. Across the myriad areas of professional services, pro bono contributions add up to a very substantial benefit for nonprofits that would normally have to pay market rate for those same services.
Further, for millennial and other employees who are sharpening their skills, pro bono service is a helpful and rewarding way to give back, perhaps becoming a deciding factor in joining a firm by top candidates who are weighing different options. But it's not just millennials who appreciate the opportunity to give back through their skills. Over the past several years, the popularity of pro bono service has risen to the point where it's become the fastest-growing employee-volunteering program, especially within the professional services sector. According to Daryl Brewster, CEO of CECP, a coalition of 150 CEOs of the world's largest companies focused on societal engagement, the percentage of companies offering pro bono service increased from 40 percent in 2012 to more than half in the past couple of years.
Over the past four years, Deloitte professionals delivered more than 1,000 pro bono projects, providing capacity-building business solutions across the breadth of Deloitte's Consulting, Tax, and Advisory services. Deloitte positions its pro bono and skills-based volunteering programs as key components to its commitment to youth education, inspiring future leaders, and to its approach to creating opportunities for veterans. The company is so committed to pro bono that it is a sponsor of the forthcoming Pro Bono Week at the end of October, a global campaign that celebrates and activates pro bono service across all professions that use their talents to make a difference.
Boston Consulting Group is another excellent example of a professional services firm that leverages its talents to address global challenges. To maximize the potential of the firm's social impact, BCG works with social sector clients across topics such as development, health, education, employment, and the environment, and the company makes opportunities available to all consultants. About 10% of BCG's worldwide staff participate in approximately 300 social impact projects per year. Consultants can also apply to participate in the firm's social impact immersion and secondment programs or take leaves of absence to work at social sector organizations of their choice.
Company-wide volunteer experiences enrich culture
Beyond pro bono opportunities for employees to fulfill alone or in small groups, professional services firms need to be thinking about how to engage their entire office in fun, low barrier to entry volunteering experiences. Company-wide events serve a number of purposes, but one of them is to get employees talking about your organization.
Professional services firms face different branding challenges than consumer brands and it can be difficult to stand out. That's where employee advocacy comes into play, according to marketing expert John Tyreman. "Employee advocacy is a culture of believing and buying in to the content your firm produces, and seeking out opportunities to spark discussions on social networks with other individuals who share the same passion or interest," Tyreman wrote for Business 2 Community. There's a science and an art to true employee advocacy programs, but well-orchestrated employee volunteer and giving events serve as an ideal platform to get employees engaged in internal and external conversation about your company.
For volunteer experiences that reach out to everyone at the company, well-run campaigns are essential to high employee participation. But that can be easier said than done. So many volunteer and giving campaigns never manage to grab the attention, interest or engagement of employees. And so they sometimes come and go with little fanfare, amounting to more of a halfhearted exercise by the marketing department than anything generated by actual volunteers.
Professional services firms have a distinct advantage when it comes to creating powerful volunteer and giving programs. Their employees have the skills to make a concrete impact in their communities, especially through pro bono service, and leaders at these companies often have extensive experience with managing multifaceted projects like a giant campaign drive. The question for professional services firms isn't "what can we do to make a difference?" It's "what can't we do to make a difference, to both our communities and our bottom lines?"
Related
Popular in the Community