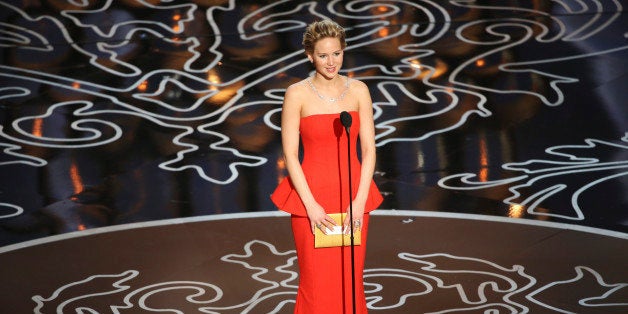 It starts to sound like a lightbulb joke: How many people does it take to get a woman dressed for the Oscars? Kidding aside, the answer seems to hover around 10, when you factor in several designers who compete for the honor of custom-making a gown for her, the celebrity stylist who coordinates her whole look, various assistants, a seamstress and an armed guard to stand watch over all the jewels sent over by Harry Winston. Think I'm exaggerating? Check out this Instagram compilation from numerous stars thanking their enormous glam squads. And thanks are in order. If they do their jobs right (as they nearly always do), the star walks into a hotel suite filled with flawlessly curated fashion, chooses from a range of can't-go-wrong options, and then sails out onto the red carpet to coo at Ryan Seacrest, "I picked this one because it just felt like... me."
In truth, we'll never know what her unaided style looks like. What might she have worn in the pre-stylist era? Think back to when Demi Moore came to the Academy Awards in bike shorts and Kim Basinger wore a cross between a gown and a tuxedo (a gotux?). Award show fashion was far less tasteful and much more fun back then. Celebrities got blamed for their style mistakes, but also lauded for their brilliance, as when Sharon Stone (all on her own) paired a white Gap button-down with an evening skirt.
Authentic, individual acts of style like Sharon Stone's are rare on the red carpet these days. If you want to see more of them, grab your coat and hit the street. That's where you'll find stand-out experimentation and joyful self-expression. Street style has always been inspiring, but never more so than now with all the varied sources of cool fashion out there, from H&M to vintage, ebay to Etsy. Real women are taking advantage, killing it every day in outfits they put together on a real budget, to live a real life.
Those women are the style heroes we revere at Redbook, the magazine I put out with a fantastic team of fashion-savvy editors. So this September, we're turning the spotlight on them with our Real Women Style Awards. You can learn more here. I'm already blown away by the torrent of great looks women are submitting. Check out this one, and this and this. If you are wondering if you should be up there with them, showing off your accessorizing chops, great new/vintage mix or the way you channel Sophia Loren/Grace Kelly/Grace Jones? The answer is YES.
Your selfie beats that Oscar selfie any day. So post it here. Jennifer Lawrence, eat your heart out..