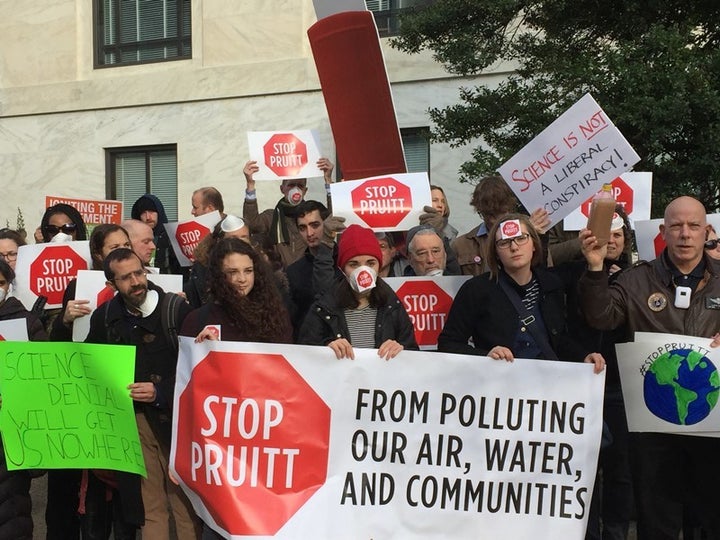 If you want to know whether your U.S. Senator is on the side of the people or polluters, there are four votes to watch coming up over the next two weeks. Check out the list below, and then here's what you can do: call and write to them before the votes, pay attention to how they vote, and then call and write to express either your thanks or your disappointment. In the long fight that has begun to defend our air, water, and climate safeguards, your elected officials need to know the people they represent are watching, listening, and prepared to hold them accountable for their votes.
Rex Tillerson ― nominated for Secretary of State
Tillerson is the former CEO of ExxonMobil ― one who received an "Order of Friendship" award from Russia. While Tillerson was at the helm of Exxon, the company regularly put profit over public health and even today continues to be embroiled in a lawsuit alleging that the company knew about climate disruption for decades but covered it up.
Tillerson's final confirmation vote is expected in the Senate on Tuesday, Feb. 1. Need more reasons to oppose the climate-denying Tillerson? Read on ― there are plenty.
Scott Pruitt ― nominated to head the Environmental Protection Agency
Oklahoma Attorney General Scott Pruitt has been a chief architect of efforts to dismantle our core clean air, water, and climate protections, doing the bidding of the fossil fuel industry ― even using their exact talking points to write letters to the EPA opposing their public health and environmental safeguards. He also sued the EPA numerous times over its pollution standards, and has taken serious money from the oil and coal industry. Pruitt fights the Clean Power Plan, denies the science of climate disruption ― the list goes on and on.
Votes on Pruitt will begin this week, first in committee, and then on the floor of the Senate. If he's confirmed, it will be bad news for the health of our families, clean air and water, and our climate. Pruitt will side with polluters every time ― learn more.
Two Congressional votes
Two important clean air, water, and climate safeguards are under threat in Congress this week under the Congressional Review Act (CRA), a blunt instrument with dangerous consequences. The CRA allows Congress to pass by simple majority "Resolutions of Disapproval" that, if signed by the President, not only nullifies a target rule in its entirety, but also prevents any rule that is "substantially similar" from being promulgated in the future. This process is subject to limited debate, provides no ability for filibuster while under consideration in the Senate, and expressly prohibits judicial review. In effect, the CRA strips agencies of their authority to issue rules in the public interest and silences the voices of millions of Americans who comment and participate in the rule-making process. Using this blunt instrument to undo essential environmental safeguards is dangerous and irresponsible on account of is disruptive, unknowable, and long-lasting consequences.
One of the main CRA targets of the GOP? The Stream Protection Rule ― which aims to reduce water pollution from coal mining operations. Families in the coal mining areas of Appalachia ― including in the state of West Virginia, where I live ― have been fighting for over a decade to get these basic, common-sense protections in place to keep toxic mining pollution out of their drinking water. Those long-overdue standards were finally put in place last year, and now as one of its first votes, the new Congress wants to not only throw them out, but to try and prevent any similar protections in the future. It's outrageous and unconscionable.
Also a target of the GOP's CRA power ― the Methane and Waste Prevention Rule from the Bureau of Land Management. This standard aims to "curb methane emissions from oil and gas flaring, venting and leakage on public and tribal lands." Methane is a potent greenhouse gas ― some 87 times more potent than carbon dioxide. BLM's standard advances common sense measures to reduce methane emissions on public and tribal lands through stopping wasteful leaks, venting, and flaring of natural gas and dangerous pollutants. These hazardous emissions, which include cancer causing volatile organic compounds, benzene, and formaldehyde, put our families and children at considerable health risk while wasting public resources at the public expense.
This BLM standard holds polluters accountable for outdated and reckless practices that put the American people in danger, and does so through cost effective emissions mitigation practices. Research estimates that more than $330 million worth of natural gas is wasted each year and project nearly $800 million in missed royalties from venting and flaring alone over the next decade.
Fighting both the Stream Protection Rule and the BLM's methane standard are moves by the GOP to appease their huge fossil fuel donors and the Koch brothers ― groups who will always put profits over public health.
Together we can help stop these attacks on our measures that keep our air and water clean. We urge you to call your members of Congress to tell them to oppose these measures that put the interests of polluters before people. We must stand together to protect public health, clean air and clean water.
And then in the days ahead, on these four votes to watch, pay attention to how your U.S. Senators vote. Do they side with people, or polluters? If they vote the right way, call them, write to them, and/or visit their state offices and thank them. If they vote the wrong way, hold them accountable with calls and letters and visits, and also spread the word to your networks on social media. We're going to be in a long fight together to save our air, water, and climate protections, and we need our elected officials to know we are watching.
REAL LIFE. REAL NEWS. REAL VOICES.
Help us tell more of the stories that matter from voices that too often remain unheard.