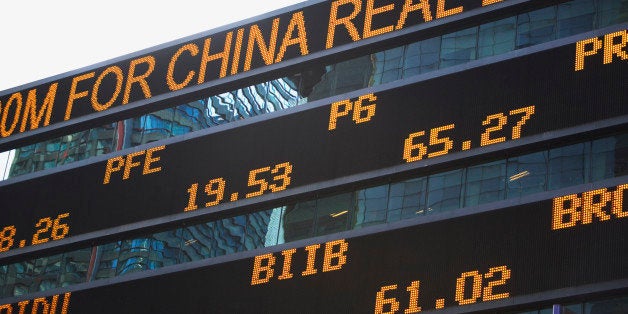 Brainard, Harker, Yellen, Dudley and Fisher.  
Today we get the Federal Reserve's version of Murderer's Row and, if they strike out - we have another 7 speeches lined up tomorrow and Friday.  Imagine the chaos that lies ahead for the next 3 market days with all this Fed speak coming at us every few hours throughout each day.  
On Monday we speculated that we'd run up to test the market highs again (check) ahead of the Fed Speak but we also posited that the reason for all the Fed Speak scheduled was that something bad was going to happen and they were trying to get in front of it.  What that is, we're not sure yet but today we have International Trade, Mortgage Applications, ADP Jobs, Gallup Job Creation, PMI Services, ISM Services and Oil Inventories - all while Yellen testifies before Congress.  
As you can see from the Bloomberg chart above, AFTER the close, people realized the "news" was not new and the market quickly corrected but that won't stop the China ETF (FXI) from opening near $40, where we can press our short bets for a likely quick gain.  This would be the "Opportunity" portion of our Options Opportunity Portfolio that we love to take advantage of.  Our current position is the Jan $41 puts, which we bought for $3.20 back on 10/19 and we shorted the Nov $38 puts at $1.17 on 10/12.
Given the likely action, we'll buy back the short $38 puts for 0.40 or less and we will roll up our Jan $41 puts to probably the $43 puts for less than $1, buying $2 of position for $1 will be more valuable than buying more time in this case.  When FXI reverses back below $38.50, we'll sell short puts again to cover our position (and put some money in our pocket).  Last time we had an opportunity like this, we made $1,570 (77%) in one week! 
These are, of course, volatile option positions so timing is everything on entries and exits.  Our entire OOP has bounced up and down $2,000 (2%) this week already and Friday will officially mark the end of our 3rd month of trading and we're up 17.4% as of yesterday's close and that's the low end of our range (down $2,000) so we expect to close out our 3rd month well ahead of our 5% per month goal.  

Specifically today, Hidili Industry is missing a $190.6M bond payment and an analyst at China Securities says: "Hidili's struggle could have a chain reaction in China's real economy.  Banks could see rising bad debts, and smaller companies counting on distressed companies like Hidili could also fail."  China's slowest growth since 1990 is crimping cash flows at miners, steelmakers and developers following defaults by Winsway, Sinosteel and Kaisa.  More pain may be in store, after record rating downgrades on the nation's borrowers by S&P and Moody's Investors Service this year.
UK's Standard Chartered Plc does a lot of business in Asia and is cutting 15,000 jobs and needs $5.1Bn from it's investors (it's like an LLC) to cover loan losses and stay in compliance.  The bank is slashing China exposure by 23% and "considering hard landing scenarios."  Fitch Ratings warned on Nov. 2 that 11 percent of India's loans will fall into the category of "stressed assets" in the fiscal year ending in March 2016 and only improve "marginally" the next year.   
You won't hear it from our own MSM, where "Everything is AWESOME" but with banks retreating, lending in Asia is drying up. Strip out Japan, loans in Asia plunged 25 percent this year to $259 billion, according to data compiled by Bloomberg. Fortress Investment Group LLC warned investors in September that the "contraction of credit" among developing countries would deepen a selloff that could rival the Asian financial crisis of 1997.
As you can see from the chart above, China has no choice but to curtail lending as they have flown past even Japan's insane Debt-to-GDP ratio to take the global lead.  No one is allowed to criticize a Chinese leader for doubling the national debt in 8 years - just ask those 28 still-missing investors, who were foolish enough to complain back on October 25th.  Yet another story that is generally ignored by your corporate media, who don't want their Chinese advertising dollars to disappear if they run stories like this!  
And what were those silly people complaining about?  Well, it turns out that a Chinese trading platform, Fanya, that was backed by the government and attracted 220,000 retail investors, was actually just a fraud - a massive Ponzi scheme that quickly blew up and wiped out $6Bn investment dollars and, if this is the first you are hearing about a massive fraud in China's metals exchange - you must be a hostage of America's corporate media yourself!
Speaking of Republicans - "uneasy and out of place" was the number one way GOP primary voters described how they felt in their own country in the latest WSJ/NBC Poll that asks strange questions like that.  Coming in at number 2 was "angry at insiders and Wall Street" with "cautiously optimistic about the economy" getting just 5% of the responses.  When you consider that 10% of the responders should have been in the Top 10% - that is a truly terrifying number!  
It's way too early to call the primaries, of course, but it's Clinton/Carson so far.  Of course, people don't realize that the real winner will be the best of the worst as they are all the "insider" candidates and the support from all of the bottom 55% (not Trump or Carson) will all go to whoever wins from the bottom 8 remaining candidates, probably Cruz or Rubio.
60% of all voters surveyed feel our country is on the wrong track and it's the economy and income inequality that top their concerns yet the market is testing record highs - as if the opinions of the common folk can be ignored, which is very Mary Antoinette of our Top 1% leaders, don't you think?  In fact, 85% of the voters said job creation should be a top priority for our leaders to focus on yet the Fed tells us the job situation is "fine" - quite the disconnect somewhere.
As I have said often before, you can't have sustainable economic growth when it's only happening for 10% of the country.  This poll shows us that not even the Top 10% are really confident so, while there are 30M people who can afford a new iPhone without batting an eye - there's less people going to movies or going on vacations spending discretionary income, because the bottom 80% simply don't have any discretionary income to spend.  
At the moment, we're benefiting from low oil prices leaving an extra $20 in people's pockets every time they fill up the tanks.  It may not seem like a lot but figure twice a month for 200M people is $8Bn per month or $96Bn a year that can go to other discretionary items but, should the price of gasoline creep back up - that money will have to come from somewhere and that's why, until we see significant improvements in wages - we are going to continue to be stuck in a rut.  
Calling all HuffPost superfans!
Sign up for membership to become a founding member and help shape HuffPost's next chapter