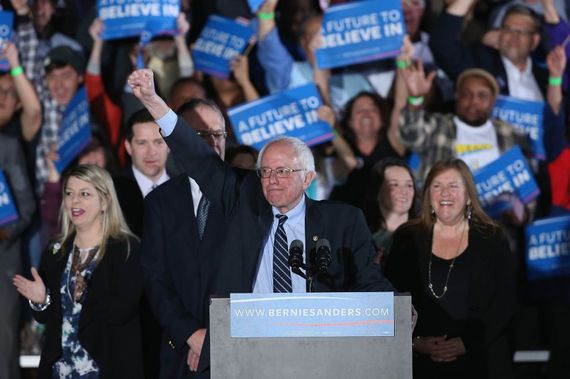 On Sunday, a record-shattering turnout propelled Sanders to victory in Maine.

In the final Democratic caucus before Sunday night's debate, Bernie Sanders pulled out another big win in Maine. This comes just 24 hours after Sanders swept the Super Saturday caucuses in Kansas and Nebraska. He finished the weekend with a perfect record in Democratic caucuses. Meanwhile, Clinton split delegates with Sanders and salvaged a single, but sizable win in Louisiana's primary.
Bernie Sanders' wins to date (8): Maine, Nebraska, Kansas, Oklahoma, Minnesota, Colorado, Vermont, New Hampshire
Hillary Clinton's wins to date (11): Louisiana, Virginia, Georgia, Texas, Tennessee, Arkansas, Alabama, South Carolina, Nevada, *Iowa, *Massachusetts
* Iowa and Massachusetts were both, in reality, virtual ties, though Clinton's narrow victories awarded her an extra delegate in Massachusetts and two delegates in Iowa. If you consider IA and MA ties, Clinton has won one more state than Senator Sanders.
While Clinton still leads in terms of overall super delegates, her advantage in the pledged delegates category continues to deteriorate as Sanders racks up his eighth victory this primary season. Remember, super delegates still have months to decide if they will remain committed to Clinton, or, as they did in 2008, if they will transfer their support to the candidate who performs best in caucuses and primaries.
Whether the corporate media likes it or not, the people of this country can and will choose their own candidate this primary season. The super delegates will not, under any circumstances, interfere with the democratic process without provoking public outrage.
Today, the people of Maine spoke. Unfortunately, CNN was too busy reporting Nancy Reagan's death and Arnold Schwarzenegger's endorsement of John Kasich to cover it.
* The author of this article is creating an entire series of animated rap videos about Bernie Sanders and the 2016 election.
Calling all HuffPost superfans!
Sign up for membership to become a founding member and help shape HuffPost's next chapter