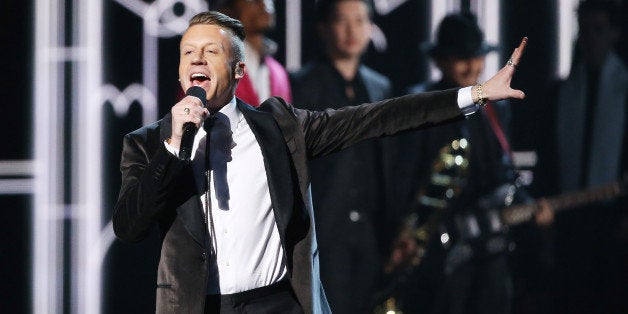 Full disclosure: I've lost friends over Macklemore, but trust me I'll survive. How did you feel last night? Watching all those beautiful couples making public declarations of love and commitment, as hegemonic as it may be, was a truly moving work. Macklemore has in so many ways added to the visibility and popularity of the gay rights movement.
In his short popularity, he has become a beacon of white gay hope and the face of "progress." As an independent artist, his fame and wealth are truly surprising and almost inspiring. However, Macklemore does a more destructive and problematic work, and his success, as validated by his new Grammy awards, speak to a larger injustice.
Last night's Grammys was an expert case study of how the reproduction of whiteness, as conflated with "queerness," is pervasive in our culture and the erasure and appropriation of sonic Blackness is central to the popularity and success of artists in the industry.

As many of my housemates said before I forced them to watch, "The Grammys are joke."
I cannot argue with that rhetoric, but it is still validating aspect of the music industry -- a cultural institution. So let us consider what all Macklemore (and Ryan Lewis) did during the spectacle of last night. Despite the rap committee attempting to exile the pair to pop categories, the Seattle duo swept the major rap categories, including Best Rap Album, Song and Performance over critically brilliant rap and hip-hop icons like Kanye, Drake, and most regrettably, Kendrick Lamar. These awards, along with R&B and Urban Contemporary, were not even televised (also problematic as hell). So as consumers of music, we see that these sonically and historically black genres, as arbitrary and misguided as they seem, have now been erased from the public music space, and the few artists from the genre that are celebrated are white?
As a particularly poignant piece from earlier this year pointed out, not one black artist had a number one single this year, and even more surprising, the top of normally black-dominated charts were white artists.
Cultural appropriation is real, even if catchy and "socially conscious." If your gut reaction to my statement is "music is colorblind" or some other kumbaya nonsense, consider the histories of political, personal and revolutionary music that artists of color and queer artists have been creating on the edges and outskirts of mainstream forever. If music was such an equalizing space, why can't we read through and appreciate their work?
But the bigger trauma is Macklemore's continual conflation of homophobia with Hip Hop and ultimately Blackness and Black people. Consider the beginning of the second verse of "Same Love": If I was gay, I would think hip-hop hates me/ have you read the YouTube comments lately?"
Hip-hop has been queer for years before Macklemore was even born. The first rap song came out of the disco tradition, rappers like Cee-Lo Green and Andre 3000 have been doing drag for years, Common came out against writing homophobic lyrics, not to mention the countless rappers and artists who have supported Frank Ocean. While homophobic lyrics are pervasive in Hip Hop, they have never been more homophobic or heteronormative than any rock or pop song. Secondly, if 87 percent of YouTube users are White and 54 percent male, it's guys who look like you and listen to rap like you do, who perpetuate that narrative of hateful Hip Hop? He goes on to speak about how "we" are complacent to homophobia: "We become so numb to what we're saying/ A culture founded from oppression/ yet we don't have acceptance for 'em."
The most accurate statement in this stanza is that Hip Hop is a culture founded on oppression, but whose? Not Macklemore -- Hip Hop was not grown, marketed and exploited on the backs of handsome, straight, white men.
Lastly, in what I believe is the biggest atrocity of last night that, the Grammys allowed Macklemore to use the term "f-gg-ts" uncensored. In the second verse, Macklemore states: "Call each other f-gg-ts behind the keys of a message board/A word rooted in hate, yet our genre still ignores it."
A moment of awkward silence fell over my living room and even the straight white men in the room question, how could he say that? So we have a white "artist" who succeeds on the success of a racialized and oppressed history, erasing the work of Black artists both mainstream and independent. We have a white "artist" who, despite being the face of a movement, has no benefit from or access to using a derogatory slur on national television. Remember when Azealia Banks came for Perez Hilton's life and you all tried to read her for filth? Where is the Macklemore hate? Why don't you demand more from him?
Blah, blah, blah allies, blah blah blah -- he can help. He can help by removing himself from the center of his work. He can stop garnering his success on the bodies of queer women and men of color. The way he is accepted and responded to is as much a culprit as his silence and ignorance on the matter. Even if this screen shot of a text conversation between him and Kendrick Lamar is real, his white guilt doesn't do a damn thing for him, or Kendrick, or the narratives of oppression form which he is profiting.
Macklemore should not be your ally, your savior, and hopefully not, your favorite anything. He is a contradiction and an anomaly and big slap in the face to Hip Hop and queer bodies in this country and the music industry. He's right though, Kendrick was robbed, and while Macklemore might not have been holding the gun, he definitely received the bounty.
Popular in the Community