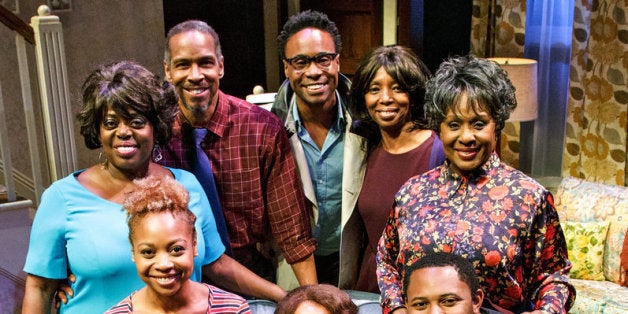 Billy Porter may be one of Broadway's hottest stars, but his latest project is very much the antithesis of the splashy musicals in which he made his name.
The Tony Award-winning star of "Kinky Boots" has documented his experience "as a gay, black Christian man and a survivor of abuse" in a semi-autobiographical new play, "While I Yet Live," which is a multigenerational tale set over the course of three Thanksgiving dinners in a Pentecostal family living in Pittsburgh.
The play, which opens Oct. 12 at The Duke on 42nd Street in New York and is being produced by Primary Stages, emphasizes "family, faith and the healing power of forgiveness," according to Porter, who shares a religious upbringing and Pennsylvania background with his characters. Interestingly, he opted against focusing "While I Yet Live" on Calvin (played by Larry Powell), whose coming out drives much of the plot, and instead emphasized the journey of the mother (S. Epatha Merkerson) who struggles to accept her son's sexuality.
Check out photos of "While I Yet Live," then scroll down to keep reading:
PHOTO GALLERY
"While I Yet Live"
"When I came out to my mother at 15, I was not embraced," Porter, who began writing "While I Yet Live" years before his stint in "Kinky Boots," recalled in an interview with The Huffington Post. Calling the play a "love letter to…the women who raised me," he added, "I extracted myself from an emotional environment that I knew would be dangerous, so this story is about the people who were affected by my leaving."
As for seeing elements of his own life story unfold onstage and interpreted by actors other than himself, he said, "I have to separate myself from it a little bit. I'm trying to be the technician."
Meanwhile, director Sheryl Kaller viewed the piece as a fitting followup to Terrence McNally's "Mothers and Sons," which examined homosexuality and same-sex marriage as perceived by four different generations. Kaller said that "While I Yet Live" is similar to "Mothers and Sons" (which she helmed on Broadway earlier this year) as both works speak "directly to family and to community."
"It's about how family has to learn to accept or reject decisions or choices we've made in our lives," she said. Likening Porter's style to August Wilson and Tony Kushner, she went on to note, "We get to create our chosen family, but we don't get to choose our bloodline. So anyone with a bloodline -- which is everyone -- will come away from the show with a different message."
On a more personal level, "While I Yet Live" is a labor of love for its cast members, many of which had worked with Porter on previous projects beforehand.
"Working with Billy on this project is a dream come true," said Lillias White, who plays a character based on the actor-playwright's grandmother and has been a friend of Porter's since they co-starred in "Romance In Hard Times" at New York's Public Theater. "This is another path for me, and I'm enjoying the opportunity to really act from the inside out."
Merkerson felt similarly, noting, "We're all just really happy to be a part of Billy's evolution. He has a joie de vivre that's untouchable."
Calling all HuffPost superfans!
Sign up for membership to become a founding member and help shape HuffPost's next chapter