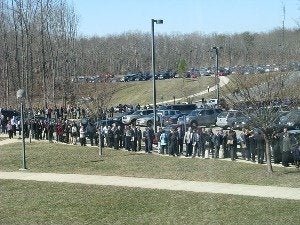 Earlier this week, I examined a recent story on unemployment insurance, which assigned far too much credibility to some claims made by Senator Jon Kyl (R-Ariz.) regarding unemployment insurance. Kyl's bizarre take? That unemployment insurance is a disincentive to job seeking.
"If anything, continuing to pay people unemployment compensation is a disincentive for them to seek new work," Kyl said. "I am sure most of them would like work and probably have tried to seek it, but you can't argue it is a job enhancer."
I went on to trash this argument on two fronts. The first was that the job market is so bad -- one job for every six seekers -- that we'd actually be in a demonstrably better position if people were languishing on the dole. The second was that unemployment insurance is actually an employment enhancer. As Dean Baker pointed out, "[Unemployment insurance] puts money into people's pockets and they spend almost all of it. That creates jobs."
But what I left unaddressed was the larger and more insulting premise that underlies Kyl's contention: that Americans are just lazy sots who'd rather collect a pittance from the government than bust their humps to obtain employment. This is classic "blame the victim" demagoguery.
Sen. Mark Warner's office is advising people that the federal job fair being held today at University of Mary Washington's campus off U.S. 17 in Stafford County is at capacity, and that people who try to go this afternoon may not get in. As Kelly Hannon wrote today on her blog, traffic has been at a standstill on U.S. 17 northbound today as thousands of people flock to the job fair. People were lining up outside at 7 a.m. today, and both of UMW's parking lots filled up quickly. Walmart allowed people to park in its lot, and Geico decided not to have any workers park at UMW today. Warner spokesman Kevin Hall said that his office will plan another job fair in the region sometime soon to accommodate the people who don't make it in today.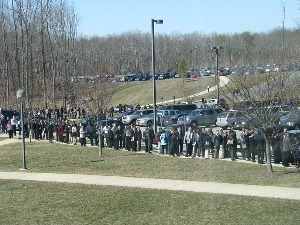 Look at the people in the picture above. Don't they realize they can just chillax at home and live on unemployment insurance? Maybe we'd figure out what's really going on if reporters actually covered these sorts of events instead of just writing down whatever Jon Kyl says and pretending it makes sense.
Calling all HuffPost superfans!
Sign up for membership to become a founding member and help shape HuffPost's next chapter