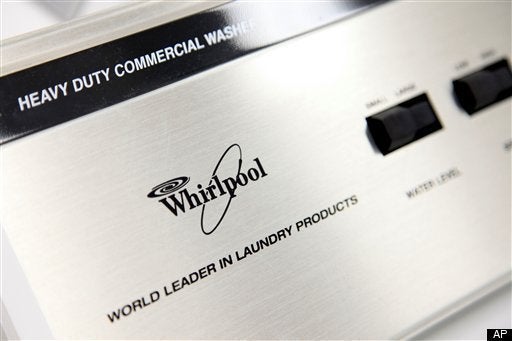 A major corporation planning to shut down a factory in Indiana has warned its union workers that they'll endanger their future job prospects if they protest the plant's closing.
In late August, Whirlpool Corporation announced that by June 2010 it would be closing the doors of its refrigerator plant in Evansville, Ind., and moving its operations to Mexico, citing poor sales due to a depressed housing market. The town of Evansville -- which President Obama has visited frequently -- was set to lose an additional 1,100 jobs.
The labor community, naturally, was in an uproar, pointing to the $20 million that the Whirlpool Corporation received as part of the president's economic stimulus package. And since the announcement, a number of efforts were made to persuade the company to revisit its decision, with union leaders petitioning state and local officials to explore avenues to keep the plant on site and the mayor forming a "rapid response team" to help support soon-to-be-unemployed workers.
Activists planned a high-profile protest for this Friday, with AFL-CIO president Richard Trumka visiting the plant for the first time. But Whirlpool says the effort is futile -- they are fully committed to shutting the plant down. The company, however, still seems quite wary of the potential for bad publicity. In a memo sent to its employees and passed along to the Huffington Post, Paul Coburn, division vice president for Whirlpool's Evansville Division, offers a fairly explicit warning to his workers: If they join Trumka's protest they would seriously risk future employment opportunity.
"In the last six months we have delivered strong results in spite of having to see a good deal of our equipment taken out of the building and moved to its new location. I believe that it is a testament to your character that you have continued to work hard to preserve the positive reputation of the Evansville workforce during this period," Coburn writes.
"With this in mind, we have shared our concern with Local 808 leaders that these negative activities will only hamper employees when they look for future jobs. The entire community is aware and sympathetic towards the situation we all face. We fear that potential employers will view the actions of a few and determine whether they would want to hire any of Evansville Division employees in the future. We hope that this is not the case, but think it is certainly a consideration."
A union official who passed the memo to the Huffington Post labeled it a "potentially illegal" effort to suppress speech and said that the local union is examining whether it violates labor law rules. The irony was not lost that a company closing a plant to ship jobs abroad would threaten workers with the possibility of unemployment even after it moved.
Whirlpool did not immediately return a request for comment.
Popular in the Community