We hadn't planned on visiting the 10th Mountain Whiskey Spirit Company in Vail, Colorado. If I hadn't got the lurgy on my third day of what was originally a five-night visit to town, then I would have already been back home safe and sound in Sydney wishing I was still in Colorado.
But I did get the lurgy, and I did delay my flight home by a day which set into action a chain of fortuitous events that ended with a dinner table of Germans with a sense of humor (I know, I know) served by a Moldavian without one, followed by an impromptu rickshaw ride across Vail village to the doors of the newly opened 10th Mountain Whiskey & Spirit Company tasting room.
Not just any whiskey tasting room either, a room dedicated to a locally produced quaff that includes a corn bourbon, a charred oak barrel rye whiskey and a vanilla, peach and sage Alpenglow alco-cordial. Lucky for me and my liver, they also produce a potato vodka and a Colorado clear grain moonshine.
The bar crew here have carte blanche to play with the spirits, infusing them with various fruits and spices to create moonshine lemoncello and a cosmo vodka that packs more than just a pretty punch (see what I did there).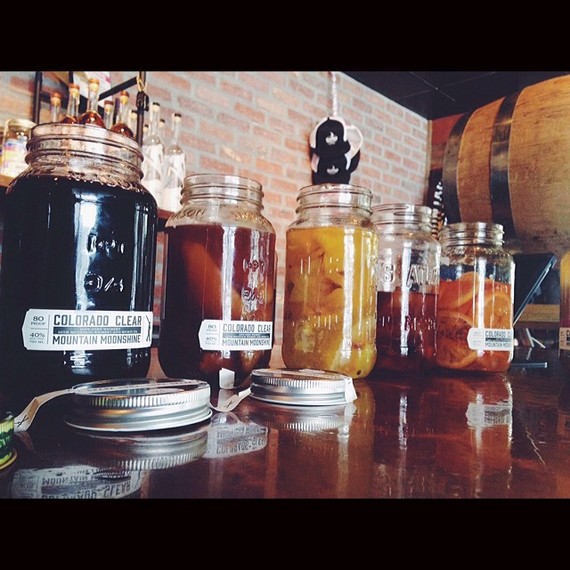 You know those nights that start very sedate with little expectation and then everything just falls into place? Those nights where you feel invincible, excited, on a high from being in a new place, making new friends, connecting with new people and immersing yourself 200 percent into everything before you, when the world feels right and all with it? Well, this was one of them.
Yes, it could have been the third vodka speaking or dancing or laughing or ribbing, but I'm just going to say some nights are just meant to be, so why fight it?
I had been told about the Whiskey Company and their famed moonshine when I first rocked into town, but I'm not a huge whiskey drinker so it never really appealed. I thought whiskey was for old codgers with worn-out livers sitting on verandahs at dusk with dust on their boots, or Wall Street wannabes in leather-bound rooms, no women allowed. More fool me.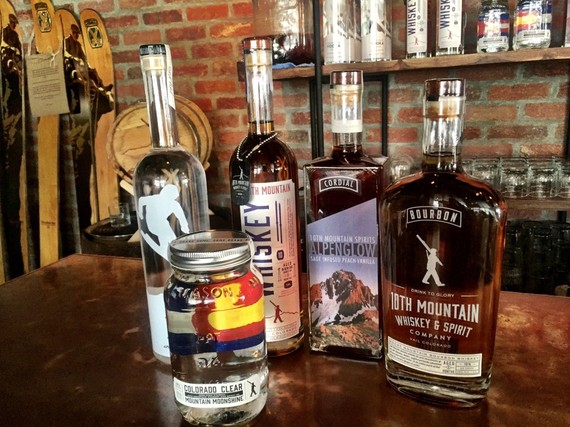 Craft spirits are the next big thing in the alcohol world and mountain craft spirits hold a particular niche. In Australia it's Wild Brumby Schnapps, in New Zealand Lighthouse Gin is making a mark, in Utah it's High West Distillery and in Colorado it's the 10th Mountain Whiskey & Spirit Company founded by Christian Avignon and Ryan Thompson, Vail locals with a penchant for good times bonded by whiskey.
Christian has a stone mason company that kits out all the swanky mansions in town and Ryan is the name behind the Westside Cafe in West Vail, so they've been around. The name came about as Christian's granddaddy was in the 10th Mountain Division during World War II, a division that trained in the mountains around Vail at Camp Hale, the same division that inspired the 10th Mountain backcountry huts ski touring trails.
Both Christian and Ryan love whiskey, they both love the Vail valley and they have a shared entrepreneurial spirit (pun not intended). They even went to Moonshine University in Kentucky to get it right.
Using their savings, the bank's money and some crowdfunding on Kickstarter, the boys launched their spirit company in mid-2014 and threw open the doors well in advance of the 2014/2015 ski season.
Local is important to these guys and the bottles that line the brick feature wall installed by Christian's stone company in the Tasting Room use as much Colorado sourced produce as possible including Olathe corn, Palisade Peaches and Mesa County spuds.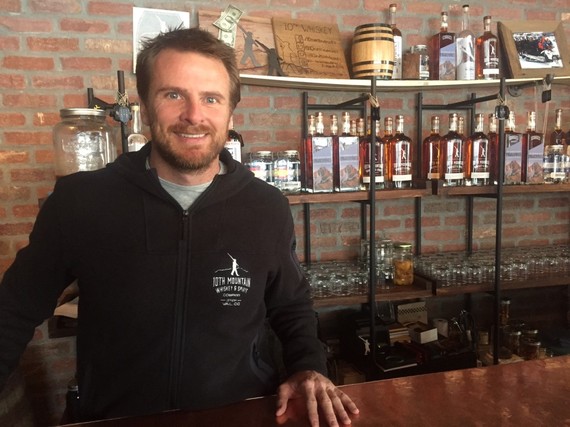 Many come for the novelty of the Colorado Clear Mountain Moonshine packaged in a mason jar expecting a banjo soundtrack and pigs squealing in the hills. Don't be fooled, everyone here has their teeth, the standalone bar island is made from pure copper and the barn doors are handcrafted from local artisans. The moonshine here is top shelf, not out-house raw, and there are no foreign objects floating within (unless you count us).
But back to the bar. I'm never too sure about the service in the USA. It can be seriously over the top in the world of hospitality with constant questions about how you are enjoying your meal, your latte, your wine before you have a chance to enjoy any of it. I can't always tell if they're just being uber nice to get an uber tip or if they genuinely enjoy the interaction.
So it was refreshing to find Bart Longworth from Michigan via Atlanta, Chicago and Portland running the joint with an authentic style, a killer smile, an understanding of irony and Australia's love of "taking the piss" (Google it) and who laughed and teased us as much as we did him without a scaric of homegrown apple pie in sight.
There was also no sales pressure from Bart, just a thorough understanding of where our energy levels were at (they were high, but not in the Colorado sense) and where our taste buds were at (all over the place). He served us as though we were guests in his home and we were at a party together while educating us on the whiskey and constantly entertaining us with his cheeky banter throughout the night.
The clientele was mixed. An intimate crowd in a small bar with snow on the mountains outside and bellies warmed by whiskey -- just a couple of blokes on a family ski trip getting some man time out and embarking on the signature whiskey tasting journey, a Navy SEAL who had a tequila company in utero and some southerners in diamond cowboy boots who knew how to play nicely with the other children.
Oh, and a couple of delusional high rollers that ski resorts always attract, the kind that drop Four Seasons and Ferrari into the same sentence while saying they hate braggers and name-droppers. Clearly they hate irony too. But I find these types always provide much fodder for humour and in this case I wasn't wrong.
Would I go back? In a shot (double pun definitely intended), and I would recommend you do too (tell them I sent you) before the team takes over the state, the country and the world -- which I have no doubt they will.
Let's hope they do so while retaining the club like feeling, and Bart.