There are a few annual events in Los Angeles that foodies and cocktails and spirits enthusiasts make sure never to miss. Gourmet food lovers always make sure to attend The Food Event in Malibu (never been crazy about that name); cocktails devotees always hit up Art Beyond the Glass; and people who appreciate fine scotches, bourbons and whiskies from around the world know that Whisky Live Los Angles is the Super Bowl of all local whisky events.
I'll never forget my first Whisky Live. I walked into the ballroom at the Beverly Wilshire hotel in Beverly Hills and marveled at all the spirits ready to be sampled. Back then I didn't know too much about whisky and eventually felt overwhelmed. Now in its sixth year in Los Angeles, this year's event (taking place Friday, November 7 at the Hyatt Regency Century Plaza in Century City) will feature over 180 different whiskies to taste, in addition to a gourmet buffet; live entertainment; chocolate and whisky pairings; as well as master classes by noted brand ambassadors. Whether you're a seasoned whisky enthusiast or just getting started, this is a great night out to enjoy some of the finest whiskies--needless to say an Uber ride home is genius.
In case you're wondering why I'm not spelling whisky "whiskey", that's a bone of contention for some drinkers. American and Irish liquor producers prefer the spelling as "whiskey", while Canadian, Scottish, and Japanese producers tend to favor "whisky". Either way, according to David Sweet, Whisky Live Director for USA and Canada, good times abound no matter what school of whisky you pledge your allegiance to.
"There's a language barrier in the U.S.," Sweet points out. "People often think of Jameson and Jack Daniels, but whisky with the "e" or without the "e" encompasses all kinds of whisky, bourbon and scotch."
In fact, according to Sweet, who has been with Whisky Live since it launched in the U.S. 11 years ago in New York City, the attraction that keeps whisky lovers coming back year after year, although, to be perfectly honest, I've never had a friend go back for a repeat visit--if you don't pace yourself and taste wisely, you may have regrets in the morning--is the opportunity to taste interesting and hard to fine spirits.
"Being able to sample whisky that I've never had before, from exotics to something new, and being able to speak to brand ambassadors and master distillers, that's my favorite part," Sweet says. "Even though I've been associated with Whisky Live since the first date in New York City, I still talk to brand ambassadors about their brands and how to taste."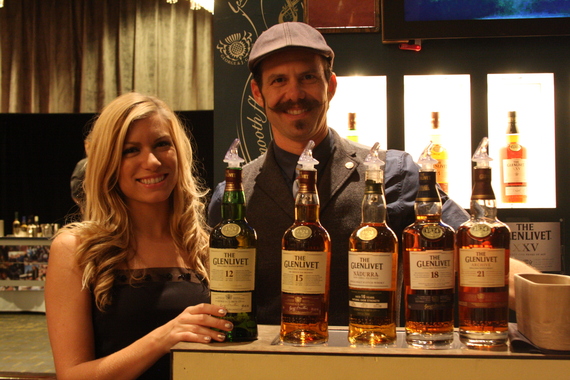 Whisky Live is a way to celebrate the whiskies of the industry by bringing them together under one roof.
"The industry has really blossomed," Sweet states. "Originally the tasting events were mostly scotches and bourbons, and the regular whiskies we all know. Now you also have American small craft producers. In Los Angles you always have the most exotics, from Japan, India, Tasmania, and obviously Canada. Four Roses is always represented, and Beam Suntory always has a large display, including Laphroaig, Bowmore, as well as Canadian Club, who has a brand new 100% rye."
Whisky is definitely enjoying a renaissance, especially bourbon these days. Last year, after 65 cases of Pappy Van Winkle 20-year bourbon were stolen, the demand was furious, making the need and desire for American spirits at an all-time high.
"Some whiskies they can't make them fast enough," Sweet explains. "Pappy is one of those great white elephants that everyone wants. The theft was real. Event without that, Elijah Craig 18 is off the shelves for a year and a half. Pappy is very rare and ultra-premium."
While you won't sample that at Whisky Live, guests will definitely walk away with an appreciation and understanding of fine spirits. According to Sweet, not-to-miss whiskies include Old Pulteney, which he describes as a "very nice and smooth; it's a little sweet scotch," as well as Brenne French Single Malt Whisky, an absolute must taste. Aged in cognac barrels, Sweet describes it as "very sweet; you can taste a lot of fruit."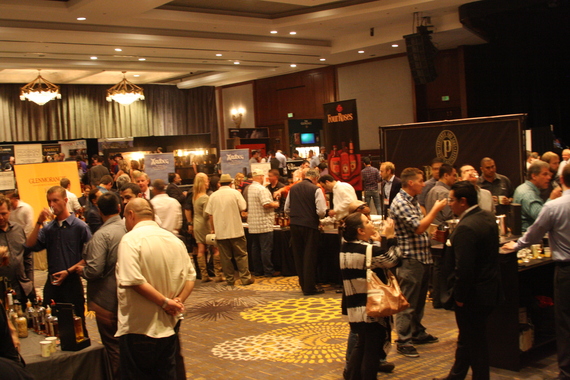 Sullivan's Cove from Tasmania, Australia, which won Best Single Malt at the World Whisky Awards will also be pouring at Whisky Live Los Angeles. Talking about whiskies, Sweet fondly recalls his first time at Whisky Live, who will be launching in Washington DC this March, and he's anxious for newbies and returning guests to take away the kind of joy he first experienced.
"I remember I had tried different whiskies neat, but at the first Whisky Live in New York, I tasted new and different flavors, including Glenfiddich 30-year and it was absolutely life-changing."
Whisky Live Los Angeles takes place Friday, November 7 at the Hyatt Regency Century Plaza in Century City from 5:30pm to 10pm. Use code HUFF to get a 20% discount. Click here to purchase tickets.
REAL LIFE. REAL NEWS. REAL VOICES.
Help us tell more of the stories that matter from voices that too often remain unheard.