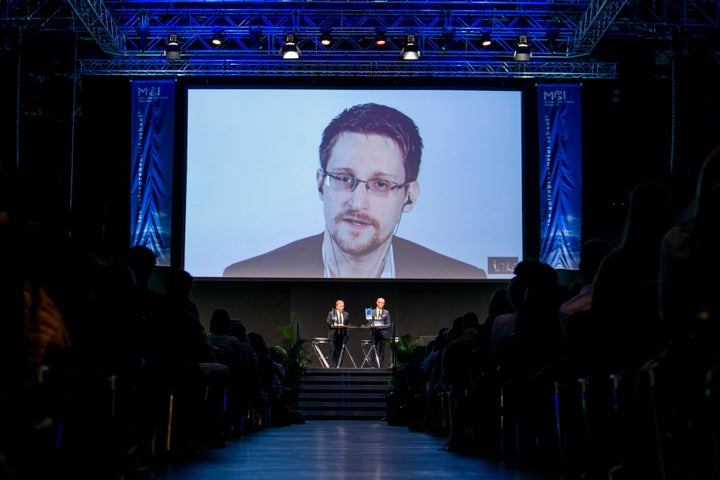 "As for the future in Russia and what will happen there, I can't say I'm safe. I don't know," Snowden said Thursday via video linkup from Moscow to a crowd in Innsbruck, Austria.
The former National Security Agency contractor released thousands of secret documents to the media, exposing global electronic eavesdropping by NSA of foreigners and law-abiding Americans. He fled to Russia in 2013 to avoid trial in the U.S. on espionage charges.
"Russia is not my home; Russia is my place of exile," Snowden told participants at an event organized by the Management Center Innsbruck, a private business school. "The United States will always be my first priority."
But Snowden said that it was more important for him to expose wrongdoing by the NSA than to be safe.
"I didn't come forward to be safe," Snowden said. "If I wanted safety, I'd be sitting in Hawaii right now, making a lot of money, spying on everyone." Because of his choices, he added: "I may have to spend the rest of my life in exile."
Snowden said the problems regarding government surveillance remain more serious than ever, but he's heartened by the fact that they are now discussed out in the open. "I could be pushed off a building or under a bus tomorrow" but the issues would continue to be addressed, he added.
Snowden's future home is uncertain. He said during the Obama administration that he would be willing to return to the U.S. if he could be guaranteed a "fair trial."
There were reports last year that Russia's President Vladimir Putin was considering returning Snowden to the U.S. to "curry favor" with Trump. Snowden was pleased about the reports because they proved that he wasn't a Russian spy, as some have claimed.
A Washington Post columnist last week compared the impact of Snowden's NSA revelations on the U.S. to the effect of Khashoggi's death on Saudi Arabia. The journalist's death and Snowden's revelations damaged the credibility and power of their countries, wrote Tufts University international politics professor Daniel Drezner.
Snowden's disclosures undermined "Washington's ability to act hypocritically and get away with it," Drezner noted.
Popular in the Community