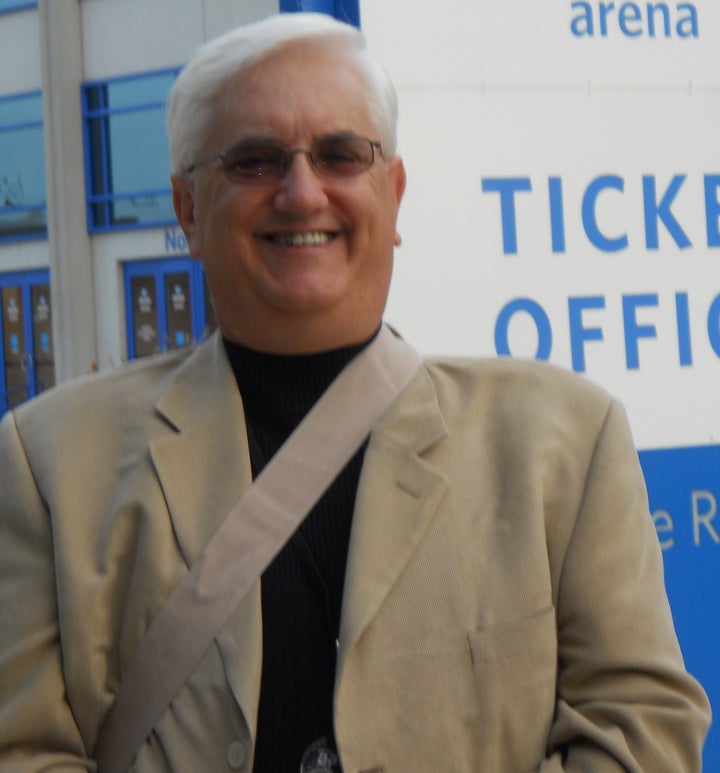 At first glance, James Holzrichter's decision to tell the government his employer's dirty secrets appears to have worked out rather well.
He won $6.2 million in 2005 under a federal law, the False Claims Act, that encourages whistleblowers to report fraud against the government. When first contacted by The Huffington Post on Friday, he was on a golf course near his home in Chicago and couldn't talk for long because he was about to play the back nine.
In fact, his decision to sue a former employer, Northrop Grumman, under that federal law cost Holzrichter his profession and nearly two decades of his life.
His court complaint, filed in 1989, languished for years, and so did Holzrichter. He wasn't able to find work as an auditor. He received more than 400 rejection letters from employers who weren't interested, he believes, in hiring a snitch. Desperate to support his wife and four children, he scrubbed toilets and delivered the Chicago Tribune. At his lowest moment, he moved his family into a homeless shelter.
"Was it worth it?" Holzrichter said when reached by phone last week, repeating a reporter's question. "I don't know if it was worth it. I have the money, but how can I give my children their childhood back?"
Last year the federal government brought in a record $3 billion from whistleblower cases like Holzrichter's. Not all awards are made public, so it is impossible to provide an exact accounting. But it appears likely that individual whistleblowers received hundreds of millions of dollars from that record haul in bounties for filing the claims that sparked investigations.
This year is shaping up to be even busier than last as the first financial crisis-related cases bear fruit. But would-be whistleblowers, beware. The financial rewards for exposing fraud can be sweet, but the experience is one of uncertainty and despair, and most whistleblowers walk away with no money at all.
"There is a calculated risk in blowing the whistle, but almost no one is telling what those calculations are," said Patrick Burns, a spokesman for Taxpayers Against Fraud, a whistleblower advocacy group.
According to Burns, 80 percent of cases filed under the False Claims Act end with the whistleblower walking away with nothing. Of those who do win a bounty, the average take-home is $150,000. Really big awards are rare, and even then the figures are deceiving. Plaintiffs' lawyers typically claim a major cut, and so does the federal government, in taxes.
Holzrichter said his attorneys received 40 percent of his award, and the government claimed a hefty share in taxes. That left him with $2.3 million -- enough to live comfortably on, but in his view, barely fair compensation for 17 years of unemployment and underemployment.
"A lot of people think whistleblowers win the so-called lottery, but they don't understand how much the government and lawyers get," Holzrichter said. "If I had worked until 55 in my profession, I would easily have earned twice that."
There's no data available on how many former company insiders who reported a fraud are unemployed or can't find jobs in their chosen professions, but the anecdotal evidence suggests that many suffer this fate. Holzrichter said he talks to whistleblowers who can't find work, who have health problems and whose marriages are falling apart.
He has helped launch a whistleblower mentoring project so that other company insiders can better understand what they are up against when they report suspected fraud.
In a typical scenario, a whistleblower will file a lawsuit under the False Claims Act, with the hope that the Justice Department will "intervene" -- essentially, adopt the case and bring the might of the federal government to bear on the accused wrongdoer.
That's what happened to Kyle Lagow, a former supervisor at LandSafe, a subsidiary of the mortgage giant Countrywide. He sued in 2007 alleging widespread fraud at Countrywide, now part of Bank of America.
Lagow claimed in his lawsuit that Countrywide and mortgage brokers pressured appraisers to falsely inflate values on homes receiving Federal Housing Association-insured loans. Some of those mortgaged homes were underwater from day one.
The Justice Department intervened in his case, and the claims were eventually rolled into what became a $1 billion settlement with Bank of America, announced at the same time as the $25 billion national mortgage settlement reached earlier this year. For his help, Lagow learned in May that he had won $14.5 million.
Lagow, who lives in Plano, Texas, declined through his lawyer to comment for this story. In a Seattlepi.com blog post, the lawyer, Steve Berman, described some of Lagow's struggles.
"Unable to find a job and suffering from cancer, his house went into the foreclosure process," Berman wrote. "His wife and five kids also suffered the punishment for having reported fraud, experiencing poverty and hardship."
Moreover, False Claims Act complaints are filed under seal, which means whistleblowers like Lagow aren't permitted to discuss their cases even with family and friends.
"Kyle went through years of uncertainty in order to see this thing through," said Shayne Stevenson, an attorney who works with Berman and also represented Lagow.
That shouldn't dissuade people with strong cases under the False Claims Act, he said. "The important thing for all whistleblowers to know is that you can be well rewarded," said Stevenson.
And sometimes cases move much faster. Last year, Sherry Hunt, a former vice president in Citigroup's mortgage unit in Missouri, filed a lawsuit claiming that the bank was buying mortgages from outside lenders with doctored tax forms, phony appraisals and missing signatures, and that executives were burying her reports on these defects.
Although Hunt was "ready to give up my career and my life savings to get this done," according to a story in Bloomberg Markets magazine, her case sped quickly to its conclusion. Citigroup paid $158 million to settle the lawsuit after Manhattan U.S. Attorney Preet Bharara joined in on behalf of the Justice Department. In February, less than a year after she filed her suit, Hunt won $31 million.
The False Claims Act is not the only means by which federal whistleblowers can seek rewards for their good deeds.
The Internal Revenue Service launched a program focusing on tax fraud in 2006. So far, it has paid a bounty to just one of the dozens of whistleblowers who have come forward.
While most of the SEC cases announced so far deal with smaller-scale fraud, Burns, the whistleblower advocate, said he is optimistic.
"I was extremely skeptical that they would turn around," Burns said. "But the [Bernie] Madoff blast furnace was sufficiently hot on the SEC that it essentially changed the character at the top of the agency, and they never want to be embarrassed like that again."
Popular in the Community